Back to selection
Five Questions for Recommended by Enrique's Rania Attieh and Daniel Garcia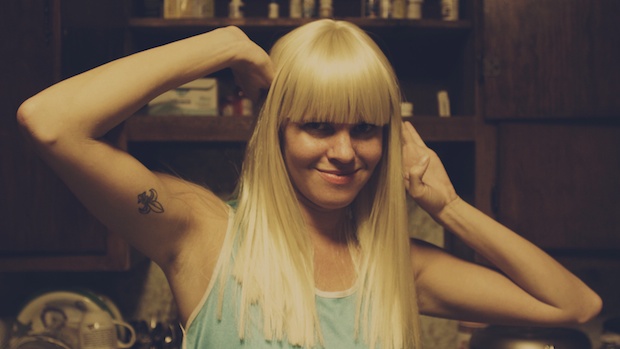 Sarah Swinwood as The Actress in Recommended by Enrique
Director Rania Attieh was born in Tripoli, Lebanon, and her partner Daniel Garcia grew up in South Texas. Their first feature together, Okay, Enough, Goodbye crisscrossed Attieh's hometown, canvassing 30 locations in 40 days to create a story, they say, that is a "love/hate relationship with the city itself." So, after that feature won plaudits on the festival circuit — and landed the two on Filmmaker's 2011 25 New Faces list — it seems only appropriate that they head to Texas for their follow-up. Premiering tonight at the Los Angeles Film Festival, Recommended by Enrique is described as "a tale of mysticism, tradition, and the dream of celebrity that explores the uniquely diverse world of Mexican-American border town culture in unexpected ways." Two characters arrive in Del Rio, Texas — an aspiring actress and a cowboy. The actress is set to work on a no-budget horror film, but the director fails to appear. Similarly, the cowboy is left hanging by his associate, and Del Rio becomes "a strange way station where time seems to stand still and things are not what they seem."
Recommended by Enrique was inspired by an actual experience the directors had in 2000. They traveled to Del Rio to work on that they were told was a studio-financed horror film only to find a ramshackle no-budget production helmed by a director prone to disappearing for large chunks of time. Below, in this email interview, I ask them about that incident, casting by YouTube, and how they'd managed to make three films in as many years.
Filmmaker: You say that this story is based on an incident that happened to you over a decade ago. How did you get involved in that situation, and when did it become in your mind a movie?
Attieh and Garcia: We got involved in that initial situation because we were interested in beginning a career in film, and an acquaintance told us that there was a feature film shoot happening, and that we could join and help if we wanted to. Needless to say, we jumped at the opportunity, only to find that it was not quite the feature film set that we were expecting. But, alas, we were young, and we rolled on, embracing the experience. As for when it became an idea for a film, it seems like, as it was happening, it was becoming something that would make an impression on our lives. We knew it. We could feel it. As long as we can remember, we've always wanted to make a film that was inspired or even directly based on that experience. So when we found the opportunity, we took it. Still, now, we talk about returning to Del Rio (where Recommended by Enrique was shot, and the initial experience was had) every few years to make a film with the basic premise of 'a film is being shot in Del Rio.' We'll see if this plan actually develops, but something tells us it will.
Filmmaker: Why the structural device of two stories?
Attieh and Garcia: Ultimately this came down to the somewhat whimsical nature of the production of the film itself. As there was no proper "script" (and even with one), we understood that in order to sustain an entire feature film based solely on the above mentioned personal experience, we would have to explain the 'whole' story. But we didn't necessarily want to do that. We enjoy the experience of impressionistic storytelling, of mood setting, of tone building narratives, and because of this, we decided that a second narrative was needed. And so we cooked one up, digging into our stylistic infatuations, and finding a deeply rooted passion for film noir.
Filmmaker: How did you use YouTube to cast your lead actress?
Attieh and Garcia: We are big fans of YouTube. Scratch that. We are HUGE fans of YouTube. So on any given day or late night, one might expect either one of us to strap on the proverbial diving suit and jump into the depths of what might as well be an ocean of content. Dive deep enough, and one can find gems, or even creatures. And, serendipitously enough, on one of these explorations, we came across the videos of an aspiring actress/comedienne/rapper who caught our attention. However, it wasn't until we had already decided to make Recommended by Enrique that we remembered our infatuation with the YouTube "starlet." So we reached out to her and asked her to meet us in Brooklyn for a drink or two to talk about a film. After two rounds, we had secured our actress.
Filmmaker: This is your second film since 2011, with a third already shot this past March and debuting in August at the Venice Film Festival). How have you fashioned your careers and filmmaking practices to be as productive as you are?
Attieh and Garcia: In some sense, over the years, and especially as we've gotten "older," and as "real life" has begun rearing its ugly little head, we've understood that in order to really make a run at a career in film, we HAVE TO make films. So, with respect to our first two features, this is exactly what we've done. We understood long ago that waiting around for funding, or endlessly "writing" our first feature was not really an option for us — neither financially, nor psychologically/emotionally. So we made up our minds going into our first feature to simply make films.
Filmmaker: How did the resources, people and character of your Texas town help shape the movie?
Attieh and Garcia: Del Rio and the people of the town were instrumental in helping this film come together. Everyone, from people, to businesses, to city council members, to the former Mayor (who appears in the film) was gracious in their support and enthusiasm for our film and its needs. We honestly could not have made the film without them. The locations we were finding and some of the characters we were meeting, all made an impression and wrote themselves into the film. They are all handpicked from the town itself which helps add an authentic sense of place. Beside the outline of the narrative as a whole, we went to Del Rio with only one month to pull off the whole production so we were casting and location scouting as we were filming. Some of the locations for the Actress narrative are the original locations of our past experience.