Back to selection
Stray Links, 8/4-8/7: Foreign Blockbusters, Film Preservation and Grazing Goats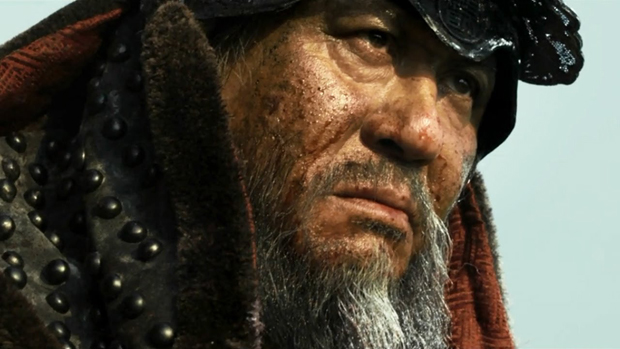 Roaring Currents
Here's this week's links round-up of film reading and other assorted pieces:
• "My main impression was that Batman looks like he's wearing a small tank turret on his head. The fans were apparently pleased with what they saw." Kristin Thompson's level-headed report from Comic-Con has enthusiasm for Peter Jackson, less so for Zack Snyder, and a detailed overview of the on-the-ground administrative logistics of the fantasy gathering behemoth.
• Roaring Currents, a war film/biopic of Admiral Yi, one of Korea's most historically revered figures, is doing massive, record-setting business at home. The movie inflates the scope of Yi's (still mind-blowing) feat of using 12 ships to defeat 133 Japanese warships (in the movie he's up against 330). Why is South Korea so excited for this film? "This kind of sacrifice and fidelity is what the people expect from their leader," suggests critic Jeon Chan-il, "but due to circumstances, people only see their absence in today's society through the film. They earnestly long for leaders like Yi." Right on cue, The Dong-a Ilbo published an editorial, "Admiral Yi's leadership needed for the nagging military problem," tying the movie's events to the recent disastrous ferry sinking.
• In Venezuela, the most-watched film of the year will probably be The Liberator, a two-hour Simón Bolívar biopic. The casting makes intuitive sense; Bolívar is played by Edgar Ramirez, who previously played Cuban revolutionary Ciro Redondo in Steven Soderbergh's Che. The AP's Jorge Rueda has the story.
• Over at Pacific Standard, Rick Paulus has a detailed, fascinating profile following film noir expert/restoration and preservation hero Eddie Muller in his quest to rescue the relatively marginal 1949 independent title Too Late For Tears. It's an article that demonstrates how often the work of trying to preserve film history is anything but straightforward, linear or quick.
• Direct film and TV production spending in Georgia topped $1 billion last year for the first time thanks to its competitive (to put it mildly) tax credits and incentives. Now governor Nathan Deal is hoping to implement new scholarship programs to make sure there are enough trained technicians in the state.
• Two Pakistan Air Force and Army (PAF) bases have banned the showing of Indian films, while others are still permitted to show them. "A top PAF official was told during a visit to one of the bases that showing Indian movies might demoralise a lot of officers with religious leanings and hence should be banned in cinemas under the PAF," reports Umair Aziz in his piece on the PAF's internal inability to implement one consistent policy.
• "I was halfway through talking about the political situation in Britain when the Very Respected Journalist called me 'baby' (really, people can say that without irony?) and shoved his beer-and-whiskey-churnted-together tongue down my throat." This is a sobering account from an anonymous female journalist about how she went to Kyiv to write about the post-revolutionary political situation only to find herself derailed by dealing with sexual assault instead.
• "Results from an Iowa Department of Natural Resources experiment to use goats to clear stream banks in a Clayton County wildlife area have been promising." Which is a good news, because who wouldn't want the animals to serve as "super cute weed removal"?