Back to selection
Kumiko, A Girl Walks Home Alone at Night, Warpaint Highlight Sundance Next Festival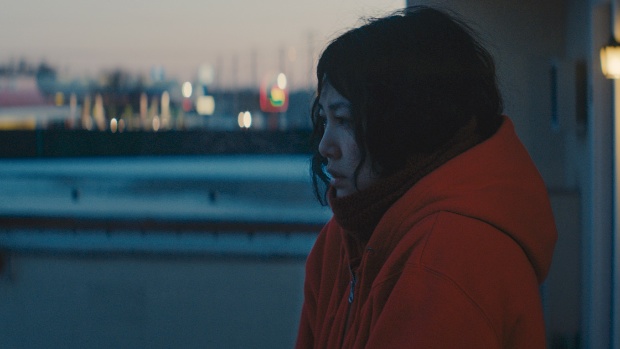 Kumiko, The Treasure Hunter
It's rare that I can recommend nearly every program at a film festival, but that's the case with this weekend's Sundance Next Festival in Los Angeles. With events taking place tonight at the Hollywood Forever Cemetery and then this weekend at the theater at the Ace Hotel, the Next Festival is intimate, very cool and with a strong multidisciplinary bent. Alongside several artistic feature highlights from this year's Sundance Film Festival are shorts, panels and bands, making each program something of an event. Check out the complete line-up at the festival's site, and here are a few picks of mine:
Kumiko, the Treasure Hunter/Werner Herzog. I fell in love with screenplay for this Zellner Brothers film when I read it back in 2004. As I wrote in Filmmaker's Winter issue, "On the page, the loopy, inspired-by-real-life tale of a mousy Japanese office worker who travels to North Dakota to search for the money buried at the end of the Coen Bros.' Fargo is shot through with Herzog-ian deadpan humor. Dreamily lensed by Sean Porter and scored by The Octopus Project, however, the film is more Aquirre, the Wrath of God than Stroyzek. Rinko Kikuchi brings a heartbreaking sense of ambition as well as more than a touch of madness to a film that finds transfixing poetry in the fuzzy roll bars of exported U.S. media."
But, back then, I never would have expected the chance to actually watch and discuss this film with Herzog himself! I am truly sad I won't be there. Saturday at 1:00PM.
Listen Up, Philip!/Bret Easton Ellis. In Alex Ross Perry's latest, Jason Schwartzman confronts the burdens of the Great White Male Novelist in a scabrous portrait of literary fame and generational anxiety. Quite appropriately, then, a writer who has had an early brush with both, Bret Easton Ellis, will be there for the Q&A. Saturday at 4:45PM.
Imperial Dreams/Tinashe/Kendrick Lamar short. Despite winning the Best of Next Audience Award at Sundance, Malik Vitthal's debut feature, Imperial Dreams, seems to have flown a bit under the radar. It's a powerful drama about an ex-con struggling to raise a son, resist crime and make it as a writer, and it's especially insightful about the role institutions play in perpetuating cycles of poverty and crime. Also on the bill: a new short featuring Kendrick Lamar by Khalil Joseph and a performance by Tinashe.
The Guest/Nicholas Winding Refn. I haven't yet seen Adam Wingard's The Guest, but I've seen everything else by this contemporary genre maestro. Following the overnight massacre of You're Next, his latest revisits the Rolling Thunder-style '70s exploitation film. Doing the Q&A is another filmmaker who is no stranger to meta, Nicholas Winding Refn (Drive). Sunday at 4:00PM.
A Girl Walks Home Alone at Night/Warpaint. Finally, another very high recommendation for the arresting debut feature of Ana Lily Amirpour. When I selected Amirpour for our 25 New Faces this year, I wrote:
A Girl Walks Home Alone at Night is an astonishing debut feature that contains the dark beauty of old-school vampire films, the cool rigor of the Iranian New Wave and the culturally-aware wit of someone with killer taste in music and movies…. [It] is shot through with a politically aware sense of emotional isolation and an identifiable moral compass. Set in "Bad City" — Bakersfield, CA, doubling for a lawless Iranian ghost town — the film follows its skateboard-riding, hijab-wearing vampiric anti-hero (a riveting Sheila Vand), whose killer kiss combats misogyny and general boorishness until one potential victim proves to be more sensitive than the rest.
Completing the evening is a performance by the all-female Warpaint. An excerpt of a Chris Cunningham-directed video about the band can be watched below. Sunday at 7:45PM.