Back to selection
Five Questions for 99 Homes Writer/Director Ramin Bahrani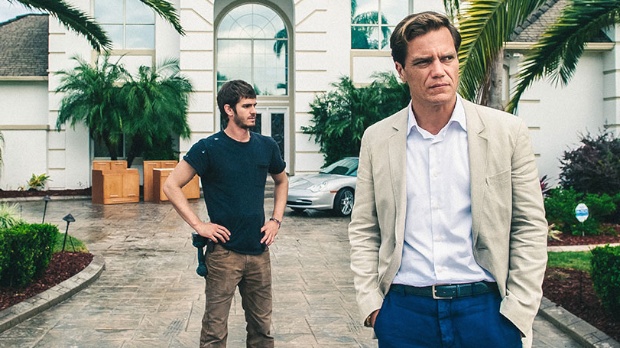 Ramin Bahrani's 99 Homes
Based on its stellar reviews out of Venice and Telluride, Ramin Bahrani's "eviction stunner" 99 Homes infuses the sad and infuriating tale of America's real estate bust with visceral, gut-punching drama. Andrew Garfield and Michael Shannon star as the down-and-out construction worker and shady realtor who come up with a get-rich scheme involving, of course, the exploitation of those even less fortunate. Screening Monday, September 8 at the Toronto International Film Festival, 99 Homes is already picking up Oscar buzz. Below, we ask Bahrani about researching real estate, name actors and the decline of Western civilization.
Filmmaker: What attracted you to the world of real estate as a setting for your new film?
Bahrani: I discovered a compelling world full of scams, guns, thievery and powerful human drama. All around the world people are ready to die to protect their family homes. This intensified after the housing crash turned the global economy upside down. The rich got richer and everyone else learned that honest hard work gets you nowhere. This provided me a great opportunity to tell an exciting "deal with the devil story" and harken back to films like the original Wall Street, The Hustler and Training Day.
Filmmaker: What sort of research did you do with regards to the American real estate industry and its financing, and how is this research represented in the storyline of the film?
Bahrani: In addition to researching books and articles, I spent a lot of time in the chaotic foreclosure courts of Florida (AKA the "rocket dockets"), in motels where middle-class families live after having been ripped from their homes and lives, with fraud attorneys, with politicians, with wildly rich hedge fund managers, with crooks and hustlers, with bulk buyers (the next crash is coming soon!), and with real estate brokers who conduct evictions for the banks and the government. All the scams and thievery in the film are real. I discovered many more than I could cram into the film. The corruption was dizzying and mind-boggling; the emotional drama of the families I met was intense and unforgettable.
Filmmaker: This is your second film using name actors following your earlier films, which used non-actors, character actors, or emerging actors. Has your style and approach to narrative changed as a result of using more familiar faces in your films?
Bahrani: It provides me the opportunity to write more complex and challenging roles and a storyline with a much grander scope. On set I allow the actors (and the non-actors I mixed into many scenes) the freedom to improvise, explore, risk and surprise. I have never been so blown away by my cast. Andrew Garfield and Michael Shannon deliver the greatest performances of their careers. It's awesome to watch them on screen.
Filmmaker: Your films have drawn heavily from the specifics of their environments. How was this film affected by its Florida locations?
Bahrani: Highway 142, the road to Disney World, is lined with middle-class families living in motels where school buses pick their children up to take them to school. What else? Hot days, beautiful homes, palm trees and guns… lots of men with guns!
Filmmaker: What do you consider your biggest challenge at the moment with regards to sustaining your career as a filmmaker, independent or otherwise?
Bahrani: Civilization disappearing into one final obscene and vulgar "selfie."