Back to selection
Blackmagic Does Manhattan
The New Yorker proved a more convenient schlep than Las Vegas Convention Center for local fans of Blackmagic Design.
On August 13 the disruptive Australian company Blackmagic Design took over the Grand Ballroom at the historic New Yorker Hotel at 8th & 34th to showcase their growing stable of switchers, signal converters, encoders, routers, and test equipment along with their latest unorthodox production products: cameras, monitors, disk recorders, and grading/NLE software. Plus a new scanner for film transfer.
Call it a make-up day for Northeast media makers who missed out on Blackmagic's crowded NAB booth this year.
Since few companies boast the range of products Blackmagic now produces, no less their erosive pricing, it made good marketing sense to also invite to the party manufacturers of affiliated products, including Zeiss (lenses), Magma (Thunderbolt 2 expansion chassis for PCIe cards), LaCie (Thunderbolt 2 RAIDs), and Ikan (camera rigs).
As a venue, The New Yorker proved unintentionally resonant. The aging Art Deco pile, still Moonie-owned, was renovated earlier this year and franchised by Wyndham Worldwide in anticipation of the neighboring Hudson Yards mega-development. This is Wyndham's sixty-fifth hotel property in the greater NYC area. Wyndham, you see, also owns Super 8, Ramada, Days Inn, Howard Johnson's, Travelodge, and Wingate.
This parallel struck me as I thought of the companies absorbed by Blackmagic: DaVinci in 2009, Echolab in 2010, Teranex in 2011, and Cintel in 2012. Each had been blue-chip, an industry leader, the equivalent of a household name in our industry. But Moore's Law over time saw to it that their inflated six-figure price tags for color-correction systems, switchers, standards converters, and flying-spot telecines and their costly service contracts came crashing to the ground.
Blackmagic was there to pick up the pieces. But that's not all they did. DaVinci Resolve was once big-iron hardware costing between $200K to $800K. In 2011, Blackmagic cheekily released a software-only OS X version as a free download. (Big-irony: DaVinci's forerunner, a 1982 system called The Wiz, was built on an 8-bit Apple II.)
Remember premium up/down- and cross-conversions using a Teranex system, for which post houses billed hundreds of dollars an hour? The latest Blackmagic Teranex standards converter costs the same as a prosumer camcorder.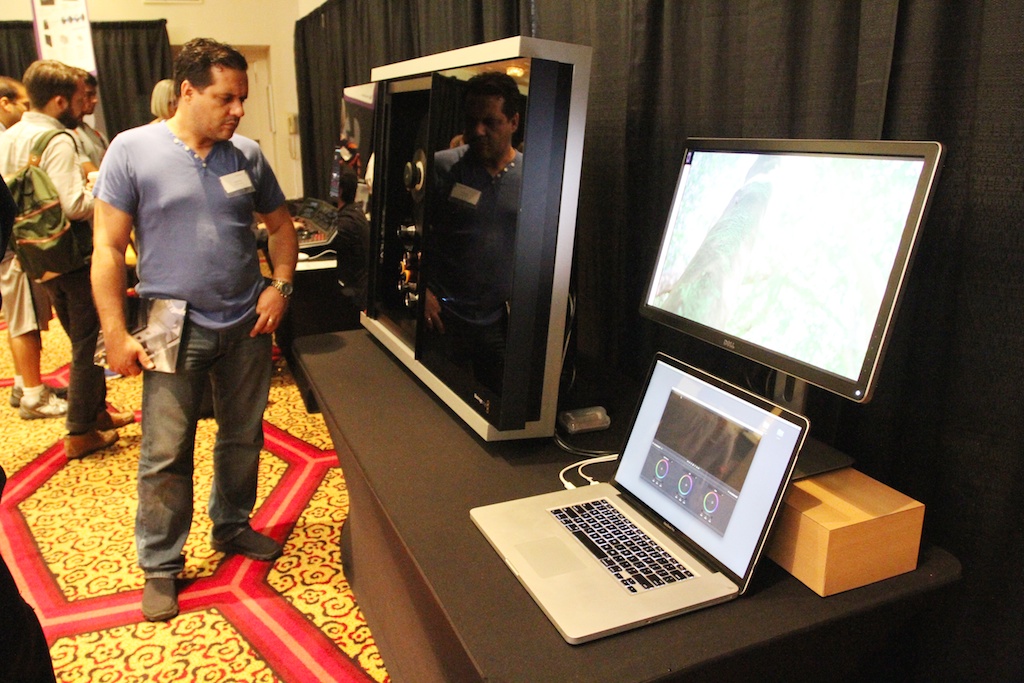 Remember Cintel's Ursa Gold, the gold standard for standard-def film-to-tape transfers back in the 1990s, at a cost of a half-million dollars per telecine? At NAB this year Blackmagic introduced a prototype of their upcoming Cintel Film Scanner to transfer 16mm and 35mm in real time to Ultra HD (16:9 version of 4K). Output is RAW via Thunderbolt 2 to a Mac workstation, with Image Mill stabilization, grain reduction, and full DaVinci Resolve 11 thrown in for good measure. Price $30K, MacBook Pro not included.
We've seen this script before. Apple with its laser printer and Aldus Pagemaker upended cold type in the late 1980s; a decade later Apple upended expensive NLEs with Final Cut Pro and FireWire. Perhaps it's no coincidence that after Apple withdrew from the NAB show floor seven years ago, Blackmagic took over Apple's huge booth space at the Las Vegas Convention Center. Every year Apple's booth had been the most crowded corner of South Hall. And so it remains, now showcasing all things Blackmagic Design.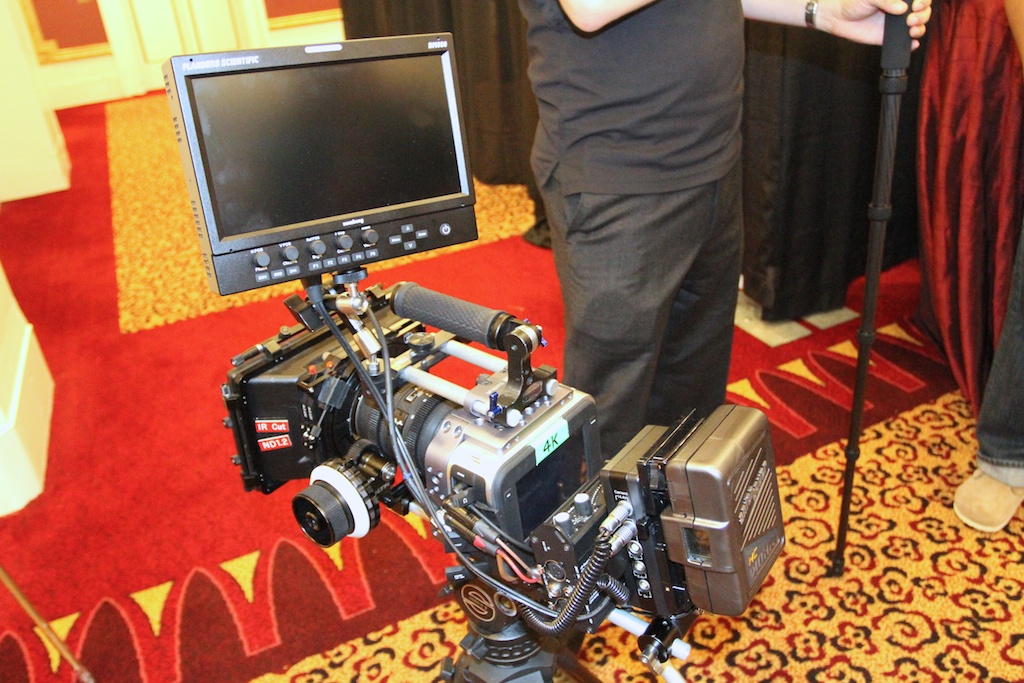 Blackmagic Design's founder, Grant Petty, has said he would not be where he was today without Steve Jobs. A poor kid from a small town, he attributes his start to learning to program an Apple II in public school while reading computer magazines in which Jobs delivered provocative ideas about software, hardware, and "the future of computing."
Whatever you think of Blackmagic Design's $995 Pocket Cinema Camera with 1920 x 1080 RAW capture, or their $2995 Production Camera 4K with global-shutter S35 sensor, Canon EF mount, and ProRes HQ (plus licensed full version of DaVinci Resolve, a $995 value), you have to admit they've stirred the pot.
It would appear Grant Petty and his Blackmagic Design team have taken "Think Different" to heart.