Back to selection
IBC 2014: A Big Show for Sony and Blackmagic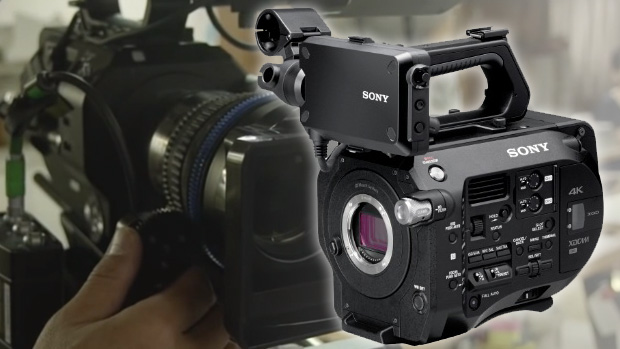 Sony PXW-FS7
IBC is the European equivalent of NAB, and one of the few times lots of manufacturers are announcing and updating products. This show has seen some big news, particularly from Sony and Blackmagic.
Sony PXW-FS7
Sony made a huge splash with the PXW-FS7. This camera slots in between their NEX-FS700 and the PMW-F5, and while it has the same E-mount as the NEX-FS700 it is a very different camera. Sony has almost completely rethought their design, intending this one for the documentary and news shooter, and focusing on making it shoulder useable without the addition of a rig.
The key features for the camera are: on-board 4K 10 bit 4:2:2 XAVC recording, up to 14 stops latitude, S-Log3, and built-in ND. The electronics are environmentally sealed with active cooling. Most intriguing is the way the camera has been designed for shoulder use, and the grip, called the SmartGrip, which comes on an adjustable boom and includes a zoom rocker and user assignable buttons.
While they've also redsigned the controls on the body of the camera, it lacks the side panel display of the F5/F55, so it may not be quite as simple to set up and control, though the camera menus are similar to those in the F5/F55.
The FS7 records QHD (3840×2160) internally up to 60fps and HD at up to 180 fps. It will also record HD in MPEG-2. There are two XQD card slots, as well as an SD slot that is only for upgrading firmware.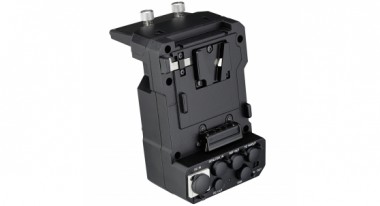 The XDCA-FS7 extension unit will ship by the end of the year and adds internal ProRes 422 recording, as well as external 12-bit raw output. If you want Cinema 4K recording you'll need to use that unit and record in RAW, which will require an additional recorder. The XDCA-FS7 adds some weight to the back of the camera, which may also help balance the camera if you are using heavier lenses!
The viewfinder does display a 17:9 image, and when shooting in 16:9 it dims the part of the image not being recorded. There's a clip-on eyepiece cover for the LCD viewfinder that is similar to the one on the NEX-FS110/700, though it's not as long. I'm not a huge fan of the clip-on eyepiece on the FS100/700; it works, but it's not something you're likely to fall in love with as it seems big and ungainly.
Sony also announced a new servo zoom, the FE PZ 28-135mm f/4 lens, which features internal zooming and optical stabilization, and should make a nice complement to the camera.
How does the FS7 compare to the PMW-F5? The F5 has an FZ/PL mount, a simpler set of side controls and is much larger, making it less suitable for shoulder shooting. It also records to SxS media, which is more robust than the XQD cards. The PMW-F5 currently sells for $16,500 while the PXW-FS7 will be $8,000 without the extension unit.
It's been suggested that the FS7 could take some sales from the Canon C300, but I think the camera that faces the biggest pressure is Sony's own FS700. Currently at $7,699 it's hard to think why someone spending that sort of money wouldn't opt for the FS7 instead, even if they didn't plan to shoot documentary style. The FS7 appears to have a better form factor and supports 4K internally. The FS700 does support 4K, but you need to add an external recorder to do that and Sony's AXS-R5 costs just over $5,000.
Other Sony announcements
In additional to the PXW-FS7 and the new lens, Sony also announced an official upgrade for internal 4K recording on the PMW-F5. This will add XAVC 4K/QFHD recording and playback, 4K SDI and 4K HDMI Output and Simultaneous recording (XAVC 4K or QFHD) with MPEG 50Mbps 422. It will cost $998 and be available at the end of the year.
An ENG shoulder mount for the F5/F55, the CBK-55BK, will appear at the end of the year and will cost $7,999.99. Or you could buy a PXW-FS7.
ProRes and DNxHD recording options will also be available for the F5/F55 with an optional hardware upgrade that will cost $2,250.
Blackmagic Announcements
Blackmagic announced several new products, including PL mount cameras, an upgrade to DaVinci Resolve and the acquisition of eyeon Software, who make the Fusion VFX applicaiton.
PL Mount 4K and Cinema cameras
According to Blackmagic, when they originally designed the Blackmagic Cinema camera they had intended to use a PL mount, but halfway through development they realized that a lot of their potential customers were DLSR owners, so they switched to the EF mount.
Now they've gone back and developed PL versions of the 4K and Cinema cameras, which they say will be available in a couple of weeks. As the camera chassis is machined from a solid block of aluminum, Blackmagic says that the mount will support even "extremely heavy" PL mount lenses.
DaVinci Resolve 11.1
They only recently shipped release 11, and here comes an update with some fixes and several new features. These include: a new full screen timeline view, editable in and out points in the viewer, gap trimming, the ability to add multiple transitions simultaneously, independent track heights, fade in and out opacity settings on video tracks and the ability to swap edits. Resolve continues to evolve into a powerful editing tool.
Blackmagic Acquires eye on
Finally, Blackmagic has acquired eyeon, developers of the Fusion VFX application. Fusion uses a node based approach to building up effects, which is interesting because Resolve also uses a node based UI for adding grading elements.
Blackmagic already has a strong color correction tool in Resolve, which they have also been turning into a capable NLE. By adding Fusion they could become very serious competitors for Adobe.