Back to selection
Fact or Fiction: The Toronto International Film Festival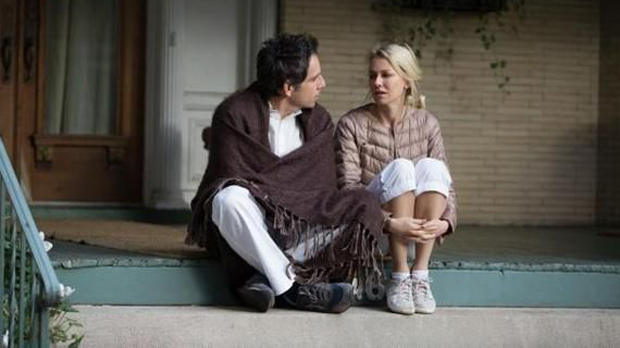 While We're Young
If The Toronto International Film Festival (TIFF) is to be judged on the world premieres it attracts, this edition of the festival was far from vintage. Artistic Director Cameron Bailey signaled a change in policy this year when he declared that no film playing at Telluride would be allowed to debut in Canada until after the all-important first weekend. He even broke with tradition by declaring the exact status of films playing at TIFF, and, since the program is announced before Telluride reveals its line-up, anyone that cared would know many of the films that would be playing at Telluride simply by looking to see if they were world, North American or Canadian premieres at TIFF. The decision seemed to be an admission that Telluride has been stealing TIFF's thunder in recent years by offering sneak peaks of 12 Years a Slave and Slumdog Millionaire.
The policy change could be read as saying that the success of the festival can only be measured on the number of Oscar gongs the films debuting at the festival pick up next March. Each of the past seven Oscar Best Picture winners screened at TIFF but unspooled somewhere else first, and that's a situation Bailey seems to want to change. All of a sudden none of the focus was on the hundreds of international and independent films that launch at Toronto — especially not if they were foreign language fare, films such as Tiger Men, Academy Award winner Danis Tanovich's excellent docudrama on the Nestle scandal in Pakistan, and the discovery of the festival, Margarita, with a Straw, about an Indian bisexual cerebral palsy sufferer (yes, you read that right). Nonetheless, Bailey's edict meant that of the 139 world premieres the English language fare was where most eyes were focused. Of the English language world premieres I managed to watch, most were mediocre, with only Noah Baumbach's fortysomething comedy While We're Young really hitting a home run.
The opening night film — the overly sentimental legal drama The Judge, starring Robert Downey Jr. and Robert Duvall as father and son — set the tone. At the gala screening, director David Dobkin, whose best film still remains the uneven Wedding Crashers, sided with Bailey by declaring, "I agree, a world premiere is a world premiere." Whether Venice or Telluride would have taken this courtroom drama is another matter, as it doesn't seem to fit with any of their programming strategies. It's not without qualities: there is an excellent performance by Duvall, and Downey Jr. brings out the charming guns that make his Iron Man so loveable. It also has a decidedly transgressive incest side-plot that is dealt with so lightheartedly that the transgression comes over as possibly funny. Nonetheless, it's the failure to hold back on the sugar that puts The Judge in the dock. 
At least the opening night film was less of a disaster than Alan Rickman's closing night effort A Little Chaos, a love story set around the development of the gardens at the Palace of Versailles involving landscape gardeners played by Kate Winslet and Matthias Schoenaerts. It's a comedy without any laughs, which was something of a trend at the festival. Boychoir was one of many English language premieres made by directors whose mother tongue is not that of the lady who lives in Buckingham Palace. It's a feel-good film about a young boy from the wrong side of the tracks who has a talent for singing that is sculpted by the hard-to-please Dustin Hoffman. It's the type of safe, well-made rounded entertainment that only Toronto of the A-List festivals would play. It's good enough and was a good title for trades to speculate over in the market. (I missed out on two of the titles that made finance headlines, Chris Rock's comedy Top Five and Tom McCarthy's fantasy comedy The Cobbler, starring Adam Sandler.)
Of the English-language world premieres, While We're Young was the standout. Noah Baumbach has crafted a funny film about aging and filmmaking. It gets going when Ben Stiller's film professor, the director of a hit documentary film made eight years previously, tells his class that Jean-Luc Godard once posited that "documentary is about someone else, fiction is about me." So it proves as Baumbach creates a filmmaker's fictional world that seems as much about his view on the world as his last film, Frances Ha, was about Greta Gerwig. Both Ben Stiller and Naomi Watts give their finest performances in years as a fortysomething couple feeling the effects of aging. It's like Baumbach watched This is 40 and decided to pay homage and add some jokes. They meet a young couple (played by flavor of the month Adam Driver and Amanda Seyfried), who are clearly younger versions of the principal protagonists, a doubling rammed home by some flourishes Baumbach must have observed whilst working with Wes Anderson – the younger couple watch video cassettes and put typewriters on the wall, while the fortysomethings do everything on Apple products. While We're Young's problems come in the second half with the arrival of Watt's father who is a famous documentary filmmaker (there are just one too many filmmakers in this film) and the tagged-on facile ending that seems to run counter to the assertion that couples don't need to have babies to be happy.
Michael Winterbottom arrived with his excellent interpretation of the Amanda Knox murder case, The Face of An Angel. The action has been moved to Sienna and the names of the principle characters have been changed. It's another movie that asserts, "You can't tell the truth unless it's a fiction." Winterbottom uses the device of a filmmaker (Daniel Bruhl) wanting to adapt a book written about the trial by a journalist (Kate Beckinsale) covering the case. Whilst in the student town, the filmmaker meets a local British student (played by Brit supermodel Cara Delevingne) who works in a pub in the evening, which mirrors the life of murdered Meredith Kercher. It's a fascinating merger of truth and fiction that includes facts about the murder without trying to discover who the murderer was. What emerges is a truth about Kercher's life rather than a statement on her death.
Fact and fiction has played a huge part in a number of films this year about filmmaking and the process of discovering where reality and fiction cross paths. It's been most apparent in the number of movies about the art of filmmaking, in which the protagonists are versions of themselves, playing actors working on productions. Toronto hosted screenings of Cannes entries Maps to the Stars and Clouds of Sils Maria, both films about actresses struggling with career choices. It also hosted The Humbling, fresh from its Venice premiere; the Philip Roth adaptation sees Al Pacino playing an actor struggling with Shakespeare (another piece of typecasting). What's strange is that Toronto didn't show the two best films in which filmmakers mix truth and fiction, Alejandro González Iñárritu's Birdman, which opened Venice (and played Telluride), sees Michael Keaton play a former superhero actor who now wants to get back to more challenging work on the stage. Also playing in Venice was Quentin Dupieux's eclectic Reality, a film within a film — or is it a dream within a dream? Anyway, this programing highlights that Bailey's edict really made no difference; films go where their producers feel is the right fit, or where they will be accepted.
What all these films do show is that in the digital age (or in the Internet age, whatever you prefer), filmmakers and analysts are obsessed with discovering what is the meaning of "real." Is it a physical or a mental experience? Mental versus physical was also a feature of The Theory of Everything, James Marsh's film about the relationship between physicist Steven Hawking and his wife Jane. Much of the press has been about the remarkable performance of Eddie Redmayne, but the real star of the show is Felicity Jones as Jane. She actually has the most prominent role; perhaps that's no surprise given the film is based on a book by Jane Hawking. The second half of the film, after Redmayne's admirable interpretation of Hawking has hit home, develops into a relationship drama that made me think of Breaking the Waves, especially when the wheelchair bound physicist gives his blessing to his wife to carry on an affair and then the action cuts to waves. There are also two particularly effective moments in the sound design, the first and most obvious when Hawking's head crashes against the floor and the second when he sits in a wheelchair for another time. Director Marsh, who made the brilliant Man on Wire , documentary knows how to make films about unusual geniuses.
The Audience Award, the biggest prize available, went to a film containing my favorite male performance of the festival, Benedict Cumberbatch playing British code-breaker Alan Turing in The Imitation Game. (Maybe Bailey doesn't want us to mention that the film came to Toronto after playing in Telluride.) Cumberbatch's star has been on the rise ever since the international success of Sherlock, and my feeling is that his ability to play a vulnerable geek will see him in the Oscar reckoning. It's a performance that carries the film to exhilarating highs and lets one overlook the fact that this film completely underplays the arrest and incarceration of Turing for being a homosexual. Indeed, we don't see any actual homosexual activities, just several intimations that something is going on between the boys before an open confession. Anyone annoyed with the safeness of the project may miss out on the excellent way that director Mortem Tyldum (Headhunters) manages to put the focus on why the British government would allow one of its biggest war heroes to be arrested and publicly humiliated. Despite the obvious sadness of the real life tale, with the aid of his leading man's performances Tyldum manages to turn the story into a rollicking piece of entertainment.
A biopic that wasn't scared of detailing the troubles of its central character was Love & Mercy, Bill Pohlad's look at reclusive Beach Boys songwriter Brian Wilson. The film also has a flashback structure, with Wilson played in his younger years by Paul Dano and as an older man by John Cusack. There is also no attempt to tally the performance of the two men so that they mimic each other; each brings their own unique interpretation to the period in which they perform. What's interesting is that both periods show Wilson in decline. Dano plays the star as his mind begins to unravel during the recording of the seminal Pet Soundsrecord (released in 1966), and Cusack plays Wilson in the 1980s when he meets Meredith (Elizabeth Banks), an encounter that opens his eyes to his disastrous relationship with psychiatrist Dr. Eugene Landy (Paul Giamatti). It's an interesting lesson in acting methods. Dano has gone for mimicry, while Cusack has chosen the interpretation route. They riff off each other as the action jumps back and forward between the periods. Yet the real standout is Banks, who starts off as an impressionable car salesperson but then slowly, effortlessly establishes herself as the most important part in Wilson's life and of strong enough character to help him battle Landy.
It seems that this year, the TIFF just couldn't decide if it was fact or fiction that was better.