Back to selection
Has the Cinematic Water Cooler Run Dry?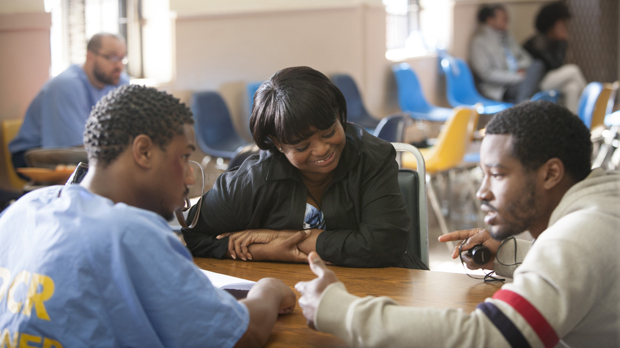 Fruitvale Station (Photo courtesy of Radius-TWC)
Sex, lies and videotape; Pulp Fiction; The Blair Witch Project; Juno — they are now the stuff of indie film legend. Movies that came out of nowhere (although that's not entirely true) and became not just crossover hits, but cultural phenomena, spawning think-pieces in The New York Times, TV talk-show fodder and conversations around the water cooler. Yes, they made money along the way, but we remember them as much for the zeitgeist they captured as their box office.
These days, we can still point to the occasional breakout. This year, Richard Linklater's Boyhood has benefited from that mysterious magical mix of good reviews, the right publicity, a memorable conceit and word-of-mouth to transform it from arthouse curiosity to cinematic event. Last year, Fruitvale Station — coupled with the Trayvon Martin shooting — reopened among moviegoers the kinds of widespread debates about racial prejudice that once only a Spike Lee Joint could engender. And the year before that, Beasts of the Southern Wild was quickly catapulted to the forefront of cultural discussions as a result of film festival enthusiasm, shrewd marketing and an utterly unique but accessible storytelling style that couldn't be found elsewhere.
But some prominent members of the independent industry are concerned that indie film's cultural currency peaked long ago. Look where director Steven Soderbergh is now. Or producer Ted Hope. Or Lena Dunham and Cary Fukunaga. All of them left filmmaking, temporarily or not, to tackle projects in other media. Judging from all the ink spilled on Breaking Bad, Girls, Mad Men, True Detective and others, indie filmmakers have either lost touch with society, or the more fragmented and diverse entertainment industry has left them behind.
As Ted Hope writes in his new book, Hope for Film (co-authored with me), about his final years making films, "I was still getting good movies made, although there was no denying they were being seen less, having less impact and were less satisfying as a result."
Back in 2005, James Schamus — formerly co-partners with Hope in Good Machine and then co-president of Focus Features before he, too, left the business to pursue his screenwriting and academic careers — told me in a Variety article, "We often find the parochial American indie just doesn't speak to the rest of the world," he said. "And quite frankly, [it] doesn't have much commercial context here in the states either."
Likely Story's Anthony Bregman, another ex-Good Machiner, who has since gone on to produce Eternal Sunshine of the Spotless Mind and Foxcatcher, agrees, to some extent, "if only because the options available for cultural impact have widened," he says.
"Ten years ago," Bregman continues, "if you wanted to use filmed narrative to have cultural impact, your most effective delivery mechanism was a feature-length independent film. Now you have YouTube channels, various forms of Web series, Netflix binge programming and the golden age of quality TV, all of which have become viable sources of cultural influence. Independent film may have birthed and molded many of these new forms, but the feature-length independent film is no longer the only delivery vessel."
But it's not simply the ubiquity of digital media content that may have eroded the cultural relevancy of strong and innovative American-indie dramas. Rene Bastian, producer of previous decade crossovers L.I.E. (2001) and Transamerica (2005) and this year's Sundance title Cold in July, believes the problem is that popular culture moves so quickly nowadays. "Films take a long time to make, then it takes time to build awareness for them, then it takes two hours of the audiences' time to enjoy them, and then more time to digest and possibly discuss them," he says.
"It is now harder than ever before for a producer to predict what audiences will want to watch two years from now," Bastian continues.
Over the last decade, Jamie Patricof has seen films that he's produced such as Half Nelson (2006) and Blue Valentine (2010) become vaulted into the public sphere through publicity campaigns, buttressed by those films' strong performances. But he, too, says the main "challenge is that it's harder for films to bubble up to the top."
But Patricof is also more optimistic. If Half Nelson was distributed now, it would be far more readily available to consumers. "If you released Half Nelson today, it probably would have come out on day-and-date and exponentially more people would see it than the 200,000 or so people who saw it in theaters."
Digital releases should also potentially stir up more discussion in the digital water-coolers of today — on Twitter, Facebook, Reddit, etc. — because, as Patricof notes, "you can go online and spark a debate where people around the world can chime in, and then, with one click, they can see the film."
But it's hard to say whether that's actually happening right now. Some documentaries, such as Blackfish, may have gained traction on TV and the blogosphere, but hot-button and highly acclaimed dramatic indies — whether Compliance or Upstream Color — didn't benefit enough from Internet chatter to turn them into must-sees.
Then again, maybe they wouldn't have 10 years ago, either.
"I don't think it's quite as simple as saying things were good then, and now they're bad," says veteran producer, distributor and marketer Ira Deutchman, who helped work on the releases of such iconic indie breakouts as sex, lies and videotape, Metropolitan, Hoop Dreams and My Own Private Idaho. "There really were very little opportunities of breaking through to a wider audience back then."
While he concedes that it may be more difficult now to stay in theaters long enough to reach that pivotal word-of-mouth tipping point, which became crucial to Hoop Dreams's slow road to success, Deutchman believes that films like sex, lies and videotape and My Own Private Idaho had the kind of impressive festival exposure and critical response that, if released today with the amount of P&A money being thrown around, "might have actually done better."