Back to selection
Encounter Groups, Ghost Stories and Rapid Prototyping at the Seventh POV Hackathon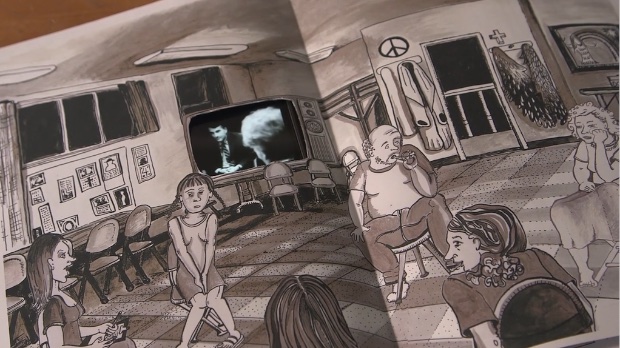 The Dandelion King, demo screenshot from POV Hackathon 7. (Courtesy POV/American Documentary, Inc.)
"There are a lot of things I like about your project, but the effects on the videos are not one of them." "How is this different from Second Life?" "Your video — it's kind of boring."
Participating in a hackathon, like POV's which wrapped Sunday, Nov. 9, means opening yourself up to blunt feedback. Forty-eight hours of project development and rapid prototyping, POV's hackathons pair documentary filmmakers with mentors and programmers and task them with extending non-fiction storytelling beyond the cinema (or television) walls. This month's event — POV's seventh — concluded with the five selected teams presenting their projects to an audience as well as panel of judges who offered smart and occasionally biting responses. (Yes, long before American Idol and Shark Tank, participants at documentary pitch forums have been keeping their on-stage composures….) This edition's judges — Aina Abiodun (StoryCode), Liz Cook (Kickstarter) and Bjarke Myrthu (Blind Spot) — didn't hold back, as the above quotes indicate. Still, it was as impressive to watch the caffeine-fueled participants cooly and thoughtfully respond to their feedback as it was to watch the judges come up with their sharp and economical critiques.
This Fall's five projects were a diverse bunch, spanning education, political documentary and personal memoir. From Andrew Ritchie, D Schmüdde, and Ziv Schneider, Chicago Ghosts — the project that prompted the Second Life comment — uses HTML5 and open source 3D software to tell Windy City crime stories. Viewers discover stories by traversing through virtual spaces modeled after the city's architecture and street plans. The project's presentation suffered a bit from the time limitations of the hackathon format — the visualizations needed more polish to make an impact on screen. ("I know it's just a one-day thing," one judge apologetically said.) But Richie, an artist, writer and editorial technologist for Triple Canopy, had a great rejoinder to the Second Life critique: "In Second Life you're going out to meet a person… here you're able to curate and edit something in advance that's going to be a great storytelling experience. Second Life is kind of like a crap shoot — like going to a bar."
From Anrick Bregman, Brian Chirls, and Luigi De Rosa WAS Camp Century, a lovely web-based, Arctic-set visual/audio essay dealing with both climate change and American military policy. Chirls used a number of web effects and video compositing tools to add what he called "a sense of presence" to the archival still photographs — effects like flickering light bulbs and falling snowflakes. "I like slow projects — simple visions, one thing at a time," Bregman explained, and, indeed, his project attempted to create a meditative aura around its subject matter, combating the busyness of the web with a kind of measured beauty. "There is more to the story than effects," he continued. "It's an attempt to create something that catches your eye, that leads you to look for more than a glance." Through it all, Bregman was a masterful presenter, artfully parrying the panelists' criticisms with appropriate degrees of humility and pushback.
Anatomy of a Trial, from Nora Christiani, Zack Dinerstein, Blake Hunsicker, Peter Kinoy, and Meka Montanez, is an interactive web documentary about the Rios Montt genocide trial in Guatemala. The piece allows viewers a deep dive into the legal strategies of the long-running case. For the judges, a conceptual foregrounding of the story's stakes was key. "Was there a genocide or was there not a genocide — this is a narrative battle being played out in real time in Guatemala," Myrthu said. "If that's the core of what you're doing," Cooke added, "the structure of the UX should be, 'Is there a genocide or not?' Every piece of your tech needs to tell that story."
Axion, from Jacob Baskin, Steven Melendez and TED Talks filmmaker Jason Wishnow is, they described, "a meditative exploration of the scientific method and the human instinct to explore our place in the universe. Axion encourages viewers to immerse themselves in a seamless narrative experience while tailoring the video for personal learning styles and science backgrounds." But for the judges, the question was, "Is this just a high-level audio/visual algorithm?" ("Algorithms are poison for learning," Abiodun quipped.)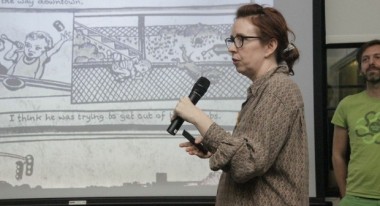 The last project to present was the quirkiest, the most low-fi and, in some ways, the most awkward. More because of these attributes than despite them, it proved the favorite with both audiences and judges, winning the Participants Choice Prize. From John Benton, Amos Latteier, Colin Rothfels, and Heide Solbrig, The Dandelion King is a companion mobile app to Solbrig's graphic novel — a '70s set "divorce biography" that foreground's Solbrig's family history against the economic and social issues of the time. Allowing readers to focus their smart phones on cut-outs in a physical book to trigger videos, and employing an online multiplayer game built around the metaphor of a '70s encounter group, The Dandelion King app is an endearingly personal use of today's tools to add community and multimedia to the reading experience — "tech embedded into a textual object," Solbrig said.
As Amazon and Goodreads impose their own algorithmic mindset on 21st century reading, the complicated strangeness of The Dandelion King stood out. Admitting that this project is "awkward and weird," Latteier said, "We're in this time when we're trying to figure this [form] out. It doesn't all fit together [here] and that's okay." Praised Abiodun, "There isn't a lot of technology that asks a lot of me emotionally. So you're going to a place that technology needs to go. The analog side is so unexpected."
For one audience member, the concept of an app around a physical book seemed a bit confusing. "Is it a bestseller?" he asked Solbrig, who replied, "I just finished my Kickstarter!" Afterwards, Solbrig, a media theorist and documentary filmmaker, told me she began thinking of The Dandelion King's transmedia elements from the start. "I'm really excited by drawing and the idea of making a book that has film elements in it, but I didn't want them to be separate," she said. "So I started pretty early on thinking about the ways in that they could integrate but that would make the book primary. [I thought], the book could be an exhibition space."
POV's was Solbrig's first hackathon, and she said she applied so she could work with her friend Latteier, a Montreal-based artist and developer. Over the weekend, there were a few moments, she admitted, "when I looked a bit pale." She said she began the weekend having already made "a lot of folds outs, paper dolls and books. I spread them all out on the table and said, 'How do we make this into something interactive that still feels very crafted?'"
This was Latteier's second hackathon, he told me, but the first in which "we actually wrote software. The other one I was in, it was a lot more about crafting a pitch. In this one it was more about designing and figuring out what the hell you're doing and then actually implementing it in two days. Which is what a hackathon is supposed to be, but I feel like a lot of times they are more smoke and mirrors."
All the prototypes for this seventh edition of the POV Hackathon can be viewed on its home page.