Back to selection
Resist, Ye Andalusians!: Seville European Film Festival 2014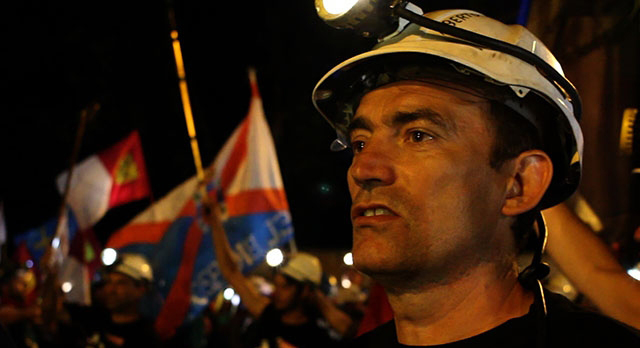 ReMine, The Last Working Class Movement
The local, national and continental share a happy space at Seville European Film Festival (SEFF). Now 11 editions strong, the Andalusian capital's chief annual film event boasts a range of movies as healthily varied as southern Spain's autumnal weather: here a morning shower, there a midday sun, here an established auteur, there an unknown debutant. While diversity is the aspiration of many a film festival, the cost is often quality. Now under artistic director José Luis Cienfuegos for three years, though, SEFF has done well to carve out its current position as the festival calendar's prime place to discover quality works by Spanish filmmakers while catching up, if necessary, with powerhouse award winners.
Among the latter this year were Roy Andersson's Golden Lion winner A Pigeon Sat on a Branch Reflecting on Existence, Andrei Zvyagintsev's Leviathan, Pedro Costa's Horse Money and Mike Leigh's Mr. Turner — which, unprecedentedly for its director, has just expanded to 500 theatrical screens in the UK after making more than the lifetime gross of any of his previous films in its first ten days. Losing out to Force Majeure, all of these competed in the festival's juried international competition, which also made posthumous space for Alain Resnais' swansong Life of Riley. The latter film might be a curious selection on paper — but if the festival believes the film's good enough, why not? That's the question that seems to drive the programming ethos of Cienfuegos and his tight, trusted team, something further evinced by the festival's inclusion of intercontinental co-productions, which allows an American vet like Frederick Wiseman to appear in the otherwise Eurocentric lineup.
These days, SEFF enjoys a great deal of international press coverage as the event at which the nominations for the European Film Awards — now in their 27th incarnation — are announced. For actual international attendees, however, the unique selling point of SEFF might be its selection of Spanish films, whether unveiled for the first time or selected from the festival's much older and wealthier comparator, San Sebastián — or indeed beyond, as was the case with Marcos M. Merino's excellent documentary ReMine, The Last Working Class Movement, which first bowed at BAFICI. An impassioned front-line dispatch from the 2012 miners' strike that broke out in Asturia in the far north of Spain, the film is as tense in its scenes of militant anti-police resistance as it is moving in its use of local songs.
Perhaps due to its previous outing in Buenos Aires, ReMine received its European premiere in SEFF's "New Waves: Non Fiction" competition, which it duly won. One returning non-competitive section, "Andalusian Panorama," presents films each year from the local region, while "Resistances" seeks to promote multiplicity and creativity in Spain's independent cinema. Returning for its second year, the latter section expanded upon its inaugural run in 2013 with eight world premieres and a European premiere. While some of these films were made, one might say, in active resistance to the sociopolitical predicament presently plaguing Spain, others were more notable for formal experimentation.
In short, despite the national crisis, resistance isn't a guaranteed theme here, though it's understandably never unwelcome. "We started the section for two reasons," says head programmer Alejandro Díaz Castaño. "We had witnessed the development of Spanish independent filmmaking in recent years, and were including more and more Spanish films within our international competition. We realized that there was an important amount of really commendable films — some of them of course imperfect, but full of energy and fresh ideas, and at risk of being left out of the program."
To earn a reputation as a breeding ground for new talent, a festival needs to find ways of extending the shelf life of the works it unveils — especially when the vast majority of these films are self-produced efforts by filmmakers with little to no previous experience of maximizing their airtime on the festival circuit. To this end, at least one film (as yet unannounced) unveiled in "Resistances" this year is headed to the Forum section in Berlinale. "It's important for us that the films can also be seen by other programmers, who may also select them for their festivals, cultural centers and other showcases," says Díaz Castaño. "'Resistances' is a national section with the aim of becoming attractive at an international level."
One way of encouraging this attention is to ask the festival's visiting FIPRESCI jury, first invited last year, to judge the "Resistances" program. It's a successful strategy: Cristóbal Arteaga's The Sad Smell of Flesh has enjoyed further life on the festival circuit since its win last year. This year's winner was Ramón Lluís Bande Here and In Other Time, a documentary on Asturia's anti-Franco resistance fighters between 1937 and 1952. But it isn't just about programming. There's also a commercial element to consider. "During the festival," notes Díaz Castaño, "we always try to help the filmmakers get in touch with industry producers and theatrical distributors. It is very important for us to help these films have the widest distribution after the festival, and that includes of course the option of being theatrically released."
With many of the country's higher-budgeted films aiming for San Sebastián or even further afield, Spain's independent filmmakers have looked more and more to Seville as their go-to platform. A prolific, underrated veteran if ever there was one, Pablo Llorca returned to SEFF with two new explicitly politicized works following 2013's politically sharp and woefully underseen A Bouquet of Cactus. Like last year's film, both movies are self-funded. The Palace Without Stairs is a densely-narrated, Patrick Keiller-esque essay film about the changing architectural and infrastructural face of Madrid. It premiered in the festival's "New Waves: Non Fiction" section, while The Great Leap Forward, which bowed in "Resistances," is a typically low-budget drama in similar vein to Cactus, in which several ordinary, working-class characters cross paths in Spain's financially embattled capital city. In each case, Llorca's trademark humor and rough aesthetic style create a strangely absorbing, unfussy naturalism.
Elsewhere in Resistances was Lunatic, Eduard Solà's documentary about his grandparents, Eduardo and Rosario, whose unfailing loyalty to one another lends the film its sweet, romantic thrust. Amusingly, Eduardo's imaginative ambitions gradually take hold of the narrative: driven by his wife's failing health, he reveals to his grandson his latest invention — a spaceship! If Solà's doc becomes increasingly fanciful as it follows its protagonist's quest to fly to the moon, a fellow "Resistances" world premiere, Eloy Domínguez Serén's Jet Lag, had a sobering reality imbued upon its production. This would-be minimalist, semi-fictional account of a gas station employee working consecutive night shifts in the Galician town of Tui takes an unlikely u-turn when a real-life armed robbery occurs at the quiet locale. It gives the second half of the film — in which the filmmaker is compelled to acknowledge the incident and allow his filmic world to collapse — an unusual and typically Galician edge.
Like Llorca, Domínguez Serén returned to Seville this year with two new works. Preceding both screenings of Jet Lag was In the New Sky, his 5-minute wordless ode to the Ericsson Globe — a giant, spherical arena in the Enskede-Årsta-Vantör district of Stockholm, which towers over the landscape around it. One of a number of shorts made as part of the new Nimbos Initiative, which brings together filmmakers to make works inspired by a book of poems by Galician writer Xose María Díaz Castro (1914-1990), it's a quietly compelling landscape film and, as it happens, one of the best this year.