Back to selection
"I Wanted the Film to Feel Like a Christmas Tree Ornament from your Attic": Charles Poekel on Sundance NEXT Film Christmas Again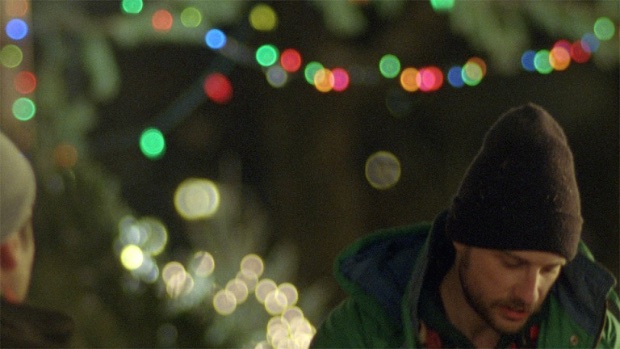 Kentucker Audley in Christmas Again
With Charles Poekel's charmingly melancholy debut, Christmas, Again, the independent film maxim "write what you know" gains a corollary: "write what you can learn." For his tale of a withdrawn Christmas tree salesmen just trying to get through the season, again, Poekel gained knowledge of his protagonist's trade by opening and operating his own stand in Greenpoint — a job he's still doing five years later. Defiantly non-melodramatic and with the well-worn feel of a '70s New York character study, Christmas, Again has both poetry and an unprepossessing air. In other words, it's a perfect holiday visitor.
Christmas, Again premiered at the Locarno Film Festival and makes its U.S. debut in NEXT section of the Sundance Film Festival. An IFP Narrative Lab film, it features strong performances by Kentucker Audley as the salesman and Hannah Gross as the mysterious woman he finds himself looking after. Below, I want to talk to Poekel about his filmmaking — and I do — but I get sidetracked by asking him to tell me just how one goes about opening a Christmas tree stand in New York.
Filmmaker: So, why did you make a film about a Christmas tree salesman as your first film?
Poekel: I thought of the idea three or four years ago, and it seemed like a feasible film to make. I didn't put much thought into making "a Christmas movie" — it was more that the job of selling Christmas trees in New York was weird and unique, and I hadn't seen it explored in a movie before. As a filmmaker you're always looking for a story that hasn't been told. So, it was just the uniqueness of the idea and that it was set at a stand that appealed to me.
Filmmaker: Okay, so, then, why did you decide you had to become a Christmas tree salesman to make this film.
Poekel: As a writer, the first thing I wanted to do after [coming up with the idea] is to immerse myself [in the world]. So I went around and started going to different stands and interviewing people, and I felt like I was just scratching the surface. I wasn't getting to the heart of it. And because selling Christmas trees is such a quick racket, I thought it would be difficult when it came time to shoot the film to find a stand that would allow me to film there. If this were a Hollywood, of course, you'd start from scratch and make a Christmas tree stand. But without a budget, I thought, if we started our own stand we could sell the props as we go. I heard selling trees was lucrative in New York City, so, I thought, why don't we set up our own stand, we'll get a great idea of what it's like to live on the street and sell trees, we'll make a little money to fund the film, and then when it comes time we'll shoot the movie there.
Filmmaker: How many years did you do the stand before shooting the film?
Poekel: Three years. The first two years I was working full time at Fourth Row Films as a cinematographer, editor and post-production supervisor, so I did it part-time; I'd oversee it on the weekends. In the third year I started working freelance as a set decorator, and then I worked every day during Christmas season. Weekends are heavy so I'd give myself Friday off.
Filmmaker: Tell me about that business. I know nothing about that business, but I imagine that it is very much a family one, passed down through generations, and that business have their spots they go back to year after year. In other words, I imagine it's hard to break into. Is that the case?
Poekel: It is very true that people go to what they know exists, which is usually the stand they bought from the prior year. So, the first year was a little tough, and we did not sell as many trees. It was mostly just about letting people know that we are there so that next season they think of us. But the foundation of the whole business in New York is about people without cars. It's not like buying a book, which you can buy anywhere. People without a car buy from the closest place because you can't carry a tree home on the subway. So, the second year we had a lot of new customers. This past year was the fifth year. A lot of people didn't expect me to keep doing it, but there is a community that is now depending on me. Plus, next year, if the film is released at Christmas, it will be good to have the stand [still going]. If I took a year off people would have thought that I was done and would have moved on.
Filmmaker: What about permits? How do you find a place to sell?
Poekel: I live in Greenpoint, which is one of the expanding neighborhoods in Brooklyn. In Manhattan, it is a pretty locked-down racket of tree vendors. If there's a great place to sell trees in Manhattan, it's probably already taken. But since I have been living in Greenpoint, I've seen a lot of shops opening and a lot of night life. I thought, if a pizza place and a bar can open, so can a Christmas tree stand.
As for permits, I don't need one. When Fiorello LaGuardia was mayor of New York, the town council put in law that said that Christmas tree vendors are the only street vendors who don't need permits. You just need to have the permission of the person whose sidewalk it is. Mine is a closed-down luncheonette, and I pay a little money to the woman who owns it.
Filmmaker: Where do you get your trees?
Poekel: I get my trees from all over. Some are from farms, and some are from wholesalers. They come from New Jersey, North Carolina. Some are from a wholesaler in Brooklyn who gets them from Canada.
Filmmaker: So was it difficult in the fourth year to both run the stand and direct a film there simultaneously?
Poekel: One reason it took three years to shoot there was because I wanted to feel that this tree stand was a turnkey operation, that by the time it came to shoot the film I'd be comfortable with the stand, the trees, the customers, and that I could focus on [directing]. So, I didn't get to watch over the business side of the stand this year. But the shooting was a lot of fun. I'm sure we scared a few customers away. You know, in New York, if you see a camera crew you walk the other way. But some customers would come up and Kentucker would sell them a tree between takes. We'd ask them if they wanted to appear in the film, some would say yes, and a few of those made it into the film. By the time we finished, every one on the crew had sold a tree.
Filmmaker: Why did you shoot on film?
Poekel: I had been familiar with all of Sean's work, which I thought was incredible whether it was shot on mini DV or Super 16mm, but the stuff on film struck a chord. I had never really been exposed to film until then. I had never shot on it. I knew it was disappearing, but Sean sold me on it, and he told me we could work quickly.
Filmmaker: What about for its aesthetic qualities? Your film harkens back to old-school, '70s-NYC character-based films.
Poekel: It was definitely an aesthetic decision as well. I wanted the film to be a little timeless, and shooting=g on film would help that. She shot a low-light camera test, and the Christmas trees appeared so much more rich. It felt like what I wanted the film to feel like a Christmas ornament from your attic that's been taken out and plugged in for 40 years.
Filmmaker: Okay, let's forget Christmas for a moment, because the emotional component of your film could have been contained in any number of settings and at any number of times of year. What inspired that part of the story?
Poekel: My last project at Fourth Row Films was Doug Tirola's Hey, Bartender. We were filming a bunch of bartenders, and one of the big themes I found was that they sacrifice their whole night just for the good of the group around them. All these people [in the bar] have a great time at the expense of this one person. It's very similar to selling christmas trees. These sellers give up their whole Christmas season just to provide this service to others. A lot of them drive home to family on Christmas morning and go to sleep for four days. So it's about the disconnect in these scenarios between the person providing the services and the people benefitting from them.
Filmmaker: How did you wind up casting Kentucker Audley and Hannah Gross?
Poekel: Sean and I had been talking about this film for a couple of years, on and off, and then the next person I brought on board was Eleonore Hendricks [to cast]. We pursued all sorts of options for our leads, and I think at one point she thought of Kentucker. She was a little hesitant to suggest him early on, maybe because it's a bit of a small Brooklyn community, and people are conscious of working with the same people again and again. But we sent him the script, and he said he'd read for it. Hannah had already been cast. I had seen her in Dustin [Guy Defa's] short, Lydia Hoffman, Lydia Hoffman, and in I Used to Be Darker. I read her with Kentucker, and it was like light bulbs went off. I was giddy.
Filmmaker: You took part in the IFP Narrative Lab but then were accepted to Locarno, which was just two months later. Did the Lab help your finishing in any way?
Poekel: It helped a lot. Most of the stuff in the Labs about completing a film is not about the editing. A little bit is about that, but most of it is things I didn't know — the most producing stages of finishing a film and strategizing its release. So all of that was very timely. When we got into Locarno, we did two last-minute text screenings. There's always that question, when do you know a film is finished? We thought, if we're good enough to get into Locarno, don't need to fix that much.
Filmmaker: What are you working on next?
Poekel: My fiance and producer, Clare [Paterson], are writing a screenplay together. We're trying to shoot something in the fall. And I'm also getting married next month. That's what I'm focusing on right now.