Back to selection
Criterion: Stagecoach
Legend has it when John Ford read the short story that would be the inspiration behind his first Western with sound, he immediately took it to his boss David O. Selznick, who, just as quickly as it was pitched to him, tossed it aside as a forgettable picture.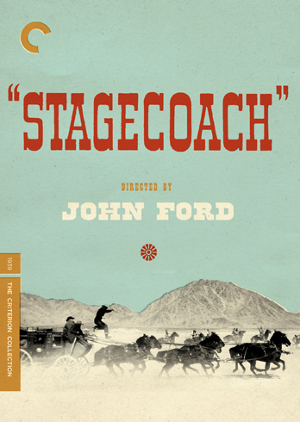 Lucky for us, Ford didn't move on. He dug into his own pocket, made the film himself (and later sold it to United Artists), packed up the production and went out to Utah's picturesque Monument Valley (which would be the site for many of his Westerns to come) — far from the prying eyes of the studio exes — and brought along a young actor known at the time for his B-movie work to be his star, John Wayne.
Still as exciting and enjoyable to watch today as it was when it was released to high critical praise in 1939, Stagecoach combines riveting performances, a basic premise and finally wrapped up with a thrilling conclusion (two in fact: a high speed fight with Indians and a three on one draw down on a deserted street). But what Ford inevitably showed was that the Western could tackle serious issues.
Following a group of stagecoach passengers as they embark on a journey through rough Apache territory while Geronimo is on the war path, Ford has the drunk doctor Doc Boone (played brilliantly by Thomas Mitchell), aloof gambler Hatfield (John Carradine), pregnant soldier's wife Lucy (Louise Platt) and saloon girl Dallas (Claire Trevor), among others, to play out different personalities in the coach.
Then as the journey has already begun, Ford unveils his star in one of the most memorable entrances ever filmed. With a dolly-in to close up shot and a twirl of a rifle, Ford makes John Wayne an icon. Playing the vengeful Ringo Kid, Wayne would never have to worry about getting work again.
But it's not just the talent along with the work of Ford and screenwriter Dudley Nichols that makes the film a classic, it's also the visuals.
One riveting shot is during the shootout with the Apaches. Hatfield, with only one bullet left, turns to Lucy praying on the other side of the coach and puts the gun to her head. The camera goes in tight on just the gun to the head of Lucy, as it looks Hatfield is ready to grant her last wish. But suddenly the gun drops and the Calvary bugle sounds in the distance. And let's not forget the sweeping vistas and interior shots which impressed Orson Welles so much that he ran the film 39 times for his crew while making Citizen Kane.
John Ford would continue to make classics about the Old West with John Wayne. But why Stagecoach is such a treasure is it's one of the first films that gave audiences a new type of person to root for, the antihero.  Whether it be a boozed up doctor who finally accepts the oath he took, or the Ringo Kid, an escaped convict out for revenge, Ford makes us fall in love with these underdogs inside the rocky stagecoach, forgetting their past and allowing them to try to be better people.
The 2-disc release by Criterion comes out today. Includes Ford's 1917 silent film Bucking Broadway; an extensive 1968 interview with Ford; video interview with filmmaker/Ford biographer Peter Bogdanovich; a feature on Monument Valley's contribution to Hollywood; a tribute to stuntman Yakima Canutt, who did the amazing stunt work during the stagecoach shootout with the Apaches (not just John Wayne's famous leap into the horses, but Apache stunts as well); and a booklet featuring an essay by critic David Cairns and the short story that inspired the film, Stage to Lordsburg.
[AMAZONPRODUCT=B00393SG0G]
[AMAZONPRODUCT=B00393SFWU]