Back to selection
"I Had to Be Initiated, Shave My Head, Be Frightened": Teboho Edkins' Gangster Project at transmediale 2015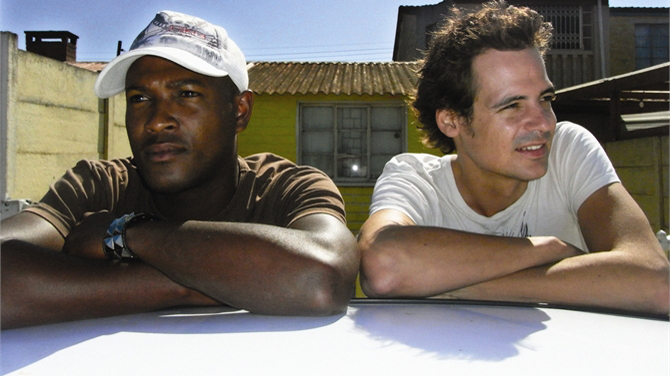 Since 1988 transmediale has been one of Europe's premiere events for showcasing transmedia and technology for art and narrative and nonfiction storytelling. Director Kristoffer Gansing (who spoke with Filmmaker last year) and his team continue to assemble cutting-edge films, installations, performances, workshops, and other events, turning the House of World Cultures in Berlin into a hub for all things new media. It ran from January 28 through February 1, and I spoke with a number of artists who presented video-based pieces at the festival.
Teboho Edkins (on the right, above) is an American-born filmmaker who grew up in Lesotho, South Africa, Germany, and France. His work blends documentary with fiction filmmaking, as perhaps best exemplified in his best-known work Gangster Project. A well-travelled film since its 2011 premiere, it depicts how Edkins embedded himself in a group of young black criminals in one of Cape Town's poorer — and more violent — districts. The young men portray versions of themselves for the camera, mixing fiction with their actual lived experience, and many of them were in fact killed in a shoot-out a few months after Edkins finished shooting.
Included in transmediale as an example of a genre-defying film, Gangster Project raises questions about privilege, class, race, crime, and documentary ethics in South Africa. A trailer is available on Vimeo.
Filmmaker: Where did the concept for Gangster Project come from?
Edkins: The answer to that question is quite long, and I hope it doesn't sound too convoluted.
The process of making Gangster Project was an organic one. It came about while making the film as it went through different stages. Perhaps the origin was a project I made while I was still studying at Le Fresnoy (Studio National des Arts Contemporains) in France: I created a gangster rap video clip with real gangsters, a video art piece in which I deconstruct and play with gangster rap video stereotypes. That's how I first got to meet gangsters.
Then they invited me into their house, the headquarters from which they sold drugs. And I started to film what happened in the house. I didn't want to go on the street with them, meet their families, or make wider socio-political research into gangsters and their environment. I just wanted to concentrate on what happened within the four walls of their headquarters, a Kammerspiel of sorts.
When my co-writer Francois Xavier Drouet and I went through the documentary footage we had shot, we realised that actually many of the most interesting things happened behind the camera, that the footage we made needed a key to unlock it, to understand it. That's why the third and final stage of the film was to go back and film myself making the film.
So finally through these steps the film came to be about how I had to mature as a person, how I had to step outside my comfort zone — that cushioned world that white South Africans have created around themselves — in order to begin making a film about gangsters living in a township, and how stepping outside that zone is easy to do but difficult to do right. I had to be initiated, shave my head, be frightened, become a bit gangster myself in order to begin getting into a position where I could make a film with them. Moving from the fascination of simply hanging out with gangsters and wanting to reproduce gangster clichés, to understanding that being a gangster is so much more real and boring, the violence smaller and uglier than I could ever have imagined.
I think that as a white South African you can't simply go into a township and film poor black people. As a white person you have an historic (and still very much prevalent) race privilege — you are often wealthier and more educated — and then sticking a video camera into someone's face, you are hiding behind the camera. It's too easy to do that. That's why I put myself in front of the camera, filmed my home and contrasted it with where the gangsters were staying, and showed the process of making the film, including my naive and immature fascination of all things gangster, in an effort to be honest and transparent about these inherent race and class privileges. So the film shows how the immature privileged white boy at the beginning goes through a process, so that at the end he begins to mature enough to make a film in which he can actually begin to tell a truth about gangsters without judging them. But at this point the film ends, the gangsters are arrested or disappear, and reality catches up with him and his gangster project.
Filmmaker: You said you were frightened. How dangerous did the situation get for you and your crew?
Edkins: The most dangerous moment was the very first encounter, when I met the gangsters and they didn't know what I wanted from them — and I didn't really know what they wanted from me either. But once they initially accepted me to be in their house with them and film them every day, then we were relatively safe. They were as interested in me as I was in them. There were moments that were a bit awkward when they wanted to do business and realised that having my crew and the cameras wasn't really good for their business, but they were too polite and hospitable to kick me out. I literally had my foot in the door.
Other dangerous moments were when they took drugs and started getting paranoid about the filming or when I spent time with a rival gang and they got worried that I told the others secrets about them.
The question of money and payment was also necessary to settle right at the beginning. I told them I was a film student and we had absolutely no budget for making this film. Which was true. They were doing good business at that time, so they were quite gracious in accepting me as a poor student and that also made me safer because the terms were clear.
Filmmaker: The film's a few years old now. What kind of reception have you gotten? What about the criticisms you've received about condescension toward your subjects?
Edkins: The film premiered at FID Marseille in 2011, which I think was a perfect fit for it. Because the film moves between fiction and documentary, and one is never certain what in the film is real and what isn't — which for me isn't necessarily an important question — and because everything in the film is real, even if it was staged, it worked great there. The FID is a festival that accepts and searches for films that are exactly like that.
The film is quite rough, the cameras we used were very cheap. It doesn't feel like a high-production film, although it was shot over many years and edited for almost six months. It's not a very glamorous film, so maybe less interesting for bigger fiction festivals. More classical documentary festivals were also cautious in showing it.
But once we had the premiere in Marseilles, the film had a really good life, showing at the more edgy festivals like Rotterdam or at museums and galleries like the Centre Pompidou. It has been to more than 50 festivals, won a number of prizes, and is still being shown. It also helped generate interest in my next projects by getting me into the Cinemart, the Hubert Bals Fund and l'Atelier du Cinefondation of the Cannes Film Festival.
But perhaps the most astonishing reception it got was that I had left a rough cut with the gangsters, and they of course promptly copied it and sold it for one Euro, which means that literally everywhere I go in the Cape Flats everyone has seen the film. The lifeguards at the Sea Point Pool in Cape Town ask me why I'm not bald any more. The police have seen it and even tried to get my characters arrested because of it (which was my greatest fear), but a magistrate said the film wasn't proof of anything because it could have been acted. I don't think the film was so widely viewed because they thought it was very good — what they watched was a rough cut with bad sound, etc. — but perhaps because it was a film from their neighbourhoods that didn't judge or have a moral message.
Filmmaker: You've already indicated that, 20 years after the end of apartheid, this film's also about race relations in South Africa (along with economic conditions). How would you characterize the country's racial situation today? Do the deaths of many of your subjects not long after you finished shooting speak to that?
Edkins: I'm really no expert on today's political situation in South Africa. But I suppose it's enough to see how, in Cape Town especially, the white people have all the money and the gangsters will always be gangsters. Their lives will not be long and their children will probably be gangsters as well. It's good to see a new emerging black middle class, but it's extremely disheartening to see how the society is becoming ever more unequal and materialistic.
Filmmaker: What do you think Gangster Project, a linear documentary, brings to an event like transmediale?
Edkins: The narrative in Gangster Project is linear but the genre and storytelling aren't. It fluctuates and, especially in combination with my follow-up film Gangster Backstage — which is formally very different, more abstract, but very much builds on Gangster Project — I think it shows how very fluid "documentary" filmmaking can be.