Back to selection
"We Began Production with No Money in the Bank": Knock Knock | Director Eli Roth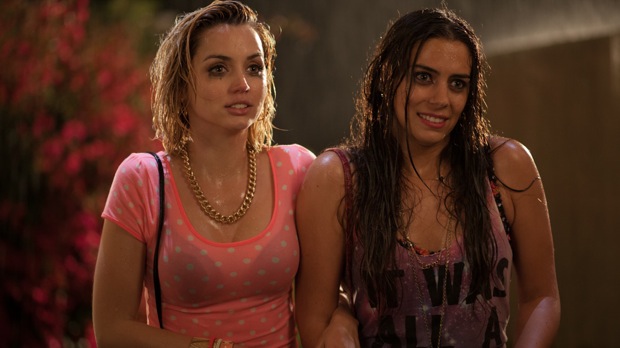 What fear — whether it's personal, or one related to the development, financing, production or distribution of your film — did you have to confront and conquer in the making of your movie?
I swore I would never do this again, but we began production of Knock Knock with no money in the bank. The last time I did this was on my first film, Cabin Fever, when an investor backed out 3 days before shooting and we made the first two weeks on credit cards, making phone calls to investors to beg for money between takes. This time, with no commitments, no contracts, and certainly no money, my producers Nicolas Lopez, Miguel Asensio and I put down a deposit of $30,000 to reserve the most incredible location after we saw it in January 2014. This was before we even had a finished script. We simply decided we were making the movie in April, and we also started reserving the crew.
As the start date creeped closer, the reality of our friends turning down other jobs to make Knock Knock grew realer and realer, and we needed to start the production design, which depends very heavily on many works of art. Again, we did not have the financing in place, but our producer Tim DeGraye stepped up and floated the production $200,000 of his own money to create the artwork that plays prominently in the film (the main character's wife is a sculptor.) So now it's February, we have no solid investment, and we're $230,000 in with no safety net. We had investors who were interested, but no one was writing checks. Finally, my producer Colleen Camp said "We're going to the Oscars, we're getting a lead, and we're making this movie in a month!" She wrangled an extra ticket from Paramount so I could to the Oscars with her, specifically to hunt for money or a lead actor.
During the ceremony we hang out at the bar running into people we know, one of whom was Cassian Elwes. He asked what we were doing, and we said we need money for a movie we're shooting in a month. Cassian had sold Cabin Fever and we always got along and had wanted to work together ever since. I emailed him the script from my phone, he read it that night, and the next day he called me and said "I'm in." Now the problem with the location we booked was that it was an actual family's home, and they took the money and moved out for a month to let us shoot there. We had to shoot in April, period. Cassian said "That gives us five days to put this together." He got the script to Keanu Reeves, and thankfully, Keanu read it and loved it. We were very upfront that we didn't have the financing solid, but Keanu came on not just as our star but as an Executive Producer, believing in the project. This empowered us to use his name to raise the money, which we did in two phone calls to Nicolas Chartier at Voltage and Teddy Schwarzman at Black Bear who came in and saved the day and wrote the big checks along with Tim DeGraye. Two weeks before we were supposed to start shooting.
So, what was my fear in this one? Well, my fear was that I'd completely devastate the lives of the friends who quit their jobs to make this movie for me, that I had totally burned all my relationships by rushing a movie into production without having any financing in place other than a general sense that someone would invest, and I ruined my reputation as a responsible filmmaker. Thankfully it all came together, and less than a year later here we are at Sundance. I still break out in a cold sweat just thinking about it how insane that was. Never again. (Until the next one.)
[PREMIERE SCREENING: Friday January 23 at 11:45 pm — Library Center Theatre]