Back to selection
"BELLA"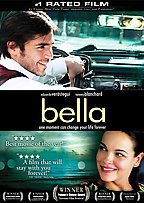 Winner of the People's Choice Award at the Toronto Film Festival in 2006 followed by an impressive festival circuit run, Mexican director Alejandro Gomez Monteverde's moving debut feature follows the events that occur during one day in New York City to a former soccer star turned Mexican restaurant cook (Eduardo Verástegui) and a fired waitress (Tammy Blanchard), who recently learned she's pregnant. The two take a trip to the burbs that reveals how the events of the past have made them who they are today.
A spotlight on Mexican family and commentary on Latino stereotypes as much as a touching drama on redemption, the film has many emotional moments, mostly during flashback sequences during the leads' monologues of their troubled pasts. But mostly the film is heartfelt and goodnatured, two refreshing elements that are often not found in the bitter, jaded world of indie films.
DVD also includes commentary by the director as well as a featurette on the grassroots journey the film took to find distribution.
On sale tomorrow from Lionsgate for $27.98.
[AMAZONPRODUCT=B0014BQR6U]
[AMAZONPRODUCT=B001ARPG7Y]