Back to selection
"There's No Space for that Old Style of the Big Barking Orders Coming from the Big Man": Debra Granik Talks Documentary Filmmaking on the She Does Podcast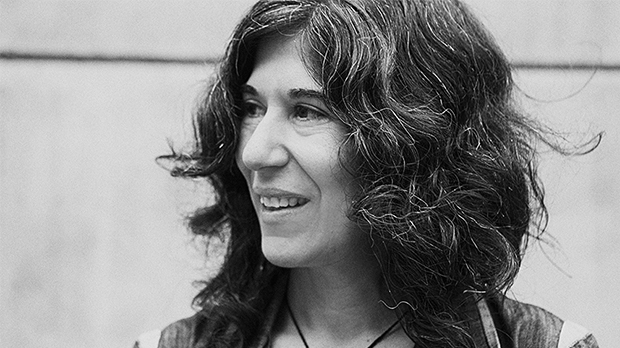 We're so excited and honored to feature Debra Granik in our fourth episode of She Does.
Granik is the Academy Award-nominated director and writer of Winter's Bone, which features a young Jennifer Lawrence in a gripping story set in the Ozarks. Winter's Bone won several awards including the Grand Jury Prize for Dramatic Film at the 2010 Sundance Film Festival. It also received four 2011 Academy Award nominations: Best Picture, Best Adapted Screenplay, Best Actress and Best Supporting Actor. Previously, she wrote and directed Down to the Bone, starring Vera Farmiga. Her narrative work is heavily influenced by real life and real people. So it makes sense that recently Debra has found herself exploring the non-fiction world. She recently released Stray Dog, a contemplative portrait of Ron 'Stray Dog' Hall: biker, Vietnam Vet and lover of small dogs. It has screened over 60 times around the world and was nominated for a 2015 Film Independent Spirit Award for Best Documentary.
In this episode, Debra talks about learning her craft from politically-active women in the 1970s, being inspired by real life, where ideas come from, how stories take seed, and the ins and outs of her many productions. Granik reflects on her past, present, and the future of the industry.
Listen and Subscribe on iTunes.
5 TAKEAWAYS
Paying the bills while learning your craft
I made my living for quite a few years making small industrial, health and safety videos. I would get a little contract to make a film about masks or the need for protective gear. I became very interested in filming people in their work lives. They were workplaces that I would not have been entitled to go into as a civilian. So I learned some rudimentary directing skills. "Can you do that again for me?" "Oh I missed that can you do it one more time?" My day jobs have never been glamorous but they've been in service to learning more about working with moving images and people. It was actually very fulfilling. What was not fulfilling was that I wanted to know what everyone did after 5 o'clock. I was interested in the woman that went and fed her dog in the parking lot that she brought to work. But of course, the people I worked for would say, "I don't think we need the scene, why don't we move on to the Powerpoint part where you recap all the things that someone can do to prevent injury."
On why her narrative films have female leads, and her documentaries are centered on males
I don't understand men well enough to make assumptions and summarize. I know stereotypes of what certain kinds of guys look like on-screen because we get tons of that. We get a lot of pumped up fictional guys; we get a lot of heros. But I don't know the parts that I don't get to see on-screen so therefore I have to do it in documentary style so that someone shows me how they shave, how they cook, how they care, how they work with animals and children, and how they struggle about the stereotypes that are imposed upon them.
Be open and aware to the ideas and inspiration that surround you
I fill up notebooks quickly. I have a lot of meteor showers where I have ideas. Usually it's triggered by something touching me, or something lyrical. I'll see something, a student performance and just the poignancy of adolescence, the poignancy of awkward choreography and I'll just be like, "Oh my God, this speaks millions about how touching it is to grow up." Being touched somehow leads to wonderment. Wonderment sets off another chain of events which is like wanting to capture things. You know colliding with things, having things hit you. "The way you got on the bus was interesting. The way you shuffled through your coupons was interesting. And you over there, the way you picked up your dogs poo was amazing." So some days you're just so receptive to human diversity. But maybe even when I'm not receptive, the way people survive will always, always attract me and draw my attention.
Employing local knowledge in your work
Jennifer (Lawrence in Winter's Bone) had to learn from the family in the hollow that owned the property, that owned the wood chipper, how to turn that on, how to hold the logs. If you haven't split wood, it's not easy. So someone has got to show you. Same thing with skinning a squirrel, if you haven't done it, someone has to show you. Those are the kinds of interactions that we had to have. No one on my crew knew how to skin a squirrel. Local expertise, local knowledge has to flow. It's never about an invasion. It's never about just showing up. You can't fake that stuff. There's no CGI for a film that's shooting under $2 million is going to employ. I don't want to do that personally. I am old school. I'm being phased out. I'm finally feeling that I am, in that sense, I'm kind of analog. Therefore working with local people was going to be the true warm blood that was going to come in. Otherwise it would have been a cold fake.
The power of teamwork and collaboration
There's no space for that old style of the big barking orders coming from the big man. The big man who gets special treatment and has an entourage and special gear, special food, special limos, special chairs, special megaphones. I think we're done with that paradigm. It's okay to thank people. It's good and right and just to acknowledge the work of others. I think women do a good job saying 'I am not the king. I am a head coordinator and I'm working really hard with other people who all are contributing something to this effort.' It's been very rewarding for me to know that part of my filmmaking pleasures and progress happened by emboldening myself and joining forces with a solid team.