Back to selection
Take What You Can Carry Director Matthew Porterfield, Producer Zsuzsanna Kiràly and d.p. Jenny Lou Ziegel on Collaborating Outside the System in Germany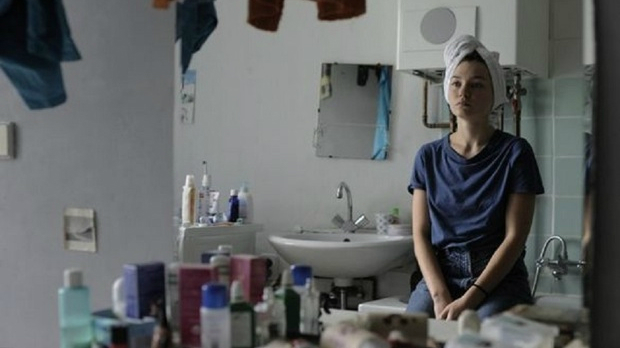 Take What You Can Carry
With only three features under his belt, Matthew Porterfield has proven himself one of the most original voices in low-budget independent cinema, winning deserved praise from critics and audiences in both the US and Europe. Last year Porterfield made his first short film, the 30-minute Take What You Can Carry, which had its world premiere at the 2015 Berlinale. Inspired by a quote from French author Georges Perec, this self-described meditation on "communication, creativity and physical space" finds the Baltimore native working once more (in a somewhat more abstract mode than his features) with girlfriend Hannah Gross as Lilly, an American in the middle of an extended stay in Berlin.
His producer Zsuzsanna Kiràly works for Maren Ade's (Everyone Else) production company Komplizen Film and is also a key contributor to Revolver, one of Germany's most prestigious film magazines and the organization behind the DVD release of all three of Porterfield's features here in Germany. I sat down with the two of them, along with d.p. Jenny Lou Ziegel, to discuss the process and challenges in making this cross-cultural work.
Filmmaker: Your films have played quite well in Germany — in fact, you've had two of them, Putty Hill and I Used To Be Darker, distributed theatrically, and all three are on DVD. Is that how you first met Zsuzsanna?
Porterfield: Yeah, I met her in 2010 when I was here with Putty Hill, and we started a dialogue that continued for several years. At the 2014 Berlinale we began to seriously discuss what it would be like to make a film together, and if it would even be possible. I teach during the year at Johns Hopkins University so the only possible time would be summer. In June I arrived, and within a few weeks all the elements were in place – equipment, cast, crew, etc.
Filmmaker: Did you come with a script?
Porterfield: All I had in place was a text that influenced the work – a couple of paragraphs from Species of Spaces by Georges Perec — and a few parameters: that we had 12 weeks in total, and that it would be built around a performance by Hannah.
Filmmaker: Were you initially thinking about doing a feature, or was it always planned to be a short?
Kiràly: Some years ago I asked Matt if he would ever be interested in doing a short here in Berlin, so that's been the idea all along. Plus, Matt's limited time wouldn't allow us to do anything longer. We had just under three months in total to prepare, shoot, edit and do post-production. Though it was a tight schedule, it was an effective working process, and never felt restrictive or limiting.
Porterfield: It was also a lot of fun. We spent about a month biking around the city, scouting locations and finding inspiration.
Filmmaker: The film captures the extreme transient nature of this city. Is that something you picked up on during that first month?
Porterfield: To a degree. Berlin appears to be a meeting place for people from all over, but I've been feeling it my own life as well. Splitting my time between Baltimore and New York, combined with a lot of festival travel, I drew on my own feelings of transience and impermanence. It was a challenge to represent a city like Berlin, to find something that hadn't been done, and without seeming too touristic.
Filmmaker: Sense of place is unquestionably a big factor in your films, particularly in Hamilton and Putty Hill, which are set in locales in which you're clearly comfortable. But here the lack of familiarity is tangible.
Porterfield: Definitely. I can't pretend I know Berlin, but the investigation and learning process is one of the reasons I make films, and why shouldn't that apply to both places I know and those I don't? Perec writes "Space is a doubt: I have constantly to mark it, to designate it. It's never mine, never given to me."
Filmmaker: The film avoids many of the Berlin clichés….
Kiràly: [laughs] Thank you! Mission accomplished! We talked about this a great deal, and it was interesting for the three of us to scout the city and re-see Berlin with Matt's eyes. This led to conversations about how one builds a life in a city such as Berlin.
Filmmaker: Jenny Lou, this was your first non-German film as a cinematographer. Was the process of working with Matt significantly different?
Ziegel: Normally when I'm asked to join a project, there's a script in place and the discussion begins around how to shoot it. But with Matt the entire film grew out of discussions, and there was an overall looseness that I'm not used to, which was a great experience.
Filmmaker: What sort of challenges, creatively or otherwise, were you faced with? What was different about working here, with a German producer, and a German crew?
Porterfield: I find the dialogue around cinema in Germany to be really fascinating, as well as German cinema itself – there's something I relate to and connect to in a deep way. With this film I hope to enter into that conversation. The biggest challenge for me was making a film outside a milieu that I really know. In Baltimore, I know how and where to get things done, but here I don't even speak the language and I had to rely entirely on Zsuzsanna and Jenny Lou. That was strange for me. But we're friends as well, so the collaboration was lovely.
Kiràly: Collaboration is the keyword here. Though we didn't have a lot of money, we did spend a great deal of time together over those three months, which in itself was a gift. I learned a lot as a producer on this project, but not every project can function this way, and we were lucky to have the freedom to work in this manner. Matt was always open to suggestions, and even if we had disagreements there was always a quick resolution. It was a perfect combination of emotional investment and pragmatism.
Filmmaker: As a German producer, you're familiar with the various funding options available, yet you chose not to apply for any. Why was that?
Kiràly: Honestly, it wouldn't have worked for a few reasons. The process can take many months, and that was simply time we didn't have. Also, the effort to introduce Matt into the German funding system, that just wouldn't have worked in this limited amount of time. And much like Matt's challenge of working in a foreign place, I wanted to challenge myself as well by working outside of the system.
Filmmaker: So who financed the film?
Porterfield: I was awarded a residency from the Wexner Center for the Arts in Ohio, and, somewhat serendipitously, the Harvard Film Studies Center awarded me the Robert Gardner prize, which gave us some additional funding.
Filmmaker: And what was the total budget?
Kiràly: Around €10,000, but with tons of in-kind services.
Filmmaker: It's been my observation that few filmmakers here are willing to work in this manner – that without funding they simply won't make films. In the States, where funding options are limited, filmmakers do whatever it takes.
Kiràly: The film schools here prepare students for working within the funding system, which is very hierarchical, and the only one that exists. It's great, it's wonderful, and very inclusive, but its structure leaves no room for flexibility, and that's something I miss, which is another reason I was so attracted to working with Matt in this way.
Filmmaker: What about going forward? Would you like to continue to working outside the system?
Kiràly: It would be hard for me to succeed as a producer here without being part of the system, but I am hoping to find a certain level of flexibility with future projects.
Filmmaker: While you were making the film, did you already have a Berlinale world premiere in mind?
Kiràly: Not at all…this came as quite a surprise!
Porterfield: We had a crew of about eight people, and it was wonderful that we could have everybody, including the actors, present at the premiere.
Take What You Can Carry will have its US premiere at the opening night of Lincoln Center's Art of the Real.