Back to selection
Tech Meets Entrepreneurship Meets Storytelling: Five Takeaways from Kara Oehler on the She Does Podcast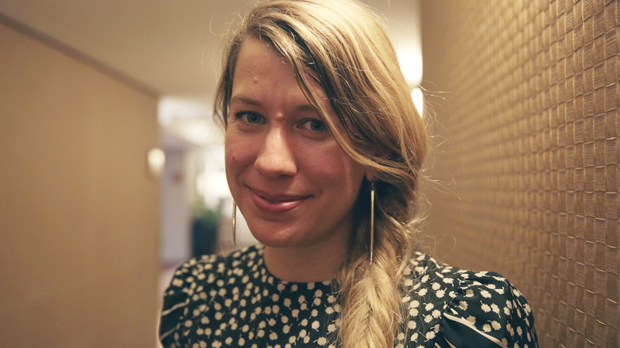 Kara Oehler (Photo Elaine McMillion Sheldon)
It's difficult to sum up what Kara Oehler does in a single title. The process quickly turns into a hyphenated chain of words — documentarian-radio producer-tech founder-interactive media producer-entrepreneur-academic. We chatted with the co-founder of Zeega and GoPop — the latter which was recently acquired by Buzzfeed — about her early influences in radio, starting communities like UnionDocs Collaborative Studio and metaLAB at Harvard, living out of her car to document Main Streets across America and being a female in the tech and startup world. Come along for the ride, it's a lot of fun.
Listen to this teaser from the She Does Podcast on Soundcloud and subscribe to the podcast via iTunes below.
5 Takeaways
On Creating a Genre and New Vocabulary:
To start a genre, and to form a community, you have to make up all the words for it. If you're the only ones doing it, you have to make it relevant by making up words. And then people are like, "oh, what's that word combination? Okay." There are a lot of words like that, interactive documentary is one. There was point where that combination of words had no search results on Google. But then you start writing about it, talking about it at conferences and then it becomes a genre.
Technology is Not Forgiving or Timeless:
We made Zeega so that people could make interactive projects without having the programming skills, just storytelling skills. But that proved to be much harder than I had anticipated, because there is no one tool that people need to build an interactive project. Every story is different and so every interface that would be needed to tell that story is different. But we didn't know that, and we built this crazy tool for the web. We were all so optimistic about this idea that people could tell stories on the web without knowing how to program and use something like a Zeega, but we didn't build them to work on the phone. So while we were building it, everything became geared towards mobile and Zeegas didn't play on mobile. Maybe we were techno Utopianists. We were so excited about trying to push the form and the medium that we were building something that actually wouldn't work in places besides a Chrome browser. It was amazing, but it was too crazy to be useful for people on their phones.
On Being the Only Woman at the Tech Party:
My experience in the tech world is that I'll end up at a party and there will be 150 men and 15 women. I don't know of any other women that are founders of other media companies; like GoPop. Facebook, Snapchat, Instagram, Twitter, are all male. And obviously we're not huge like them, but even the smaller apps or networks are just not founded by women. And it's pretty upsetting because, Google, SnapChat, Instagram, Twitter are all a huge part of legislation. And with all the laws coming out around privacy, I'm very concerned that there are a lot of men in positions of power that are creating technologies, that are what we're creating laws around and trying to make sense of the Internet, and what it means for our society. I don't know what the implications of that are for the future that there are so few women that are part of that.
Set Expectations For Your Work:
I think having confidence in yourself earlier and just being bold is important. Something that's really common is that men who are interns for a radio show will expect for their stuff to be on the air right away, and women won't. I just hear this over and over again from people at different shows and I think that's a problem. I think that women serve as the support system way too much and don't expect to be in positions of power or to have their voice heard as often. I would like to see that change.
Find a Balance:
The last few years of my life have been very much on a screen. I spend a lot of time staring at my computer and phone, and I really have been having a withdrawal from the tactile. So I just started gardening like crazy. I've been growing tomatoes, eggplants and peppers from seeds. For me getting in the dirt and being really tactile helps me balance being really "internetty" all the time. I'm also learning James T. Booker songs on the piano, which is fun; New Orleans dirty blues beautiful-ness. And then I also play the banjo. I have a little hootenanny group that I get together with on Sundays and we play music. The stuff helps me balance all of the screen-time that I spend with the rest of my life.