Back to selection
What Does It Mean to be a Producer?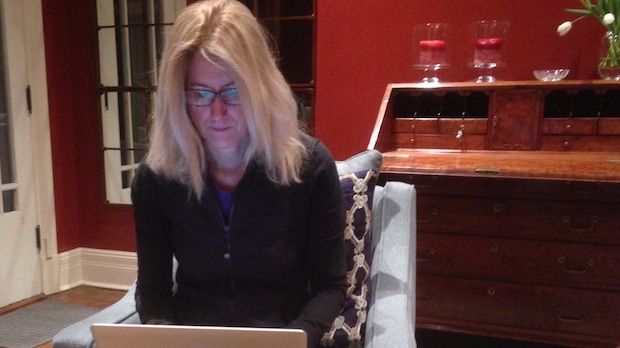 Laura Heberton
Alongside her current Kickstarter campaign for Robert Machoian and Rodrigo Ojeda-Beck's God Bless the Child, producer Laura Heberton pens this guest essay for Filmmaker reflecting on the many different ways one can be a film producer in our Internet age. Both God Bless the Child and another picture produced by Heberton, Alison Bagnall's Funny Bunny, premiere at the 2015 SXSW Film Festival.
This coming Friday, at about 2 o'clock in the morning, I will finally get to meet, in some (probably nondescript) lobby of a hotel in Austin, Robert Machoain and Rodrigo Ojeda-Beck — in person and for the very first time. My eyes fill with tears just writing this. It is going to be one joyful moment and not the least because it will be one day away from the world premiere of God Bless the Child at SXSW Film Festival.
I first Skyped with Robert and Rodrigo in May about their film about the summer's day of five young siblings and was taken with them both immediately. It is impossible not to be: they are both about as charming as charming gets, funny, sharp and incredibly warm people, and both good-looking to boot. Yet even before that moment, I felt as if I already knew them, through their highly personal shorts, their feature, Forty Years From Yesterday, and the script for the film that was to become, with changes, God Bless the Child.
Most filmmakers I have worked with are telling stories that come from some deep place inside them and that are very personal. The first meetings are full of tales about their own lives and what ache or hilarity (often a combination of both) has brought them to write the script they have. I have had some of the most frank conversations with people who were until those moments total strangers within minutes of meeting them. My first coffee with Alison Bagnall, whose film Funny Bunny I had the pleasure of helping to produce, and which will also premiere at SXSW this weekend, was one of the best ones of those ever. I have felt locked into a place inside her heart and head ever since, our connection over the story was so strong. Once I hear and read these tales of these filmmakers, I feel an actual intense compulsion to get the story made — it is a kind of ferocity. I am sure every other producer I have worked with feels the same way — I can see it on their faces when they are talking about the film. If that isn't there, I know the film probably won't get made. When we meet these talents, and then they entrust us to help them, it is a gift as well as a huge responsibility. We must make it happen.
Due to a variety of reasons, I was not on set during the filming of God Bless the Child — I was not initially going to be a part of the project, I had other work; they are in Davis, California and I now live in Pittsburgh, Pennsylvania; it was summer time and I had my own family responsibilities, etc. The film was being shot in small two and three-hour segments from late May until mid-September. They already had a producer with all the skills to work on set, Rob Thomas, and as seasoned DIY filmmakers, Robert and Rodrigo really can do every job themselves. They had brought on a summer intern, Kirstin Anderson, who proved so critical that they made her an Associate Producer, a title she well deserves. But I came on in full force vie the internet and cell phone in July. I spoke and communicated via email with them about how to shoot the end; I watched endless clips and got some of my super talented friends to provide feedback. I watched a ton of cuts, easy enough to do whether you are there in the room or far away. There is ton of work to do on a film once it is in post production. And I love post. I mean, really love it. It is like magic to me.
I knew about a number of grants we should apply for, and we did those together. (God Bless the Child received a substantial and critical post-production one from the San Francisco Film Society's Kenneth Rainan Foundation last fall.) There are a zillion festival applications to complete. I have been with them through the pain of getting the finished film right, difficult moments where things weren't working correctly, some painful bumps, rejections and setbacks along the way. The amount of work leading up to a festival premiere is huge. Granted, Robert and Rodrigo have done the bulk of the work themselves (those two are dynamos), but I have done my best (with superstar Rob Thomas who is also based elsewhere, in Minnesota) to make it easier for them.
When there was this controversy surrounding two of Boyhood's producers being denied producing credit when the film was nominated for its Oscar, my own little indie producer cheeks burned. Two of that film's producers, highly-influential ones, Jonathan Sehring and John Sloss, had been a part of the project since its inception but were not on set through the course of the 12 years. Does that make them any less producers of the project? I don't think so. The Academy apparently did. While not Boyhood, God Bless the Child had an extended shoot of almost five months. It would have been pretty difficult to have been an on-set producer even if I wanted to. Our budget was tiny; just the cost of me flying out there and back would have been a waste of funds we hardly had. Email and Skype and iMessage and the good old fashioned telephone get me there, too.
Can I run a set? No, I cannot. I am always joking that I should get Scott Macaulay to let me write an article on "armchair" producing. (Maybe this is it?) There is always a producer on a film who has the skills to do that and I will always feel less of a producer because I cannot do that, which is as it should be. Ted Speaker, producer extraordinaire on Funny Bunny can run a set, but he can also do development and work on scripts (something I spend a lot of my time on), and he can take a film all the way through post and to its premiere and into distribution (me, too) — as can the incomparable Vinay Singh, who also produced Funny Bunny. Ted can edit, do sound work and compose music. Ted is kind of my role model. (He is also always beautifully dressed — how do you do that, Ted?) And aside from being able to write and record music, I hope one day to be able to do all that he can and to do it at least half as well. This woman has dreams. I want the Academy to recognize me.
Times have changed. We are so connected. There are so many new ways to do our work (thanks, interweb!) and so many ways to know people. Robert Machoian and I have probably exchanged a minimum average of two dozen emails and text a day since July. Some days, I swear the number is close to 50 (we both write fast, please understand, typos and auto-corrects a-flying) — plus we tell each other a lot of jokes (keeping everyone's spirits up is a big part of the producer's job; ask any of us, we are cheerleaders, all). We have done enormous amounts of work on this film together. I have worked my backside off, as has every member of this tiny team, and I am beyond proud to be a part of helping Robert and Rodrigo — and Rob Thomas, Kirstin Anderson and Rebecca Graham (incredible co-screenwriter and still photographer) and those sparkly five kids — to bring this story to its premiere.
So, what does it mean to be a producer? A hundred things. Our jobs are enormous and diverse in their responsibilities. So much is done at our laptops. And in this case of my distance, it also begs the question: what does it mean to know someone? Do I know these two, Robert and Rodrigo? Are they in my head and in my heart, just as my dear amazing beautiful Alison Bagnall is? Yes, they are, deeply, permanently imbedded there. However, actually being with them, in person, is going to be amazing. For me, that moment in the middle of the night on Friday the 13th will be one of my luckiest and best ever as a producer. I cannot wait.
Laura Heberton has produced a number of award-winning narrative feature films, all of which have premiered at top-tier festivals worldwide. Recent projects include Marcin Malaszczak's The Days Run Away Like Wild Horses Over the Hills that just premiered in Berlin, Josephine Decker's Thou Wast Mild and Lovely; Lance Edmands' Bluebird and Matt Porterfield's I Used to be Darker. Now based in Pittsburgh, she runs Hot Metal Films, a company dedicated to ground-breaking independent cinema by visionary new talent.