Back to selection
Director Ronni Thomas on Walter Potter: The Man Who Married Kittens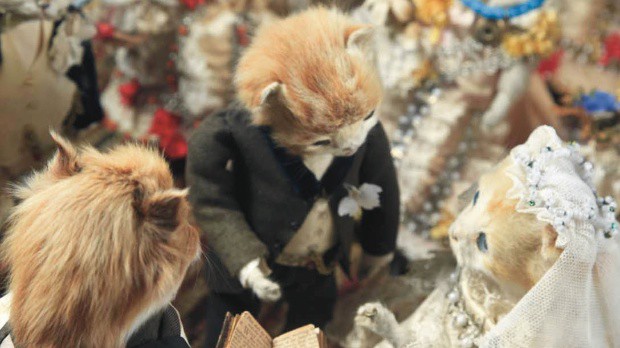 Walter Potter: The Man Who Married Kittens
If you're a fan of Victorian anthropomorphic tableaux then Walter Potter needs no introduction. For those not in the know (and in NYC), head over to this year's Tribeca Film Festival where Walter Potter: The Man Who Married Kittens screens starting April 18th. This fascinating documentary short is the brainchild of Brooklyn filmmaker (and connoisseur of the strange) Ronni Thomas, who tackles his titular subject – an English taxidermist who died nearly a century ago after founding a museum dedicated to his whimsical and unsettling dioramas – via five modern-day Potter enthusiasts. From taxidermied cats having a tea and croquet party to 48 stuffed bunnies immersed in schoolwork – to yes, those elaborate kitten nuptials – you're guaranteed a one-of-a-kind viewing experience. Not to mention some unforgettable, post-screening show and tell.
Filmmaker was fortunate enough to speak with the Morbid Anatomy Museum's "filmmaker in residence" prior to the doc's Tribeca premiere.
Filmmaker: So I read that art star Damien Hirst tried – and failed – to acquire Potter's entire collection at auction a dozen years ago. Indeed, there's a fairly diehard Potter fan base in the U.K. today, which surprised me. I mean, we're talking about a Victorian taxidermist from Sussex who died nearly a century ago, and whose claim to fame is pioneering the idea of putting dead animals in anthropomorphic dioramas. His whimsical work feels more like something from the Mexican tradition of Dia de Muertos than a part of British pop culture. Did you get a sense through your research why Potter's many tableaux speak to certain Brits even today?
Thomas: I don't think Potter's fan base is at this point limited to England – in fact it isn't. Many of his tableaux went all over the world, and the most iconic, "The Kittens' Wedding" and "The Tea Party," are in Chicago in a private collection. The Brits most certainly take a valid pride in Potter's English heritage, but he's become "world famous" rather than a local oddball. I think we all react to the apparent simplicity and innocence of the works. That's a big theme for me. Potter was an innocent fellow who did what he loved. His creations are what you'd call uncanny, which is a word I love to use. You're looking at adorable little scenes, and you briefly forget that these kittens, birds and furry critters were all once alive! These are all dead animals. They have "ceased to be" in the words of John Cleese. (laughs) But there is so much attention to detail, and so much care and love in the pieces, that it sort of transcends all that, I guess. The British, and most of the world, have a better perspective on death than we do in America.
As for the Hirst story – I dunno. He has the money, right? If he was so hellbent on buying the stuff, why not just write a check? Seems more like an uninteresting urban legend. We had originally asked him to be in the film, but he said no. I was glad. I didn't really know who Damien Hirst was, but I assumed he was someone who would have shifted the attention away from Potter's collection and collectors. I'd much rather have talked to David Sedaris or John Waters, who apparently are both fans of Potter's work.
Filmmaker: "The Kittens' Wedding," one of the most famous Potter dioramas as you noted, was shown at the Victoria and Albert Museum in 2001, which bestows a particular respectability upon the work. How were Potter's tableaux perceived during his own lifetime, though? Was he viewed more as Ripley-type showman than actual artist?
Thomas: That's super hard to tell. In its inception, his museum was just a fun little place for the villagers to have a good snicker at, I guess. But as more and more people began to travel through word of mouth, people just had to see the stuff. But I think it was what we in the U.S. would think of as a roadside attraction. A family happens to be passing through Sussex and the mom says, "Oh let's see those dead animals, kids!" His collection was ultimately snubbed by the proper "art world" when it went to auction, and was hence distributed all over the world to private collectors. Not one major British museum opted to salvage his collection, or even a part of it. As for Potter himself? Pat Morris – who is in the film and wrote the Potter biography, Walter Potter's Curious World of Taxidermy – opens his dissertation on the man by admitting, "We don't know much about Potter." I suppose that indicates that he was not a P.T. Barnum-type carnival barker. Not a celebrity type. All the implications lean to the fact that he was an ordinary man in suburban Victorian England. Personally, I like that. I grew up in a working class area of Brooklyn, NY, and I was surrounded by fascinating people, all with strange hobbies and interests, but all what you might consider "ordinary" people. There's real beauty in that, right? Living a normal life with a unique deviation. And Potter's work, while prolific in its scope, seems to indicate "quiet." Which is why the film is what I'd consider quiet. It would have been simple to make the film more wacky and filled with cheap laughs, built for the Internet generation. Might have even made a better film now that I think of it. Shit. (laughs)
Filmmaker: Potter's own museum lasted until the 1970s, and you yourself are the "filmmaker in residence" at the Morbid Anatomy Museum in Brooklyn. What exactly does that entail?
Thomas: (laughs) The Morbid Anatomy folk are my dearest friends. Joanna Ebenstein who created the Morbid Anatomy "brand" (forgive me for using that word – it's an ugly word but people get it) and I met in 2011 and became fast friends. At the time she was part of a collective called the Brooklyn Observatory, a little arts collective whose focus was on the strange, the morbid, the unusual. So I fit right in. I felt at home. Under the Morbid Anatomy umbrella they would do lectures and how-to courses at the space on things like pet mummification, anthropomorphic taxidermy, pickled specimens, Spiritualism – all fascinating subject matter I'd already been researching. So I started lecturing there, and remarked what a pity it was that we couldn't share these events with the world. So I offered to film the lectures. But that didn't feel right either. I was building my career as a filmmaker, and quite frankly, finding my voice. So I thought up the idea to film little short films on some of the more interesting topics – and that became my life for the next four years. I felt like a modern Ripley. So then all of a sudden a visionary investor named Tracy Hurley Martin had the idea to turn "Morbid Anatomy" into a museum, which they did. A four-story cathedral to all the things I ever loved as a kid! It's pretty cool. And so "filmmaker in residence," I suppose, sorta means I have the respect of my peers, which means a whole lot to me. Also, the films are distributed under the Morbid Anatomy Presents label produced by Tony Martin, Tracy's twin.
Filmmaker: Can you talk a bit about The Midnight Archive, your web-series dedicated to documenting the truly obscure and exotic? (That would include your collection of "mid-19th century 3D demonic stereo-tissues.")
Thomas: The Midnight Archive was an incredible experience, and proof that if you just follow a farfetched outlandish idea, people will pay attention to it. It was the first time I understood what it meant for a project to just "make sense." I had the remarkable support of my good friend and IKA Collective owner Ian Karr, and for once I had a budget – talk about scary! So we decided to "do it right." The series' primary photographer Robert (Bubsy) Carnevale is the best in the industry (I don't care how that sounds, I'm saying it anyway), and the crew always had a good time. The series is largely based on artifacts of strange and unique beauty. Human remains, taxidermy, Ouija boards, charnel houses, spirit photographs. But I wanted to tell these stories without bombast, without the predictable "clickbait" approach. I hate obvious – hate it! I could very well have taken the reality TV approach and used a quirky "check out how weird this shit is" editorial style. But I had too much respect for and vested interest in the material. I myself collect odd things and have interests that go counter to the mainstream. I wanted to do a series that looked and sounded like I think. And I can honestly say that The Midnight Archive is that, for better or for worse. I also think that everybody is interested in the material we cover – even the most uninspired conformist will react. That's something I love. And I am always amazed at the emails I get from people, or the reactions I get at live screenings, because the audience is such a mixed bag. It's scholars and punks, middle-aged housewives and depressed teenagers. It's so cool to reach a diverse public rather than a "scene." Scenes are just ghettos built for the people who conform to them. This material promotes an open-ended community of curiosity.
Filmmaker: Finally, since I know your screenings usually come with a show and tell component, what strange paraphernalia can folks attending the Tribeca Film Festival screenings expect to see and interact with?
Thomas: I'm sure I will sneak a few things in. I am trying to launch a new series called The Devil's Pulpit. The series takes on over-the-top bizarre, true crime stories through puppetry. So we are hoping to have the puppet of Count Carl von Cosel in attendance to promote. Cosel was a 70-year-old necrophile living in Key West, Florida in the 1930s. I mean, I would love to bring a corpse – but I'd probably have to buy it a ticket.