Back to selection
Jennifer Phang, Nicole Beckwith and Stewart Thorndike Receive Inaugural SFFS Women Filmmaker Fellowships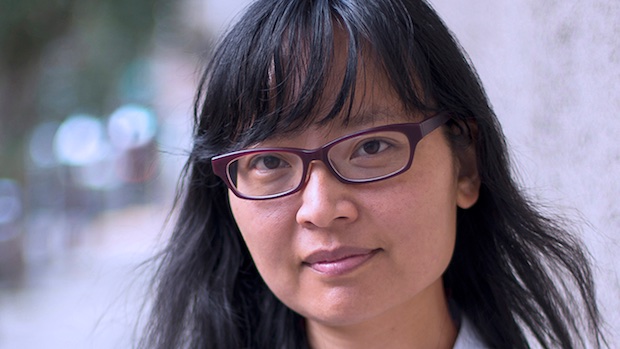 Jennifer Phang
The San Francisco Film Society announces today three women filmmakers as recipients of its SFFS Women Filmmaker Fellowships, a program supporting women making their second or third features in the genres of science fiction, comedy, action, thriller and horror — areas in which women are traditionally under-represented. Supported by the Kenneth Rainin Foundation, the fellowships are run by Filmmaker360, the Film Society's filmmaker services department, and they include financial support, programs and events, mentorship services and more.
"We're thrilled to be kicking off this new initiative with such talented individuals, and to help bridge the support gap we have seen for many women in finding the resources they need, especially on their second or third feature film projects," said Michele Turnure-Salleo, director of Filmmaker360 in a statement. "It's also very satisfying to support kick-ass women making edgy sci-fi, horror and comedies, and we hope this initiative contributes to leveling the playing field in those areas. Like our SFFS Producers Initiative, this program focuses on backing people rather than individual projects, and we are committed to helping these amazing folks realize their creative visions."
"We all benefit from a more accurate and diverse portrayal of society on film," said Jennifer Rainin, CEO of the Kenneth Rainin Foundation, also in a statement. "As more than 50% of the population, it's imperative that women have opportunities to share their stories on screen and that we see female characters valued as much as males, yet there's a lack of progress on these issues and little funding for female filmmakers working in narrative. Recognizing this gap, we've created the Women Filmmaker Fellowships as a way to build a critical mass of female filmmakers enjoying sustainable and thriving careers. I hope it inspires other film organizations and philanthropists to join us in building out this initiative, and to replicate this model."
For further information the program, visit the Filmmaker360 website. Here is further information from the press release:
Jennifer Phang
Jennifer Phang's sophomore feature Advantageous won the US Dramatic Competition Special Jury Prize in Collaborative Vision at Sundance 2015. The film will play at the San Francisco International Film Festival and BAM Cinemafest, and is expected to see a release in June. Her award-winning debut feature Half-Life premiered in 2008 at the Tokyo International and Sundance film festivals. It screened at SXSW and was distributed by Sundance Channel. She was invited to Sundance Institute Screenwriters Lab and was awarded a SFFS FilmHouse Residency and Sundance Institute Feature Film Grants in support of Advantageous. Phang was originally commissioned to create Advantageous as a short film for the ITVS Futurestates Program. A Berkeley-born daughter of a Chinese-Malaysian father and Vietnamese mother, Phang graduated from the MFA directing program at the American Film Institute.

Nikole Beckwith
Nikole Beckwith is from Newburyport, Massachusetts. Her plays have been developed and performed with the Public Theater, Playwrights Horizons, Clubbed Thumb, HERE Arts Center, Colt Coeur, Lesser America, 3LD and Rattlestick Playwrights Theater among others. Her newest play Untitled Matriarch Play (or Seven Sisters) was written at the National Theatre of London's Studio and premiered in rep at the Royal Court under the direction of Artistic Director Vicky Featherstone. Also a pen and ink artist, Beckwith's comics have been featured on NPR, WNYC, the Huffington Post and the Hairpin, among others. Her first film Stockholm, Pennsylvania (2012 Nicholl Fellowship, 2012 Black List, 2013 Sundance Screenwriters Lab), which was adapted from her stage play of the same name, premiered at the 2015 Sundance Film Festival in the US Dramatic Competition. She lives in Brooklyn.

Stewart Thorndike
Stewart Thorndike is a writer/director from Tacoma, Washington. She makes female-driven genre films and her first film, Lyle, was hailed as a "lesbian Rosemary's Baby" after its premiere at Outfest, where star Gaby Hoffmann won the Grand Jury Award for Best Actress. Thorndike attended NYU's graduate film program and her thesis short film, Tess and Nana, premiered at SXSW. Stewart's next film, The Stay, is about a group of women at a hotel who are told to do bad things by a haunted TED Talk, with Chloe Sevigny attached to star in the 2015 production. She is currently developing her second horror feature, Daughter, about a love triangle between a single mother, her troubled teenage daughter and the witch who moves in next door. Thorndike plans to shoot Daughter in 2016.

SFFS Women Filmmaker Fellowships will take place from April to October each year, overlapping with the Film Society's previously announced Producers Fellowship programs and the San Francisco International Film Festival (April 23–May 7). Program support includes:

A $25,000–$40,000 cash grant, which must be used for living expenses. Individual amounts depend on place of residence and estimated travel costs to participate in Bay Area fellowship components.

* Placement in FilmHouse Residency program and access to all FilmHouse programs and activities.

* One-on-one consultation with film industry experts from the Bay Area and beyond regarding casting, 
financing, budgeting, legal issues, distribution and other relevant topics.

* Weekly one-on-one consultation services provided by Filmmaker360 staff, with feedback on screenplays, verbal pitch strategies and written materials such as synopsis and treatment.

* Presentations and networking opportunities with Bay Area narrative filmmakers.

* Expenses covered for one 3-day networking trip with a Filmmaker360 staff member from San Francisco to Los Angeles, for meetings with established industry professionals.

Filmmaker360 has a strong track record for supporting innovative work by female writer/directors. Four out of six of the projects that received funding in the most recent round of SFFS / Kenneth Rainin Foundation Filmmaking Grants—the Film Society's flagship grant program which has disbursed more than $2.8 million since its inception—were written and directed by women. Additionally, four films supported by SFFS grants, residencies and fiscal sponsorship had their world premieres at the 2015 Sundance Film Festival: Jennifer Phang's Advantageous, Jenni Olson's The Royal Road, Chloé Zhao's Songs My Brothers Taught Me and Kris Swanberg's Unexpected. For information about all Filmmaker360 support services, visit sffs.org/filmmaker360.