Back to selection
Ridiculous Netflix: Sterlin Harjo Discusses Netflix and Adam Sandler's Ridiculous Six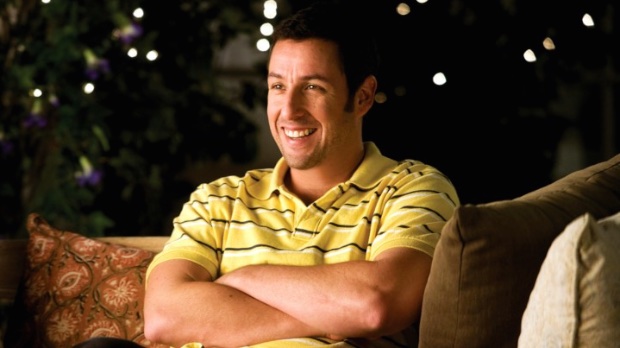 Funny People
"The movie has 'ridiculous' in the title for a reason — because it's ridiculous. It is a broad satire of Western movies and the stereotypes they popularized, featuring a diverse cast that is not only part of — but in on — the joke."
So comments Netflix in the wake of the recent exodus of a dozen Native American extras from the set of Adam Sandler's Ridiculous Six, its first film in a four-movie deal with Sandler's Happy Madison Productions. The comedy features characters with names like "Beaver's Breath" and "No Bra," so, yes, "ridiculous" certainly seems to be the aim of the script. Yet what's even more ridiculous is Netflix's tone-deaf assertion that the film features a cast "in on the joke." Really? The walkouts included the flick's Native American cultural adviser, along with a Navajo actress who complained about being bronzed by the makeup department (to appear "more Indian," one assumes). But the biggest joke of all can be found with those who stayed on set. They would include Sandler and his co-writer Tim Herlihy, director Frank Coraci, and moneymaking comedians such as Will Forte, David Spade and Rob Schneider. Last I checked these were all white men of means.
The problem, in other words, has less to do with offensive representations than with who is doing the representing. Indeed, this seems like nothing more than the equivalent of privileged white filmmakers using the N-word (and everyone knows how Spike Lee feels about Tarantino). Even more problematic is that Sandler is no Tarantino, a guy who singlehandedly revived the career of the underappreciated Pam Grier. Until there's a powerful Native American equivalent of Spike Lee, Samuel L. Jackson or Jamie Foxx, Netflix would do best to just drop both Sandler and this ridiculous, redface-painted charade.
But then, I'm neither a Netflix exec nor Native American. So I decided to approach Sundance vet Sterlin Harjo (Four Sheets to the Wind, Barking Water), who I interviewed prior to the 2014 Park City premiere of This May Be the Last Time – a very personal documentary that looks back at the events behind the mysterious disappearance of Harjo's grandfather, alongside the history of the Muscogee (Creek) hymns the Seminole community sang as it searched for him. Harjo, whose latest Mekko is set to debut at the Los Angeles Film Festival, is not only refreshingly vocal about what he sees as pragmatic solutions to Hollywood's insidiously ingrained misrepresentations of indigenous people, but also about avoiding unintentionally harmful easy fixes. (Hint: Don't cancel that Netflix subscription just yet.)
Filmmaker: As someone not of Native American descent I was pretty appalled by Netflix's lackluster, "broad satire" defense. I mean, if this was Adam Sandler "satirizing" blacks I'm sure Spike Lee, along with many other African-American filmmakers, would be calling for a boycott of the streaming site. But you've personally come out against the recent #WalkOffNetflix campaign that the controversy inspired. Can you explain your reasoning? And if canceling Netflix subscriptions isn't the best response, what is?
Harjo: We were all appalled by the treatment of Native characters, as well as by Netflix's response. The problem is deeper than Netflix. I'm sure that the executives in charge of Netflix's original programming didn't have Native people in their best interest when they green-lit this project. I knew months before that the film was coming down the pipe because the lead actor of my film Barking Water, Richard Ray Whitman, told me he turned it down. He said it was racist and sexist. He even brought it up to the casting director – but one actor in protest isn't going to stop the millions of dollars behind a film like this. A few people canceling their Netflix subscription isn't going to stop it. What is going to stop it is when all of our actors turn down roles like this, as Whitman did. It's going to stop when more Native filmmakers are supported to create their own visions. Supporting Native filmmakers will help peel back the decades of misrepresentation of Native people. Netflix can't stop it. Only we can. We have that power, but we need support.
Right now, in America, Native filmmakers are on the outskirts of the outskirts – it's true independent cinema. Studios won't touch us. Indians in buckskin and feathers is the only way studios want to see us because it fits their narrative. They don't want to see the truth. We have to roll up our sleeves and keep creating truth. We have to keep creating films, and seeing our visions to the screen. One of the few screens where we can show our work is on Netflix. There are great Native and indigenous films on Netflix. Filmmakers like Taika Waititi, Sydney Freeland, Jeff Barnaby, Neil Diamond, and Heather Rae have blocked out a small section on Netflix. Our films have reached a lot of people, including non-Indians, because of Netflix. If Native people walk away from the site then we are losing some of our audience. It could have the opposite effect, of making Netflix decide not to acquire films like mine. We have to create our own content – and we need every place that is willing to show that content.
Filmmaker: I'm also bothered by the fact that everyone working above the line on Ridiculous Six is a white Hollywood guy. The ACLU just announced that it's investigating Hollywood's discriminatory practices when it comes to hiring female directors, and I would venture to guess the industry's track record is even worse when it comes to putting Native Americans in charge. Is there an organization – like the LGBT, Gender and Reproductive Justice Project at the ACLU of Southern California, which sparked the aforementioned investigation – fighting for Native American directors and producers? (I mean, hiring a bunch of Native American extras, sticking a "cultural advisor" on set, and calling it all "progress" seems like an offensive copout on the part of Sandler's Happy Madison Productions.)
Harjo: It's not up to the industry – it's up to us. We have to create these roles. We need support. We need audiences. After a film like Y Tu Mamá También came out, no Hollywood exec would dare make a love story set in Mexico with one-dimensional, stereotypical characters! Alfonso Cuaron brought out something truthful, and the industry recognizes that.