Back to selection
Five Questions for Love Comes Later Director and La Semaine de la Critique Selectee, Sonejuhi Sinha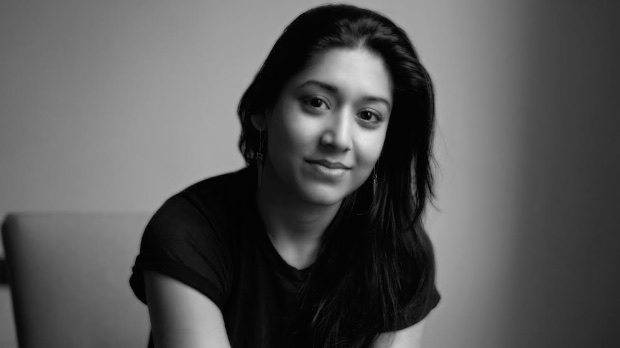 Sonejuhi Sinha
To premiere at La Semaine de la Critique is a singular achievement in itself. For one thing, it comes with the boasting rights of having triumphed through a discerning selection process, one that whittles over 1,700 submissions down to a lineup of merely 20 films. For another, as the competition running parallel to the Cannes Film Festival since 1962, La Semaine's commitment to showcasing and nurturing new global talent through a combination of selectivity and exceptional personal attention has established it as one of the most valued platforms of exposure for budding filmmakers.
But for New York-based editor-turned-writer/director Sonejuhi Sinha, the acceptance of her film, Love Comes Later, into this year's program bears even greater significance. An emotional 11-minute journey through the mind of an undocumented young motel employee, Love Comes Later is not just one of La Semaine's 10 chosen shorts, but one of the only three directed by women, as well as the sole South Asian American film in competition.  With its selection, Sinha and her work become linked with an organization credited for discovering the likes of auteurs such as Bernardo Bertolucci, Wong Kar-wai, and Alejandro Iñárritu.
I sat down with the filmmaker for some insight into her film's production journey, her take on the women and "diversity" issue in film, and on the value of shorts in a disproportionately feature-focused world.
Filmmaker: As part of both the "female" as well as the "minority" filmmaking communities, you are clearly aware that there is no shortage of either demographic when it comes to independent directors. Why, then, do you think that there are such dismal statistics for the visibility of their films?
Sinha: To be honest, for the longest time I didn't think I could be a filmmaker myself, simply because I just didn't see anyone like me who was doing it; growing up, I was watching a lot of Truffaut and Satyajit Ray, but never someone with a voice like mine. The turning point came much later in my teen years, when I watched Mira Nair's Salaam Bombay. But it's one thing to say, "we need diversity, we need South Asian directors" and very much another to say, "we need diversity, we need women." Women are 50% of the population! We're not "diverse!" Then again, my film has an all-South Asian cast and yet it's an American film going to Cannes. So I'm optimistic that there is awareness and change. Also, it's actually helpful that La Semaine keeps it selective and intimate; not only do our chances for awards go up, but because of the focus on discovering new directors and talent, individual attention is given to each selection.
Filmmaker: You've said that Love Comes Later draws upon many real life stories from your observations as a volunteer at immigrant shelters. You also have a background primarily in documentaries. Why, then, did you choose the fiction narrative format for this short?
Sinha: I've always had a love for storytelling and creating narratives from scratch. It goes back to when I was in kindergarten and used to amass my cousins and make them act out the stories I made up! On a more serious note, we had orientation sessions at the shelters heavily focused on confidentiality and protecting the survivors of trafficking, domestic violence and sexual assault. So immediately that question of access, the ability to follow your characters for a few years, was in question. Also, as a volunteer, I was there for different reasons and I felt that if I were to pick the documentary format I'd be crossing a line into territory that was both dangerous and invasive. But, their stories were so interesting that I started reading a lot of books and case studies on the subject. I researched for months and then thought, "I think I can create a female character based on this, but completely fictionalize her story." In fact, that way, I could take audiences even deeper. I'd have all the control over music and perspective and the way we shot, to create a visceral experience where the audience is not voyeuristically looking at a poor immigrant stuck in a dilemma, but actually relating to her and seeing her as a survivor. I wanted that intimacy to urge the audience to ask, "What would I do in her shoes?"
Filmmaker: There is an impressive variety in shots used throughout: upside down angles, soft focuses, hand-held, scenes tinted in reds and blues. How did you construct the film's aesthetic, and how much do you depend on that "look" when it comes to conveying a lot of information or emotion in the brief span of time that a short allows for?
Sinha: We got a lot of inspiration from other films that dealt with similar themes. My cinematographer Shane [Sigler] and I must have met thirty times before the shoot to have dinner and watch movies in his basement. We both loved Wong Kar-wai's Happy Together, about a gay couple in Argentina, who I think are undocumented. And even though they're in an underbelly of Buenos Aires, we are very much in tune with their lives. Wong and his DP, Chris Doyle, are masters of visually taking you to a place where these people are brought to life. The Dardenne brothers do that too, with Rosetta and La Promesse, stories of immigrants in Belgium. You're so close to their perspectives that you're in their world as opposed to looking at them from the outside. So in creating our visual style, we were looking at what was working in these films and bringing some of those elements in. Also, there were practical choices, like going handheld because it was cheap and fast. I didn't want to lose time setting up with tripods; I wanted to just shoot, and I wanted my actors to feel very free. But I also had Vega follow some of the employees of the motel for a day, and they showed her how to put sheets on, how to clean, and so on. So in a very "method" way, we wanted to be spontaneous with things that would add life into the film. For example, we'd notice things in the window or see that the pet mouse was doing something interesting, and the handheld setup made it easy to shoot those "in the moment" things. A flexible team that was open to the environment and the truth around it helped in creating this style.
Filmmaker: How did you put that creative and production team together?
Sinha: Some were friends, some were friends of friends who I reached out to. It was about finding trusted people, meeting with them, and gauging their interest. On my first short, I just wanted anyone to help me! On this one, I was a bit more selective. I was adamant that everyone on the team really wanted to do it, for reasons other than just their day rate, because on a very small budget, you're not getting paid much. That ambivalence when you meet some people who say, "Yeah, maybe I'll do it, what's the budget?" That's a big no for me. I needed people who were passionate, positive, and brought a lot to the table. When I go on to do the feature, I'll have a bigger budget and I'd love to take the same passionate team forward.
Filmmaker: Short films are some of the most original, daring, hard-hitting pieces of film out there and yet don't get the visibility they are due aside from the festival circuit. Also, these days, it is increasingly possible to make a feature on a short-sized budget. What was your thinking behind going with a short before you go on to make your feature?
Sinha: I went into the submission process for La Semaine de la Critique thinking, "Ten short selections out of 1700 is a 0.05 percent chance of getting into a festival that's good exposure. Add on being a woman, that brings it down to a 0.03 percent likelihood." You'd think it'd just be easier to buy a lottery ticket. But I wanted to make this short for me, and for the story. Exploring the casting, location scouting and production design, would help me write the feature well and craft a story that is way more real than if I just did it with no previous knowledge. I think short-to-feature is really important, especially if you're just an up-and-coming director. The year it took me to make this short was a chance to put some of my savings into investing in this story and do the proper research it deserved. Now I have that experience to draw on for the feature, to make it even better. In fact, we're going to be part of their "Next Step" program as well; it's a development workshop similar to the labs Sundance conducts. I'm excited to be in Paris this December, diving into the feature and really getting it right with the help of Cannes. With any luck, it'll get made next year.