Back to selection
Cannes 2015: Five Questions for Carol Director Todd Haynes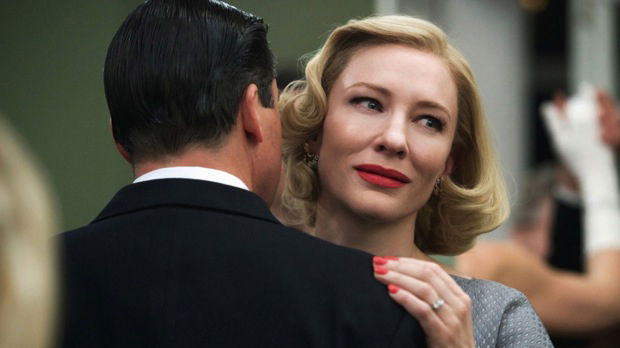 Carol
Todd Haynes reteams with Cate Blanchett, after 2007's I'm Not There, for his latest Palme d'Or contender Carol. Based on Patricia Highsmith's semi-autobiographical novel The Price of Salt, Rooney Mara plays shopgirl Therese, who falls in love with the older, married Carol (Blanchett) in the '50s. The two embark on a road trip, which culminates in Carol's husband blackmailing her with the liaison to prevent her from having custody over their daughter.
Edward Lachman's cinematography is rich in period detail. And two masters at their craft bring the challenging characters to life, ending the film in a final wordless scene that leaves the audience also breathless. Haynes' power in creating emotion purely through images is one he says is new to him, and one we hope to see a lot more of in his future films. The echoing story and images have already made Carol one of the 2015 Cannes festival favorites.
Filmmaker: What was it like to direct a film you didn't write?
Haynes: I struggled with it for a very long time, but this came to me as somebody else's baby. And I had worked with Cate and I felt a kinship with Cate. I was eager to work with her again, particularly with such a different character role. But I will always be able to learn a great deal, whether it's something I have nurtured myself or something that comes from other source material.
Filmmaker: What inspired you with the photography? Did you look at any classic road movies?
Haynes: Even though Ed[ward Lachman] kind of growled, I looked a lot at Spielberg's The Sugarland Express. The whole movie is shot on the road and is about travel, cops chasing, and people on the run who kidnap a cop. It is based on a true story. It is beautiful cinematography with cars and long lenses and I was interested to see how those shots worked. It was helpful to look at it.
Filmmaker: There is a lot of silence in the movie that was just as important as the dialogue. Was that difficult to shoot?
Haynes: It's funny, I never thought of it while we were shooting it. I think it was built into the time. I always love it when words escape characters and there are things that happen that can't be articulated, and that really is where the visual language of film is given its necessity, just like the way that novel describes the inability to find the words.
Filmmaker: Knowing what you know now in your career, what would have taught your younger yourself as a director?
Haynes: My younger self is always teaching me, basically. At least, I am trying to accept that I am no longer my younger self and be OK with it. This is a nice re-enforcement for the fact that I am not that crazy radical rule-breaker. But I wouldn't be where I am today, wherever that is, without having traveled through these different cells.
Filmmaker: How did you craft the final, wordless scene?
Haynes: I think that is where the movie stops. I talked to both of them, particularly Rooney, about the end of The Graduate. They fight the families and the church and they escape on the bus and they sit there and they are finally free. And then real life begins and you don't really know what's in store for them. I sort of feel the same way for Carol and Therese. They both changed a lot in the course of the film. They are not the same people that they were when they first met.