Back to selection
"I'VE LOVED YOU SO LONG"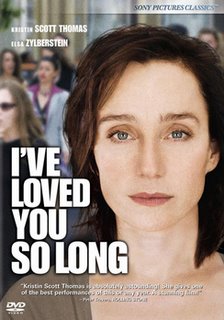 Nominated for Best Foreign Film and Best Actress for Kristin Scott Thomas at this year's Golden Globes, Philippe Claudel's debut feature stars Scott Thomas as Juliette, who's recently been released from prison where she's spent the last 15 years for killing her son and now reluctantly begins to rebuild her relationship with her family after her younger sister, Léa (Elsa Zylberstein), volunteers to take her in.
A tender story about redemption and forgiveness, Scott Thomas delivers one of the best performances of her career as a woman jaded by her past but slowly finds that she can make up for it by being a good aunt to Léa's daughters. Lea also must come to terms with the reemergence of her sister, who her parents forced her to forget while growing up and has caused her with a fear of giving birth (her daughters are adopted).
Claudel keeps the camera still and lets the actors tell the story, especially Scott Thomas, who we see transform from a cold ex-convict to a middle-aged woman with hope of a new life through the people who care about her. Though on a sidenote, it is strange to hear Scott Thomas speak in French, seeing she's so well known in her native U.K.
Sony Pictures Classics releases the film on DVD today. Outside of deleted scenes there isn't much in the disc's special features.
[AMAZONPRODUCT=B001M72J68]
[AMAZONPRODUCT=B001GCUO6Q]
[AMAZONPRODUCT=B0028JS5J4]