Back to selection
6 Years Writer/Director Hannah Fidell at the Champs-Élysées Film Festival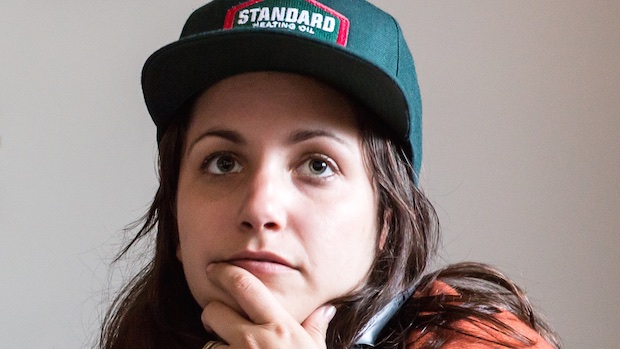 Following up her debut feature, A Teacher, Hannah Fidell premiered 6 Years at SXSW before traveling with it last month to the Champs-Élysées Film Festival. A relationship tale about two twenty-somethings navigating the complications of post-collegiate life, the film stars Taissa Farming and Ben Rosenfield. Filmmaker caught up with Fidell in Paris to learn about working without a script, returning to Austin for production and how film theory has affected her filmmaking. 6 Years will be released later this year by Netflix.
Filmmaker: 6 Years is the second film in your Texas trilogy. Because the movie was improvised, did you ever feel out of control?
Fidell: Never. We had a very planned out story so we knew where the film was going to go on a macro level. I often felt that what was happening on set was better than anything I could have possibly imagined. It was thrilling.
Filmmaker: How was it different than working from a script?
Fidell: It required a lot of time in the edit. There were two editors, Sofia Marshall and Carlos Marques-Marcet. Sofia was cutting and assembling as we were shooting, and by the time the shoot ended we had a two and a half hour assembly. I felt bad for her though because she was locked away editing, but it's important to have your editor not on set, not hearing the jokes or getting attached to the emotion of making a movie, so as to stay objective in the edit.
Filmmaker: You previously lived in Austin before returning to shoot the film?
Fidell: I had been living in New York for four and-a-half years, but it got stale, which sounds crazy to say about New York. I found myself needing to leave town to get any writing or thinking done. And so I moved to Austin. Now I live in L.A.
Filmmaker: Do you like L.A.?
Fidell: It's great. I work from home and luckily I live in a part of town where I can walk to coffee shops and restaurants and even the vet. It's not that I don't like driving, but I'm able to live a life in L.A. without the traffic that everyone complains about.
Filmmaker: How was premiering 6 Years back in Austin at SXSW?
Fidell: It was great premiering in Austin, like a big homecoming since we shot the film there and so many members of the crew are based there.
Filmmaker: You studied film at Indiana University?
Fidell: I studied film theory at Indiana, but was too scared to actually make movies. I was scared of failure. I'm not sure what helped me get over that, but I think part of it was working at the front desk of a big commercial production company and seeing all these famous commercial directors, who were used to being pampered on shoots, still working on their first feature script. And it was the recession at the time (2008), so I decided to make a movie when there wasn't any pressure to raise millions of dollars and get a big cast. I had seen the movies of Joe and Kris Swanberg, I had seen The Puffy Chair by the Duplass Brothers, and they inspired me to make a featurette called We're Glad You're Here. The film didn't "succeed" in a traditional way, but I learned a ton from it.
Filmmaker: Did you feel pressure for your first film to be a success?
Fidell: I have friends who went to Tisch and making the first movie was a lot of pressure. For me, there was only pressure on myself not to waste the money my grandmother left me, which is what paid for the movie.
Filmmaker: How did your parents feel about the money going toward making a movie?
Fidell: They were all for it, and have been fully supportive of all my creative endeavors. I didn't think there'd ever be a real chance to do this for a living, so the fact that I'm actually getting paid to do it now is so shocking.
Filmmaker: It's not an easy to feel successful in this industry, particularly as a woman.
Fidell: My mother was a journalist for 35 years before she was a law professor, and came from this era of journalism where she was one of the first women to make it, so to speak. So some of the struggles that I'm going through now, transitioning into bigger budgets and wanting to direct episodic, are similar struggles to what she went through as a journalist 35 years ago.
Filmmaker: How much are these struggles cause for frustration?
Fidell: I vacillate between feeling pissed off because, on one hand, why are the scripts I'm sent only love stories or women going crazy? But on the other hand, I've only made two features and they are both love stories of sorts and show women not at their most admirable…so how can executives know I'm capable of anything more? Being a female filmmaker has certainly helped me get into festivals, so I don't know…I just look at myself as a filmmaker. My goal is to make movies I'd want to watch.
Filmmaker: Now you're adapting your previous film, A Teacher, into an HBO series. How's writing for TV?
Fidell: It's so fun to write. I don't have formal training in screenwriting so I feel I get to test my own creative limits every time HBO wants something new. Their notes have shaped the script to be so much better than I could have imagined.
Filmmaker: What's your writing process?
Fidell: I've recently been lucky to co-write with people who I work well with. I've been writing with Carson Mell, who's also in Paris now, participating in the US in Progress program, and we just really complement each other. I think he's a comedy genius.
Filmmaker: How did you meet?
Fidell: We met at a film festival a few years ago actually. And we are also neighbors.
Filmmaker: As long as he's in walking distance….
Fidell: Exactly. My one requirement.
Filmmaker: What's your favorite film festival?
Fidell: Film festivals are all so different, but the best movie screening experience I've had with other filmmakers was in Tacoma when the Tacoma Film Society invited Filmmaker's 25 New Faces out to Washington and we screened our films for each other and hung out all weekend. It was an amazing no pressure situation where we could all enjoy and celebrate each other. Almost all my close friends who work in film came from this weekend.