Back to selection
Borscht Corp Retrospective This Week at the Made in New York Media Center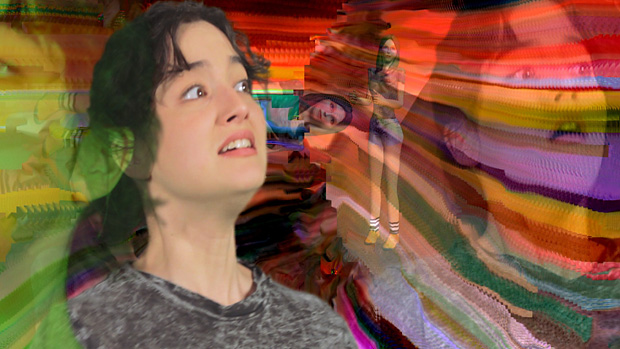 #PostModem, by Jillian Mayer and Lucas Leyva
There are many places to find air conditioning in New York City this weekend, but, if you ask us, you should seek it at the Made in New York Media Center, where IFP's Screen Forward is mounting a five-night Borscht Corporation retrospective. Borscht, if you don't know, is the wildly creative, culturally prescient and litigation-inviting collective of Miami filmmakers (and their friends) who are behind some of today's best short films and certainly one of our best film festivals. Headed by Lucas Leyva and Jillian Mayer, Borscht produces a semi-annual Miami festival centered around commissioned short films as well as crazy events (a night-time bike ride bar crawl, visit to a coral reef or santeria church). The work is young, internet-savvy and surrealistically provocative. And it's breaking out. After eight Borscht festivals, millions of YouTube views and even a Sundance Grand Prize for Best Short (Bernardo Britto's Yearbook), the group is poised for greater recognition. So, get in early by attending a screening this week. Here's a quick highlighted rundown of the week:
Thursday, July 30: Mayer/Leyva Spotlight. Artist Jillian Mayer and playwright Lucas Leyva, the de facto leaders of the Borscht Corp, present all of their collaborative film projects from 2010 to present in chronological order. Included are their first collaboration and Guggenheim video Biennale winner Scenic Jogging, Life and Freaky Times of Uncle Luke ("25 essential shorts from over a century of cinema"- Fandor), futurist musical #PostModem ("mindblowing"- Filmmaker Magazine), viral hits, unseen and embarrassing experiments, and a work-in-progress screening of their new short Cool As Ice 2.

Friday, July 31: New Miami Voices. One of the founding principles of Borscht Corp was to "tell Miami stories that go beyond the insipid portrayal of the city in mainstream media," and to articulate the voices of a New Miami. This program explores the specific culture of the idiosyncratic generation that came of age with the city itself in the 80's. American, Cuban, Haitian, Nicaraguan, and other cultures are portrayed as well as their influence on the 1st generation Americans that identify simply as Miamians.

Saturday, August 1: Late Night Vibes. The Borscht Film Festival is the semi-annual showcase of the Borscht Corp's creative output, and was recently called "the weirdest film festival on the planet" by IndieWire and said to be "reinventing the concept of the film festival" by Filmmaker Magazine. This program of shorts exemplifies the ethos that Vice describes as "a fascinating experiment that was also unnerving, in that the line between a short film, a student film, an unfinished film, a music video, a comedy sketch, and an overly ambitious YouTube vid was left unchecked." Real asexual sea creatures, existentially troubled robots, space-borne NBA players, and post-apocalyptic dogs star in interdimensional narratives and cinematic experiences.

Sunday, August 2: Tourists. Over the last several years the Borscht Corp has invited guest filmmakers from independent film communities in other cities to come to Miami (or Miami expats to return) for a curated experience and create a film exploring the city in their specific voices.

Monday, August 3: Outside Validation. While Borscht was founded to serve the community of Miami, certain projects have broken out to have successful festival runs. This program chronologically presents the films that launched at Borscht and went on to make some sort of impact nationally or internationally.
Click on the link for showtimes and more detailed descriptions of the programs.
And, to whet your appetite, here is some work from Borscht.
Life and Freaky Times of Uncle Luke