Back to selection
Women Directors in Locarno: Anne Émond, Athena Rachel Tsangari, Petra Costa and Lea Glob
Anne Emond (Photo: Manuel Moutier)
Chevalier is a film about six men vacationing on a yacht in the middle of the Aegean Sea. After the world premiere in the main international competition at the Locarno International Film Festival, I climbed an arduous, though relatively small Swiss mountain to sit down with director Athina Rachel Tsangari during her final hours in Locarno.
My own last hours in Switzerland were spent with Anne Émond, whose film Our Loved Ones also celebrated its world premiere in Locarno. Our Loved Ones is about how a suicide affects a family living in a small town outside Quebec. Both Our Loved Ones and Chevalier will make their North American Premieres next month at the Toronto International Film Festival.
In the same international "Filmmakers of the Present" competition as Émond, are co-directors Petra Costa and Lea Glob. Their film Olmo & The Seagull is about an actress redefining her identity during a nine-month pregnancy. The film is scheduled to screen theatrically in Brazil, France, Portugal and Scandinavia later this fall, and in the U.S. at the Camden Film Festival this September.
Of the four national languages in Switzerland, French is the only one also originally spoken by Anne Émond, who is from Montreal. Costa is Brazilian and Glob is Danish, but their film, like Émond's, is in French. Tsangari's film is in her native language, Greek. And somehow, in my conversations with these filmmakers below, I'm the one exercising my own native language.
Athina Rachel Tsangari Chevalier
Filmmaker: You studied Performance Studies at NYU's Tisch School. How did you start working film?
Tsangari: I had previously studied literature and drama in Greece, but I took a few classes at NYU's Cinema Studies as electives and sensed that I was gradually becoming drawn to film. I'd already worked, completely by chance, with Richard Linklater on Slacker — a life-changing encounter. Then I received an MFA at the University of Texas in Austin and made my first feature, The Slow Business of Going, as my thesis project. Cinema was such an abrupt discovery in my life, and then it took me over. I was sort of abducted by cinema.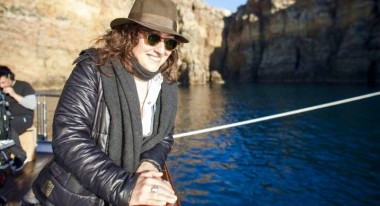 Filmmaker: Did you want to act after your performance in Slacker?
Tsangari: I'm not an actor at all. I just act occasionally and only in friends' movies. I don't feel comfortable in front of the lens. I feel more comfortable producing. For me, it's as creative as directing. I believe in this idea of filmmaking as equal parts — directing, writing, producing, programming, teaching, watching… when I direct, I'm also one of the producers because the project usually originates from our production company in Athens, Haos Film.
Filmmaker: Do you think you'll go back to theater?
Tsangari: I've never directed theater, but I'm more and more interested now. I have worked on big spectacles as a projections designer, such as the 2004 Athens Olympics Opening Ceremony, which was like creating a performance at the largest scale possible. It was a great experience and a very helpful one in terms of my learning how to be creative with big budgets without blowing money, without being wasteful. I find it to be more difficult to be creative when you have lots of money!
Filmmaker: Would you be interested in directing Hollywood films?
Tsangari: I'd be compelled to work within Hollywood, whatever this means nowadays, as the film industry is blurred more and more with independent, director-driven cinema. I'm interested in the updating of the so-called mainstream. Quite a few directors have done a good job transitioning to it, and found a way to be groundbreaking and — this guilty word — avant-garde. The original definition of auteurs was directors like John Ford, Howard Hawks, Billy Wilder, Anthony Mann who threw their distinctive wrenches in the engine of commercial cinema.
Filmmaker: Would you describe your work as avant-garde? I'm specifically thinking about how Chevalier relates to the current politics in Greece.
Tsangari: I don't feel comfortable with direct metaphors or analogies because I believe there is a way to create a story leaving enough space for ambiguity, for multiple readings, for audiences to come up with multiple interpretations. But, I do recognize that all of my films deal with similar undercurrent themes, the transience between genders, spaces, tragedy and comedy. Science fiction embedded in reality is a mise-en-scene framework in my work. I guess Chevalier was unavoidably created under the spell of Europe's own chevalier game, and at the same time it's a fantasy that could happen on a boat, or out in space, anywhere.
Filmmaker: Why is Chevalier an all-male cast?
Tsangari: The Capsule, my short from 2012, has an all-female cast. In both films, I was interested in how the issues of power and desire would manifest themselves in a homogeneous group. Instead of confusing the issue of power by mixing genders, which would automatically implicate gender politics, I opted for confined environments where control, envy, attraction could be played out within the same "species."
Filmmaker: Do you think the power dynamics would have been different in Chevalier had the characters been all women?
Tsangari: I believe they would have been similar. Both genders suffer all sorts of clichés — about men being much simpler creatures than women, or women competing more than men with each other — clichés that are perpetuated by movies. And so we are programmed to identify with these clichés that aren't necessarily, universally true. I think gender has evolved and keeps evolving in the same way as our species. Which is why I'm fascinated by nature documentaries… to understand psychology through biology.
Filmmaker: How did you cast the film?
Tsangari: It was important to find strong personalities — for the actors to be complementary with each other, but at the same time to chemically react. It took about eight months to cast, and in the end, I chose actors and non-actors. For example, Sakis Rouvas (Christos) is Greece's biggest pop star for the past twenty years, Yorgos Kentros (The Doctor) is a Chekhovian theater actor, Panos Koronis (Yorgos) is a film director, so it was a conscious decision of mixing together different backgrounds and opposing methods of interpreting their roles.
Filmmaker: How did you rehearse?
Tsangari: We started with a script, co-written with Efthymis Filippou. We'd then improvise the existing scenes, plus new ones that would emerge from rehearsals, and some we'd keep developing, and others we'd lose. I like to do this even though it's strenuous work for all of us. I work a lot with body language, and this was the first time I've also worked with choreographing dialogue. When we finally go into production, it's all extremely precise. There's not really any space for improvising. The film was set on a boat, and we shot it based on a battle plan that we had designed during rehearsals. D.P. Christos Karamanis had quite a challenge with our location because there was literally no place to move, or put lights, so he worked mostly with practicals, and sliders. I felt very lucky to have him. He moved quietly without intruding, and the actors loved him.
Filmmaker: Was it challenging to shoot on a boat in the Aegean?
Tsangari: It could have easily been a nightmare, but it was fun, because we were a tight-knit team, and I had a fantastic crew. Shooting in confined spaces requires crew casting as carefully as actors casting.
Filmmaker: How often did you doubt yourself?
Tsangari: Doubting is an essential part of the process…I used to think that if I had doubts, my cast and crew wouldn't trust me. I've learned that working with doubts is the process. But the fact is that each second you have to answer several simultaneous questions, and every time you have to give a definitive answer. Some answers will be wrong, and some will be right, but you have to act fast. In the end, what is the right decision? It's either right and it works or it's wrong and it doesn't, but somehow, hopefully, it will figure itself out because a film shoot is a living organism that keeps replenishing itself.
Filmmaker: Did you have any tactics to gain the trust of your cast and crew?
Tsangari: I had all sorts of tactics. You can't have just one! You have to be democratic and a dictator at once. More than anything, it's like directing air traffic, making sure the airplanes don't crash when they land, or explode when they are up in the air.
Filmmaker: Were there any collisions?
Tsangari: No, it was a very peaceful and efficient set. It's been said that 90% of directing is casting. I trust that if I cast the right actors for the movie at hand, they will deliver. Working with an intelligent actor with lots of agency and ideas is such a gift. We execute together, in collaboration.
Filmmaker: How was co-writing with Efthymis Filippou, who co-wrote Yorgos Lanthimos' Dogtooth, and who recently co-wrote The Lobster?
Tsangari: Efthymis is amazing, very relaxed, and at the same time arduous as a writer. It was an ongoing process, developing scenes through the game contests, basic story arcs, characters as archetypes initially, and then workshopping it all with the cast. He continuously updated the script drawing from our rehearsals, kept us on track, and kept me focused.
Filmmaker: Being Greek, is it important for you to be based in Greece?
Tsangari: I've been a nomad since I first left home to study abroad, so I'm used to living quite naturally wherever I am… Making films in my native language is a big and necessary part of it, but not a prerequisite. I wasn't brought up to be a film director, nor did I consume movies as a kid, so I was quite a latecomer to cinema, in my mid-twenties, while living in the U.S. One of the reasons I make films is the affordance of moving around, being a sensory giver/ receiver. I love the human microcosm/macrocosms.
Anne Émond, Our Loved Ones
Filmmaker: This is your second feature film. How did you know you were ready to make your first feature, Nuit #1?
Émond: I discovered cinema when I was young and knew I wanted to work in film. I went to study at film school when I was seventeen and started making short films right away. I had done about ten short films when my first feature just happened. I was writing 15 pages, and then it was 25, and then I just knew it was a feature. I didn't consciously think about making a feature before I turned 30 or anything like that.
Filmmaker: How is this film different than your first feature?
Émond: It's a very emotional film, which is really different from my first feature. It's not autobiographical, but the subject is near to me, and I felt I could talk truthfully about suicide, and that I could bring something to people. I wanted to make a film that makes people laugh and cry, that is very human, and I knew I needed to handle the story generously.
Filmmaker: What was your favorite part of the process?
Émond: I really just love writing. Sometimes I think I should just write because shooting is hard for me. I'm shy and there are a lot of people on set, so what's nice about writing is the chance to be alone. But once you write a screenplay, it's hard to let it go. When I'm directing, what I want is so clear in my head, but the challenge is to articulate so that others can understand.
Filmmaker: How are you with actors?
Émond: I really love actors and I trust them. My actors in this movie felt like family. Also, the D.P. and the first A.D. and I were all really close. There was a level of understanding about the film that allowed us to work so well together and also to have fun. Same with my producers from METAFILM, who were particularly great in the development phase. They came on board early on when I had three ideas for a film, and we decided which idea would be best to work on together. They are young producers who work with a lot of young directors.
Filmmaker: How is being a young filmmaker in Montreal?
Émond: It's competitive and hard, like anywhere else, but in Montreal, you can be a young unknown filmmaker and get funding for non-commercial projects. Funding is public, like in Europe, but it seems much harder for my friends in France. I think Montreal is a great place to be a young filmmaker. I feel that I'm free. Politically, there's a long and complicated history between us and the rest of Canada. I know everything about what's happening in film in Quebec, but I know nothing about what's going on in Toronto. It's two totally different cultures and industries
Filmmaker: Being shy, is it hard for you to socialize at film festivals?
Émond: Well, it's not natural for me, but I'm happy to travel and meet people who actually like the film. My nightmare is that people scream at me after a screening because they hate the film, so if it goes well, I'm really just so happy.
Filmmaker: You actually think people might scream at you?
Émond: Oh yeah! It's so frightening to show a movie. You never know what will happen. I'm so nervous that no one will like it. I'm not confident at all.
Filmmaker: Because you don't know if your film is good?
Émond: Right, I don't know if it's good. I worked on this film for three years and now, I only see what I missed. I can think that it works, but in the end, I just don't know, and so I'm afraid people will hate it.
Filmmaker: Would good reviews or full houses relieve you of this fear?
Émond: No, I think it stays. I'm always predicting the worst, which sounds very pessimistic. My producer is here reminding me to enjoy this moment, but it's so hard being so nervous. But we are all so severe with ourselves… I don't judge anyone else's films except my own.
Filmmaker: And you are about to start shooting another feature?
Émond: I'm about to shoot my third feature in September. We will shoot in Montreal and a little bit in Paris. It's about Nelly Arcan, who was a very successful writer from Montreal and killed herself at 36 years old. Her work is genius and her book Putain was famous all over the world. The movie isn't a biopic, but it's about her life.
Filmmaker: So you aren't too scared of audience reception to quit?
Émond: I'm nervous to shoot, I'm nervous to show, so sometimes I do wonder what makes me happy about being a filmmaker. But I love the writing. And it's always worth it when you have the feeling of reaching people; even if you affect just one person, it's worth it. My cousin saves lives in the ER in Switzerland and she came to our Locarno world premiere the other night. I'm sure this world felt strange to her, but even though we don't save babies, we reach people, which is so important.
Petra Costa and Lea Glob, Olmo & The Seagull
Filmmaker: How did you meet?
Glob: It was at CPH:DOX in Copenhagen — Petra was touring with her film Elena, and I was there with a short. Both were existential films dealing with a personal subject in a very investigative manner, and both had suicide in them.
Costa: They paired us together and we had one week to meet and come up with a story to pitch. And in that week, we came up with the story of this film. Before I went to Copenhagen, I had seen many of the Theatre du Soleil plays and when they toured to Brazil in 2011, I met actors Serge Nicolai and Olivia Corsini. I showed them my film Elena and we started talking about making a film together.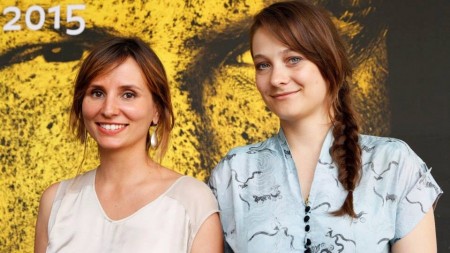 Filmmaker: What drew you to their story?
Glob: From the beginning we started to try to find our common interests. I wanted to make a documentary and Petra, a fiction, but we both knew we wanted to investigate the female subject. So we started to think about the possibility of working with a real woman.
Costa: Yes, and we thought how an actress would open up in the challenge of performing her own life. To have actors perform their own lives can be an exploration of masks of existence in a way. Everyone wears these masks, but what I think is interesting about actors is that they have to be conscious of it — the experiences and emotions that accumulate in their faces.
Filmmaker: So the initial interest was more the actress than the pregnancy?
Costa: Yes, the pregnancy was a second moment. When we started to look into pregnancy, the extreme scarcity of films that go into the complexity of pregnancy became clear. It's ironic that the film that probably most deals with the process of pregnancy in regards to the pressures of society is a horror movie, Rosemary's Baby.
Glob: I'm 33 now, so it's very present — how to be an artist, how to be a woman, and how to set yourself in relation to society. As we researched, I was surprised by a lot…it's very taboo, this idea that motherhood is the destination for women.
Costa: Julia Kristeva writes about how it's difficult to talk about women to start with, and then how in talking about motherhood, the main narrative is the complicated one of Mother Mary. I think there's an unconscious idea of motherhood as this saintly non-fleshy event and anything different is a bit taboo. There are a couple rites passages we all go through in life, one being adolescence to adulthood, and the challenge to assert yourself, especially as a young adult and an artist. My previous film was about this difficulty to assert oneself, especially as a woman. This film deals with a second phase, with Olivia as an artist and a young woman having to let go of her freedom as a young bohemian. She loved that freedom and really feared the loss of that. In a way, the nine-month pregnancy was a time of mourning the self she used to be.
Glob: And as the creators, we had to really take that in, that aspect of time and space as the body changes physically during those nine-months. Every woman faces this dilemma in a way.
Costa: The tension between being sedentary and nomadic, between security and freedom.
Glob: Not just every woman, every person.
Filmmaker: What was it like to shoot people really going through this life transition?
Costa: In the beginning, Serge said he only knew how to play roles or transpose and that he couldn't play himself. Olivia felt that she had been acting in a theater company for 12 years but had the strong desire at this moment in her life to play herself. So it was perhaps more difficult for Serge, but in both cases, it was delicate.
Glob: It's our responsibility to constantly take care of them and discuss, and it's always a bit dangerous. But this delicate line was productive.
Costa: There was always this tension between how much they open and how much they retain, the line between the private and the public and to what extent they will share. The moments of tension arose when we were pulling a bit more than what they were willing to share, and then something compelling would rise.
Filmmaker: This is essentially the making of a hybrid film?
Glob: In the tradition of the Danish documentary filmmaking, it's close to the hybrid format in the sense that you use the cinematic aspect but sculpt with different methods.
Costa: So often fiction films become really constrained. I've worked on the set of a few fiction films and I've felt that the director can become handcuffed by the script and doesn't leave enough breathing space for the actors to transgress, to be real, to improvise. So I had a strong desire to do a film like a play, working through workshops. We had a strong idea of a through-line that was kind of a skeleton but then the flesh came out of their lives.
Glob: We set a very strong framework from the beginning. And because they were really man and wife talking about their real child, we had the ethical responsibility to really listen. Having to be really humble in this way, to be flexible and to adjust really carried out through the shooting and even in the editing.
Costa: Our editors Marina Meliande and Tina Baz were really fundamental, like third writers scripting with us in the editing room.
Filmmaker: How did you find co-directing?
Glob: Co-directing is a complete challenge because you are confronted with your limitations all the time.
Costa: Not only your limitations but your limits, your borders. Inside my borders are my strengths and my borders are different than Lea's, so I had to learn to let go. I really like to engage and provoke the actors directly. Maybe I don't' have enough patience to wait, to create a situation for something to happen naturally…this is Lea's strength.
Glob: I never would have reached what we achieved myself. I accepted the chaos of Petra intervening. I come much more from the documentary tradition, so her method of intervening was completely frightening. But to have seen the material that came out of it made this experience so rich for me. With co-directing, consensus doesn't always make good film. If we had to find a middle-ground, we would have limited each other's strengths and that would have made a boring film. In the end, it was a very different experience to co-direct too because of the cultural differences. Sometimes we were even in different countries.
Filmmaker: Lea, you're Danish, Petra, you're Brazilian, Olivia is Italian, but she and Serge speak French in the film. How did it work?
Costa: And our D.P., Muhammed Hamdy, who co-created many of the scenes with us, was Egyptian. It did feel like a Tower of Babel — often I would translate for Lea on set or during editing.
Glob: Shooting is very much about listening, and as in a conversation, 90% is your body language and your emotions, so people are able to understand situations without needing to speak one language. The easiest choice would have to been to be scared, but we were a group who used our fear to open up and accept new things. People really enrich you if you listen. But it only worked because we had a strong vision in the beginning. Without this, we wouldn't have been able to navigate.
Filmmaker: Did the film turn out as you expected?
Glob: I actually just read our notes from when we first started in Copenhagen and it's almost scary how close it is.
Costa: There's this funny process where you start with an idea, get farther and farther away from it only to come back to it in the end. Though, I do think the film reached points we didn't expect because of our process. Someone once said the artistic coefficient of a project is the difference between the initial idea, the end idea, and how much you let yourself be surprised.