Back to selection
Hitchcock + Haneke: DP Edu Grau on The Gift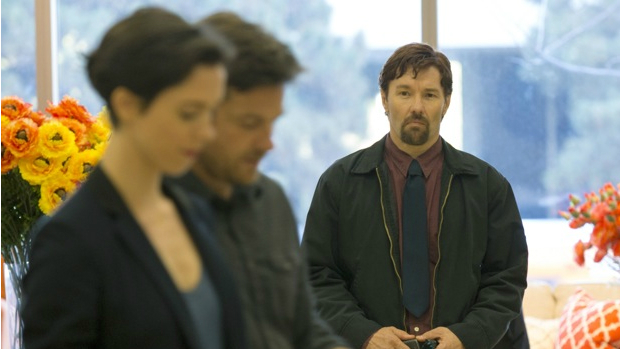 The Gift
Amongst a summer movie season awash in sequels, remakes and presold tentpole properties, it's rare to find a sleeper at the multiplex, an unknown quantity with the ability to surprise an audience. Such is The Gift, an unnerving psychological thriller that begins as a post-Fatal Attraction variant before veering into the domain of Roman Polanski and Michael Haneke. Jason Bateman and Rebecca Hall star as a married couple leaving behind personal tragedy in Chicago to start a new life in Los Angeles. Shortly after their arrival, Bateman bumps into former high school classmate Joel Edgerton, who begins to insinuate himself into the couple's life.
Directed by Edgerton and produced by the ubiquitous genre film shingle Blumhouse, The Gift marks a departure for its cinematographer, Edu Grau. The Spaniard made his reputation with the period drama A Single Man, but as Grau explains, his goal has always been to point his camera toward an eclectic array of stories.
Filmmaker: How did you first develop a passion for film growing up in Barcelona?
Grau: When I was 13, I remember talking with a friend of mine and both of us saying, "I would love to be in the movies." That conversation always stuck in my mind and five years later, when I had to chose a university, I went to film school at Escola Superior de Cinema i Audiovisuals de Catalunya (ESCAC) in Barcelona. I also later studied at the National Film and Television School (NFTS) in London. I was determined from an early age to make movies. I didn't know what I wanted to do on movies, I just knew I wanted to be in the world of making stories and creating images.
Filmmaker: Which cinematographer's work initially made an impact on you?
Grau: It was Gordon Willis. [He's featured] in this documentary Visions of Light, and when he speaks it just seems like the room illuminates. You got a feeling that someone who's very wise and clever and loves filmmaking was talking.
Filmmaker: How did you become involved with The Gift?
Grau: It's one of those things where you never know how things will happen in this business and also in life. I was bored three or four years ago and I was tired of doing commercials. I was offered to do a short film in LA from a first-time filmmaker starring Chloë Sevigny and Nash Edgerton. I agreed to do it just for the fun of it and I got along very well with Nash, so he recommended me to his brother Joel. I met Joel at a coffee shop in LA and he said, "I have this movie. It might happen now, it might happen later." It took him a bit of time to raise the funding, find the actors, and, also, to find time for him because he's so busy as an actor. Finally, three years later and after a couple of hiccups, we ended up making the movie.
Filmmaker: Did Joel have references to communicate the style he was after for The Gift?
Grau: Joel wanted to mix Martha Marcy May Marlene with Michael Haneke with Alfred Hitchcock, but to get it to an audience that goes to see big movies. We also used movies like Fatal Attraction and Single White Female [as inspiration], these kinds of movies that we grew up with that were dodgy, but they always had a bit of something that would make them interesting.
I always ask directors what their dream is for what they want their movie to be, because I always find their answers very interesting. When I asked Joel, he said, "I want audiences to enjoy it. I don't want to do an arthouse movie that no one goes to see. But I also don't want to treat the audience as stupid and I don't want to fall in the same box as other mainstream movies."
Filmmaker: The film's style is very classical and deliberate, with creeping dolly moves and zooms.
Grau: We were very clear about the language we wanted to use. We wanted to be simple and stylish and use the right shots for each scene, not overload it or try to be too clever. I was very into using these creeping camera moves or sometimes a slow zoom to create a feeling of unease, a sense that you don't know what the camera is doing or where it's going. It's never solid and never settled. It gives a feeling to an audience of, "I'm not very comfortable."
Filmmaker: What can you tell me about Bateman and Hall's home? It's a mid-century modern located on a hillside in Sherman Oaks; a striking house, with its mixture of exposed concrete and glass.
Grau: We didn't shoot on sets. We shot everything on location. The only thing we did to the house was we painted it a bit and we made a hole in the wall between the kitchen and the living room to add more depth.
When I came on board, that location was already chosen and I actually didn't like it. I tried to fight and find something else that I liked more, but I couldn't find [another option] that was better. For me, it was very tricky because it had so many windows and the light was difficult to control. With as tight a schedule as we had, I was a bit afraid of it. But in the end, it did play very well and it works for the story. The house itself is a small character in the film, with all those windows making you feel like you can be observed at any time.
Filmmaker: Was your biggest caveat just dealing with all the reflections from the windows?
Grau: Exactly, and also fighting the sky. Big windows are great, but not when you have the direct sky to fight with. Exposure is very complicated in shots where you see the windows. It's a lot of work to make it look good and the grips did an amazing job to make that location workable and to do it quickly. It was a 23-day shoot plus two reshoot [days] so it was pretty hectic.
Filmmaker: I read that you shot on the ARRI Alexa and captured in ProRes. What were your lenses?
Grau: We tested a few different lenses and we ended up shooting with the Canon K35 [primes]. They are old T1.3 lenses and the depth of field is narrower than any other spherical lenses so they're very, very tricky for focus.
Filmmaker: Had you used those before?
Grau: I used them on a couple of commercials and I thought they were cool. But once you do a movie on them, they are a lot trickier than you think. It was really challenging, even for our amazing focus puller Stephen MacDougall.
Filmmaker: Did you have to shoot at a more closed-down stop to try to combat that softness?
Grau: Exactly. You couldn't shoot wide open. You have to be very careful with them. We tried to stay around a T2.8, depending on the shot.
Filmmaker: I'd like to ask about a few specific shots from the film, starting with a shot early on in which Jason and Rebecca's characters receive the first "gift." There's an extended dialogue scene between the two of them during which the camera instead focuses on a bottle of wine and almost imperceptibly creeps toward it.
Grau: I told Joel I thought maybe this scene should play differently than what we'd been doing. I had this idea of doing this very simple shot, tracking in on a bottle of wine and concentrating on that detail. And he said, yeah, it sounds great, and if it doesn't work, we'll try something else. When we shot it, it was like, "Oh, this really works." So we didn't shoot anything else.
I also wanted, lighting wise, to emphasize this feeling of THE BOTTLE. When we were shooting, the movie wasn't called The Gift. It didn't have a title yet. We weren't even sure that the gifts were that important. So it's funny how, looking back at it now, it's like, "Whoa, this is an important shot." But we didn't realize it at the time.
Filmmaker: There's a section in the middle of the film when Hall loses her tether to reality. It reminded me of '60s-era Polanski, in particular a shot that tracks behind Hall as she walks down a hallway to investigate a noise in the kitchen. I found myself leaning to try get a glimpse around the end of the wall.
Grau: Polanski is someone we also talked about. That's a shot that we added on the day. I'm glad you picked out that shot because it's a very small scene, but it's something that sticks in the audience's body. It makes you uncomfortable and you don't know why, and that's exactly what [Hall's character] is feeling.
Filmmaker: Lastly, there's a shot after Bateman and Hall leave a disastrous dinner party at Edgerton's house and they're stuck at the gated home's entrance. Bateman gets out of the car and loses his temper and the red of the taillights almost washes out the features of his face. It's our first clue that perhaps Bateman isn't what he appears to be.
Grau: It's funny that you mention this shot as well because it's one of those shots that we never thought was going to be that important, but I've had a few friends mention it as their favorite shot of the movie. Joel always wanted that scene to be very red. That was his gut feeling. I remember on the day we were lighting it and we did a few takes and the producer and gaffer were looking at the monitor and saying, "This is very dark on his face." And I said, "I think it needs to be really dark. The less you read on his face and the more you concentrate on the feeling of red, the better it is for the movie." And I think I was right. (laughs) It's one of those where you're never sure if you're going to be right or not.

Filmmaker: You have another film coming out in October, Suffragette, about the suffrage movement in London at the turn of the 20th Century. You actually shot it before The Gift?
Grau: The Gift has been incredibly fast. We shot The Gift in January and February and it came out in August. That's not normal. I've never heard of a movie being [shot and released that fast].
Filmmaker: What can you tell me about Suffragette?
Grau: It's the story of Maud, who is a fictional character in real events in 1912 in London. Carey Mulligan, who gives an amazing performance that I think is the best of her career, is a mother who works in a laundry and she becomes part of the suffragette movement growing in East London at that time. It's a fantastic cast — Meryl Streep, Helena Bonham Carter, Ben Whishaw and Brendan Gleeson. It's incredible that women in the early 20th Century were planting bombs and risking their lives to fight for the right to vote. It's a totally different movie from The Gift for me. It was shot on 16mm handheld with zoom lenses and then for the night [shoots] we used the ALEXA. For me, it was a game-changer stylistically. It's a crazy story and told very differently than you would imagine for a period English movie.
Filmmaker: Is it difficult at this point to get your hands on 16mm stock?
Grau: Kodak is still doing 16mm. We processed it in a brand new lab called Cinelab London. We pull-processed the film a stop to a stop-and-a-half. It's something that Harris Savides used to do, but now it's kind of out of date in a way because nobody shoots on film and nobody pull-processes because people do those things in the [digital intermediate]. When you pull process, you give the image more light [when you shoot], but then you under process the negative by not giving it enough time [in the photochemical development process].
Filmmaker: You also did period work in A Single Man. Is that something you enjoy?
Grau: Yeah, I like period, but I don't want to be limited to any one thing. I just want to keep floating between things and finding what I like. Sometimes it might be a comedy. Sometimes it might be a love story. I'm hoping to do science fiction or a western someday as well. I'm trying not to cheat myself. I have four movies coming out in the next year so I'm happy that people will get to see a lot of different things that I can do. I'm excited about that because that's the kind of filmmaker I dream of being, someone who does all [types] of different movies, but has a personality and a style.
Matt Mulcahey writes about film on his blog Deep Fried Movies.