Back to selection
TIFF 2015: 5 Questions for The Meddler Writer/Director Lorene Scafaria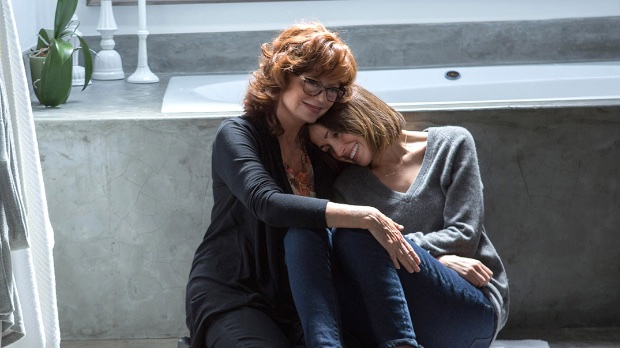 Susan Sarandon and Rose Byrne in The Meddler
Screenwriter-turned-director Lorene Scafaria burst onto the scene with her screenplay for Peter Sollett's Nick and Norah's Infinite Playlist. Since that 2008 film she has bounced between film and television, writing and directing episodes of New Girl while also debuting her first feature, Seeking a Friend for the End of the World. So it's fair to ask Scafaria what made The Meddler, a comedy/drama about an intrusive widowed mom (played by Susan Sarandon) and her frazzled Angeleno daughter (Rose Byrne), a story for the large screen instead of the small. That's just one of several questions she offers cogent answers to in the interview below, which also touches on advice this seasoned writer/director offers newcomers attempting to make in the screenwriting world of today.
Filmmaker: Susan Sarandon's character, the doting mother — who inspired this character, and at what point did Sarandon become involved? How did she help shape and embellish your version of the character?
Scafaria: The doting mother character was based on my own doting mother. I had been trying to figure out how to write about her since 2010, after my father passed away, and I became the official dote-ee. My mom moved from New Jersey to Los Angeles after I'd been on my own for 9 years, so there was a period of adjustment for us. Susan came onboard to play Marnie in June of last year but we didn't start to shape the character until we were in pre-production. I had no intention of forcing Susan to play this much of a character, or feel like she had to do an impression of my mother, but I showed her a little video that I had shot with my mom, and Susan said "This is everything." I think she fell in love with the idea of playing this particular person… her accent, her mannerisms, her way of life… and not just a doting mother character, but an incredibly giving person, to a fault. We put Susan in my mom's shirts and then Susan made the character all her own. Susan is so warm and fun and maternal and so many other things that Marnie is naturally, but it was incredible to see her disappear completely into the character. It wasn't even personal for me anymore. We both wanted to tell Marnie's story.
Filmmaker: Your film is set in a very contemporary world in which technology — the ability to phone, text, status update — on a second's notice has affected the way in which children interact with their parents. How did your screenplay acknowledge and deal with this on a dramatic basis?
Scafaria: I was excited to show, in some small way, our relationship to technology. Marnie uses her new iPhone as a means of communication. Granted, much of it is a one-sided text exchange, but it's something I saw my mother embracing when she moved to LA and was on her own. I was suddenly teaching her how to text, not realizing it would lead to a hundred texts a day or her putting a Google alert on me. She hates that I text her instead of calling. I hate that she calls and leaves a message and then texts that she called and left a message. It has definitely shaped our relationships, whether we like it or not. Mostly, I was interested in exploring technology as it relates to our own loneliness. In the script it said, "Marnie has breakfast with her iPhone… Marnie falls asleep with her iPhone." It fills a void, although it also makes it easier not to have to reach out to people in real life. But in spite of all the negative things I could say about technology, I think it's ultimately a way to keep people together. I wish I was able to FaceTime my dad when he was still alive. People get to Skype with their kids when they're away. My mom can text me the second she gets out of an action movie to give me her review.
Filmmaker: This is your second film as a director — what lessons did you teach yourself by making Seeking a Friend for the End of the World that you've adopted here? What have you done differently — or similarly?
Scafaria: With Seeking a Friend…, I just wanted to get the movie made and start a career for myself as a director. I knew that I could make a flawed movie or no movie at all. But with The Meddler, I wasn't desperate, so I didn't want to compromise or get it made the wrong way. I wanted to make sure that the right people were involved and that I knew where the money went, and I learned which fights were the most important. The movie is a bit of a love letter to Los Angeles, so we absolutely had to film there. But then every detail in the script started to feel more and more important… The Grove, The Apple Store, a certain Beyonce song on a loop… so we wrote countless letters to make sure that the movie was as close to the script as possible. This included filming the daughter's house at my old house. Being able to shoot in a location that I wrote to and blocked in my head was a completely novel experience, especially on a low-budget movie. I got very lucky.
Filmmaker: When so much relationship-based drama is developed for the television market these days, and fewer and fewer adult dramas are made for the large screen, what differentiates for you a film like The Meddler being done for film instead of TV at this cultural moment? What do you have to do with The Meddler to make it stand out in a theatrical context?
Scafaria: People asked me for a long time to change The Meddler to a TV series, or at least turn it into a two-hander with mother and daughter, in order to make it an easier sell. I even wrote a pilot for it, but I just couldn't bring myself to do it. My heart isn't in television and frankly, I didn't want to live with this story for another five years. Also comedy-dramas are my favorite types of movies and I don't want to see them disappear from theaters. I think we need human stories more than ever. TV is crowded enough. And even though we meet Marnie already in progress, and she continues on after the credits roll, I wanted to give her story a beginning, middle, and end. I wanted to give her a cinematic life for the very reason that most people like Marnie are dismissed, ignored, or made to feel invisible in real life. She may not have an extraordinary story, but she may just be an extraordinary person. And there's something hopefully universal about her story, that could hopefully inspire empathy and understanding in other people. I've been very entertained by film and TV these days, but it's harder and harder to find stories about human beings, especially original ones. I just want to be one of the people fighting against it.
Filmmaker: As someone who broke into film with a celebrated screenplay, what advice do you have for a young screenwriter today? And how has the market for screenplays changed in the decade or so since Nick and Norah?
Scafaria: The market is so different than it was back in 2008 when Nick and Norah's… came out, or 2004 when I got attached to write the script. I don't know if I'm even qualified to give advice about breaking into the business in 2015. People aren't really making big spec sales anymore off of high-concept ideas, but that doesn't mean it can't happen. I suppose my old advice would still hold true… Just try to tap into your original voice. Try to write like you and hopefully the work will follow, and you'll be harder to replace down the line. And if you're interested at all in directing, make a short film, or something small and contained that people can see. Sometimes you have to show people what they can't read.