Back to selection
Remembering Candida Royalle, 1950 – 2015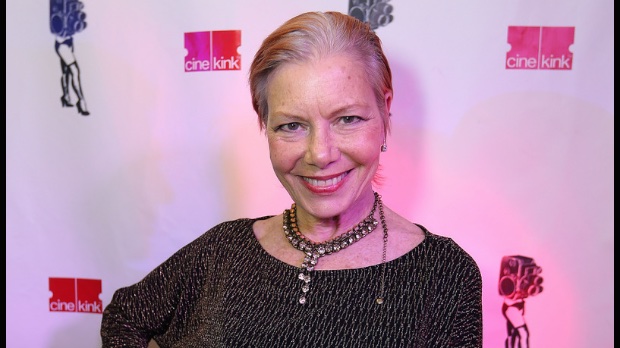 Candida Royalle at Cinekink 2015. (Photo: Stacie Joy)
Filmmaker Candida Royalle, who was interviewed in just the third issue of this magazine back in Summer of 1993, passed away this week. Below she is remembered by CineKink founder and occasional Filmmaker contributor Lisa Vandever. — SM
A pioneering feminist filmmaker and prominent figure in the world of adult cinema, Candida Royalle died earlier this week, at the age of 64, after a lengthy fight with ovarian cancer.
Candida and her work made many appearances at CineKink over the years, and we were grateful for the opportunity to present "A Tribute To 'Club 90," an evening honoring Candida and a tight circle of dear friends — Veronica Hart, Gloria Leonard, Annie Sprinkle and Veronica Vera, all longtime adult industry cohorts — at this year's festival. That gratitude is made all the more poignant with the knowledge it was the last public celebration of Candida's immense talents and her pivotal role in the development of female-friendly erotic cinema.
An actress during the "golden age" of adult movies, working in both San Francisco and New York, Candida starred in numerous titles from 1975 to 1984 before making the move into directing and producing. Frustrated with the misogynistic thrust of many of these films, Candida founded Femme Productions and put herself at the helm. Describing her works as "sensually explicit," she framed them as less graphic than typical adult films — certainly lacking in the traditional "money shot" — while also incorporating storylines, original music and "real characters of all ages." She was director/producer of 18 projects over the years, including several created for distributor Adam & Eve, all serving to demonstrate that a viable audience could be found for adult films appealing to women and couples.
At the same time, she was an ardent supporter of free speech, particularly in response to feminist critiques of pornography as being disempowering no matter their presentation or who is behind the production. A founding board member of Feminists for Free Expression, Candida was also a sought-after speaker, lecturing at such venues as the Smithsonian Institute, the American Psychiatric Association's national conference, and the World Congress on Sexology, as well as universities including Princeton, Columbia, Wellesley College and New York University.
With her unabashed stance that feminism and sexual self-expression can be one, and a body of work that spans such an incredible range of creativity and activism, Candida has been a huge inspiration and a source of support, for the wave of female filmmakers coming up behind her, including several CineKink alumni directors.
"Candida Royalle was the gold standard for a different kind of porn. Everyone who makes couples' porn, porn for women, or feminist porn is informed by her work," said Tristan Taormino, a filmmaker and co-editor of The Feminist Porn Book. "She was the very first and made so many people's careers possible, including mine. She paved the way for so many women in the industry and did it with a generosity toward other female filmmakers unlike anyone else I've met."
"She was the pioneer who proved that women were interested in porn and would happily buy it," said Australian filmmaker Ms. Naughty. "She was my 'porny godmother' — a trailblazer who paved the way for me and for others like me to make our own brand of porn. I am forever grateful for her work, her intelligence, her belief in free speech and her compassion."
And according to filmmaker Jennifer Lyon Bell, "Candida was a true trailblazer, creating 100% unique porn for women and couples at a time when the concept of women as sexually independent beings (and as consumers of actual explicit movies) was not just bemusing, but shocking and appalling to many. Candida deflected naysayers, including a lot of angry feminists, with grace and poise."
According to friend Annie Sprinkle, memorials for Candida are in the works for New York, San Francisco and Los Angeles, and will likely be held in November.