Back to selection
Annie Sprinkle on Reuniting with Golden Era Porn Legends for CineKink's "A Tribute to Club 90"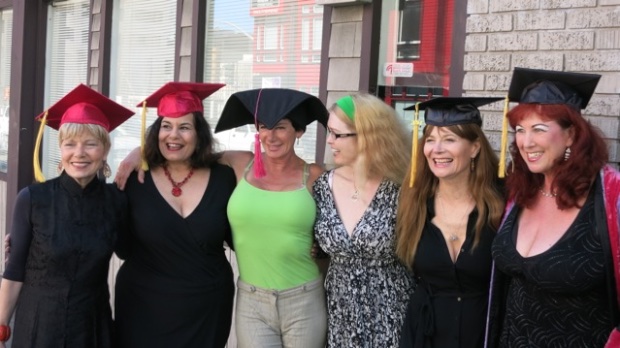 Club 90 Graduation (Photo: Andreas Hummel)
It's splendidly ironic that the birth of Club 90 — "the world's first porn star support group" — occurred in 1983 at a baby shower, the ultimate celebration of sex positivity. Porn actress Veronica Hart (who may be familiar to viewers of Six Feet Under and Boogie Nights, and is still with her high school sweetheart today) was due, porn star-turned-sexologist/performance artist Annie Sprinkle volunteered her apartment at 90 Lexington, the women of NYC's adult industry showed up, and the rest, as they say, is kink history.
At the urging of the late Gloria Leonard (a feminist porn star who would go on to, as the publisher of High Society, pioneer the "celebrity skin" sub-genre) and along with female-centric porn director Candida Royalle and Veronica Vera (who, in 1992, would launch Miss Vera's Finishing School, the world's first cross-dressing academy), these adult actresses began to meet regularly to offer each other emotional support, share contacts and strategize ways of producing, directing and distributing their own work. In other words, once this trailblazing five-some joined forces, the sex industry would never be the same.
Filmmaker was fortunate enough to speak with one of the legends, Annie Sprinkle, prior to "A Tribute to Club 90," the February 27th centerpiece event of the 12th Annual CineKink NYC (running from February 24th-March 1st).
Filmmaker: You came together as Club 90 in 1983, right as the AIDS epidemic was spreading fear around the very issue of sex. Was the forming of your "first-ever porn star support group" a response to this growing unease? What factors were involved?
Sprinkle: In the '70s and '80s the NYC porn film business and "community" was very small by today's standards. We knew most all of the "porn actors and actresses," as we called them then. Some folks came through the biz and did one or two movies and got out. But the rest of us worked steadily over the years. We knew each other but had very different, disparate lives. I wasn't close friends with any of the people in porn throughout the '70s, until Club 90, really. I saw people at premieres and press screenings in the Film Building in Times Square, and ran into them at sex magazine offices. So when the '80s porn actress and star Veronica Hart got pregnant, some of the women of porn got together for a baby shower. Veronica Hart's friends, the Spoon Sisters, largely produced the event, which was so much fun. It was held at my apartment at Lexington and 27th Street, and it was the first time that I had gotten together with the women of porn when the porn guys, the fans and the paparazzi weren't there. We had a beautiful day together.
Yes, of course the AIDS tidal wave was hitting, and we were trying to figure it out. How to reinvent what we were doing, how to reinvent sex without body fluids, but more so, trying to reinvent ourselves so that we could do more of the kind of work that we each individually wanted to do at that point. So at the end of the baby shower day, Gloria Leonard, who had been from the feminist world, suggested a support group. The first meetings were at my apartment, 90 Lexington, hence the Club 90 name.
Very quickly we started to share contacts, discuss who was good or bad to work for, figure out strategies to garner more of the kinds of focuses we wanted. We supported each other to do more directing, producing, and distributing. Distributing porn was the glass ceiling, which Candida Royalle really broke. We all ended up staying in the sex industry (and have been in dozens of documentary films also over the years), and making more films, but on our own terms — exploring more of our own interests and desires. So yes, AIDS was an important and deep part of the story. But really it was a lot bigger than that for us.
It's pretty clear to us that Club 90 has had a big impact not only on our individual lives, but also on the adult industry in many ways, and it has trickled down into the culture. We were sort of the original Sex and the City girls, before Sex and the City came along. (Except we didn't have as expensive shoes. And we were a lot wilder!)
The basic common bond was that we had all made porn movies, and loved filmmaking. However, we also had a lot of creative juice and wanted to express ourselves in new ways — to explore our own desires, and truths, and go beyond performing other people's (men's) fantasies. We were curious to see what women's fantasies might look like from a woman's perspective. Of course there was that impetus to meld Hollywood film industry with porn industry, but porn went in an opposite direction.
Filmmaker: As someone who can remember the "big bad" pre-Giuliani Times Square, and who spent over a decade in NYC's BDSM scene, both personally and professionally, I must admit I'm pretty appalled by the mainstreaming of porn. I know all of you have spent your careers fighting for erotic expression, but I just find that when I can buy a 50 Shades teddy bear something is seriously wrong. (The Disneyfication of BDSM being the ultimate perversion.)
Or am I being prudish about modern day commodification? After all, the sex industry has always been a business. So what are your thoughts on the current state of sex and porn in America?
Sprinkle: Well, I'll have you know that we had bondage teddy bears in the '80s, already. I had one decades ago. Everything old is new again! Each generation has to discover BDSM and kink all over again — not to mention sex positions and oral sex techniques. There have been a good dozen good art and Hollywood films that explore BDSM already. Some excellent ones — and I'm not talking XXX. Last Tango in Paris, Maîtresse. The names of others aren't coming to mind. Google them!
I don't like all porn, at all, or like all expressions of sexuality in various media, but I think it's all good to have out there. Think of the countries where there isn't any porn. Are women better off? Is there more peace in the land? I too am bothered by some of the commodification of sex in some ways. We could do better in terms of alternative expressions and depictions of sexuality, but it's not as easy as it looks – especially with relatively low budgets! But really, things are so much better than in previous decades, let alone centuries. We've come a long way. Today there are many branches and twigs on the tree of porn. In our day there were, like, seven different kinds of porn. Today there are a million and one. Which is much more representative of human sexuality. Every person is an entire erotic universe in themselves, as I see it.
Filmmaker: In light of the fact that the U.K. recently enacted anti-porn legislation disproportionately targeting female sexuality and feminist pornographers, what do you feel are the biggest challenges ahead for women in the field?
Sprinkle: The pendulum of freedom and repression always swings back and forth. Porn is a really fascinating window into our culture, and culture changes decade to decade. Today there are more porn studies courses in universities, and some great academic books on the topic. There's even a very academic Porn Studies journal now. As Gloria Leonard used to always say, "Freedom isn't free." If you don't use it, you will lose it.
I loved the protest that the U.K.'s sex-positive community did in response to that ridiculous anti-porn legislation. They did spanking and face sitting and got all sexy for the world's media in front of the Parliament. That was a great protest. I was so proud of my friends that were there. But yeah, young porn stars have their hands full, pun intended. My porn daughter Madison Young is juggling how to be a good mother to a child while managing her porn career and work, and in a public way. She's very queer. There are alternative families forming. The biggest challenges for women in the porn world now are just paying the rent, getting a college education and having good health insurance. Life is expensive! As for the future, having clean water, clean air, and not getting horrible cancers due to the pollution of the environment are challenges on the horizon. The Internet has made it possible for anyone to find out where a porn star is living. That's a bit scary. There are many challenges for porn stars today, and there will be in the future, just as we had our own challenges. I suggest that all porn stars form support groups like Club 90, to lubricate yourselves throughout the challenges of life. It worked for us like a charm!
Filmmaker: You're all veterans of the "Golden Age of Porn," but other than Doris Wishman I can't think of too many women who participated behind the lens. Was this "golden age" only golden if you were a male porn producer?
Sprinkle: There were a few — Gail Palmer, Roberta Finley, and a few others. But yeah, porn was something made for men at that time. Before home video, to see the feature films, one had to go to a porn movie theater. Deep Throat brought the couples into the theaters. But before Deep Throat, yeah, everyone knows, it was the bastion of men pretty exclusively. But the porn industry wasn't very old, so it had to grow up. Lots of businesses start with men then later include women, whether it's mining, or corporate CEOS or being doctors.
Filmmaker: Looking back on your long careers as artists and activists do you have any regrets? Things you would have done differently to further your sex-positive work?
Sprinkle: I see my film career as a process of learning. I made some really crappy films, but they were part of the process. (Some of those really crappy films are resurfacing thanks to the Internet. Oy vey!) However, I believe if you learn you win. So I had to make the crap to get to the better stuff. After making over 100 porn films, only two or three times have I ever come close to capturing the beauty, power and transcendence of a great sexual experience. I'm still trying! I always say, if you don't like the porn that's out there, make some you do like. And what I like keeps changing. I feel like my best is yet to come. I think — hope — that my next film will be my best ever! Sure I wish I had saved more money, or bought real estate earlier, or had done more yoga, or traveled less and spent more time in nature. However, I feel I did a lot right. And certainly one of the best things I have ever done in my life was to be a part of Club 90, the world's first porn star support group. I feel incredibly blessed to have porn stars Veronica Hart, Candida Royalle and Veronica Vera as my close friends. And that is golden!
I hope folks will come to CineKink for this rare reunion. We've never shown our clips together before – another first! We are grateful to Lisa Vandever for making this reunion possible. Of course Gloria Leonard won't be there in the flesh, as she left her body last year. But she will certainly be there in spirit.