Back to selection
IFP Screen Forward: Five Questions for Producer Mike S. Ryan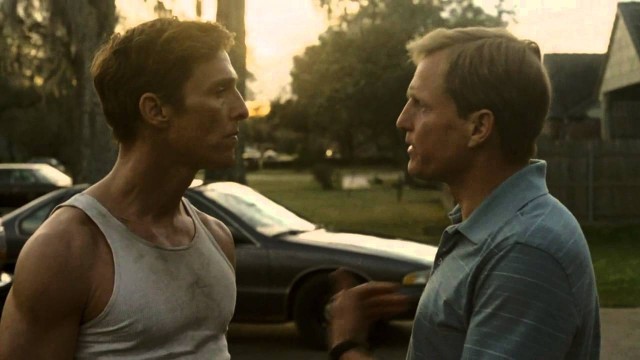 True Detective
Ahead of his conversation at tomorrow's Screen Forward conference, Mike S. Ryan fielded five questions about his career and recent Filmmaker piece "TV is Not the New Film." A producer on such films as Meek's Cutoff, The Comedy and Palindromes, Ryan explains how transmedia represents an loss of faith in the filmic medium, why True Detective is an exception to the rule of the TV writer as auteur, and what he looks for in a script.
Filmmaker: In your "TV is Not the New Film" piece, you mention that the move to transmedia shows a "[loss] of faith in the medium," while many others seem to argue that transmedia is a new, more immersive form of connecting with one's audience. In an age where filmmakers are taught to know who they are selling to well before they make work, do you feel that relating to a particular viewer should be a byproduct of filmmaking and not a driving force?
Mike Ryan: If a filmmaker's main motivation in making a film is to participate in a form of commerce, then he is working in the wrong format. There is no sadder space than the feature film format for those who are intertested primarily in 'doing business,' or 'selling something'. Business may be a by product of a few films, but to think that in this day and age there are still people who think its a reliable place to make money is ludicrous. If the goal is honest, compelling communication about the state of the human condition, then I think there is chance that a large audience may be reached and kept informed through various other social media platforms. In that sense, it is true that commerce may follow the creation of compelling art, but it is the end result for the few, not the given for most.
Filmmaker: In the piece, you also discuss how rare wide and long shots are in television, that it is by and large a medium shot medium. But as films are now viewed on smaller and smaller screens, cellphones even, do you feel that there is also a tendency to overuse the close-up?
Ryan: Wide shots and extreme close-ups do not translate well to the TV format, for this exact reason: often the viewing screens are tiny. But also, wide shots and close-ups are visual methods that often disrupt the narrative flow of plot information.They can be used as occasional punctuation in TV, but overall, it is not a medium that physically can sustain a story told primarily through extreme wides or tights.
Filmmaker: You note that in television if there is an auteur, it's the writer. I'm curious what your thoughts are on a show like True Detective, which seemed to buckle after the departure of Cary Fukunaga even though Nic Pizzolatto continued to pen every episode. The first season included a much discussed six minute single take to the point that one might argue if more cinematic techniques were applied to TV shows, it would get audiences interested and talking.
Ryan: Yes that is one of many exceptions, it took a real director to recognize that the True Detective scripts were both banal and absurd and he needed to transcend them through his direction of actors, tone and camera. The second series had a director that took the scripts at face value and was not able to rise above their rote banality.
Filmmaker: You've produced films from noted auteurs like Todd Solondz and Kelly Reichardt, as well as lesser known, but still genius filmmakers like Frank V. Ross and Rick Alverson. It's a very broad question, but is there any particular rubric or set of components that has attracted you to projects throughout your career?
Ryan: I am interested in directors who want to tell their stories through cinema grammar and who value image and character above plot. If your script is a 'blueprint,' then you should be working in TV. If, as a director, you are using your script as a starting point to try and find another truth to be revealed visually, then I am interested.
Filmmaker: Before you produced Palindromes, you served as the location manager on Storytelling, not to mention Far From Heaven and The Ice Storm. How did you make that jump up the ladder?
Ryan: I started as a writer-director-producer. After I got my MFA from NYU, I raised most of the money to make a feature. The feature film was not sold and I was plunged into credit card debt, Big budget locations work then allowed me to engage with directors who, in most cases, had more talent than me, and through that process I started to learn what a true director is, all the while paying off my debt for the failed feature. When I was debt free, I was able to reenter the low paying world of indie feature filmmaking, this time as producer of films that were aligned with my taste and interests.