Back to selection
"I Didn't Really Like Directors": The Fits Filmmakers Anna Rose Holmer and Lisa Kjerulff at the Venice International Film Festival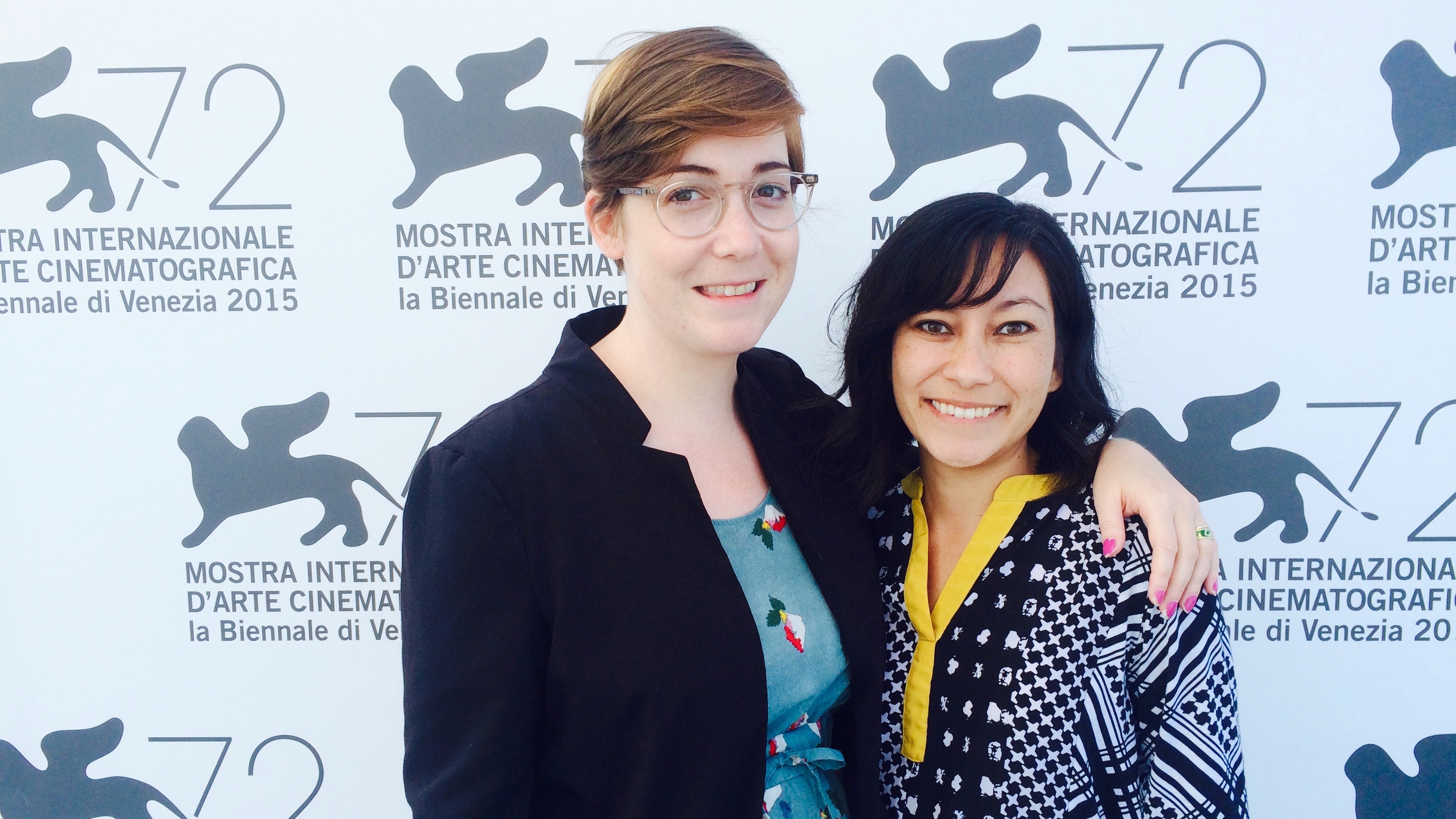 Anna Rose Holmer and Lisa Kjejuiff
About 4,500 miles away from my home state, I find myself back in Ohio. What's cool about a film festival is experiencing stories from different places all over the world on the same screens all day everyday. What's not cool about a film festival is spending more time experiencing Ohio on a screen than discovering Italy outside on the street. But in the case of two Cincinnati-based stories programmed in the 72nd Venice International Film Festival, I was delighted to be transported home.
I use "home" loosely. I'm actually from Cleveland, and it's not as if the stop-motion iteration of a downtown Cincinnati hotel room from Charlie Kaufman's newest film Anomalisa is altogether familiar. The Cincinnati suburban public school from The Fits is more recognizable to me. But what makes both films so relatable has more to do with how society is presented than with where the story takes place.
The Fits is perhaps the stylistic opposite of the Venice awarded Grand Jury Prix Anomalisa. But first-time feature filmmaker Anna Rose Holmer is questioning similar themes of identity, society, and how the two interact in her Venice debut. And like the mastermind Charlie Kaufman himself, Holmer is able to experiment in these ideas with imaginative filmmaking that is somehow both subtle and loud.
It's this kind of experience that's most cool about a film festival — finding two films that are seemingly unrelated and considering the unexpected parallels. And though I'm grateful the Cincinnati similarity took me down the rabbit hole, I didn't mind leaving Ohio on the screen in the cinema to meet The Fits filmmakers on the street in Venice. Below is my conversation with writer/director Anna Rose Holmer and writer/producer Lisa Kjejulff. 
Filmmaker: How did you meet?
Holmer: We met on the day we graduated from college ­—
Kjerulff:  — at a graduation party. Even though we were in the same year in film school at NYU, we hadn't met before. We've been friends now for eight years. It's been pretty cool to finally work with a friend, especially because we've mutually admired each other's work for so long.
Holmer: We had worked tangentially on projects together, but we'd never fully collaborated until this film.
Filmmaker: Did you come up with the idea for The Fits together?
Holmer: I had the initial seed of an idea, inspired by real hysteric events with teenage girls. I decided I didn't want to make a documentary, I wanted to make a fiction film and I wanted it to be a dance film. And, I wanted to direct it. I needed to put together a team that could support me in a lot of different ways since it was my first narrative feature as a director. I asked Lisa to produce with me when it was just an outline. Lisa and I wrote the script with Saela Davis, who is also our editor.
Filmmaker: Did you successfully assemble a crew that supported you?
Holmer: Our crew was so giving. They made it very easy for me to walk on set and be present everyday as a director. Four hours after we sent out the script, our key grip had read it, was moved, and wrote me a really thoughtful note. I knew that if this was the emotional commitment of the key grip, it was going to work on a fundamental level. Half the crew was Cincinnati-based, and a lot of them had just worked on Carol and Miles Ahead, which were also shot in Cincinnati. To them, a low budget movie was six million.
Kjerulff: Part of the reason we got them on board was by giving a lot of department head positions to people who went from being an office PA to our production manager, from assisting in costumes to being our costume designer. It was a chance for them to step up. And it helped that we had the support of the Venice Biennale and were premiering at the Venice Film Festival. We made a point of sharing the script and creating a sense of community. For me, what's important as a producer is putting together a team of collaborators who are all in it for the right reasons.
Filmmaker: Anna, you were a producer before you directed this film, and before that, you were a cinematographer?
Holmer: I concentrated in cinematography at NYU (with only a few other women in my year). During my freshman year, I started AC-ing for Jody Lee Lipes and worked in camera for a long time. I liked directing when I was at NYU, but I didn't know what to do with liking it. I built my foundation by specializing in cinematography, and one of my favorite collaborations on The Fits was with my DP Paul Yee, whom I met my first week of NYU. The way I write a script is very much with the camera in mind.
Filmmaker: Why didn't you know what to do with liking directing?
Holmer: Well, I didn't really like directors, or at least the attitude that I felt you needed to have to direct. I was mistaken in thinking it wasn't my personality type. I saw a lot of young directors who directed from a singular point of view, and I really don't see directing as holding up a megaphone and shouting. It's not that I'm down on directors, it's just that I didn't have as good director role models as I did in camera and producing. Cinema is a collaborative art form, and I saw producers who really flexed their creative power with that idea in mind. It took years of experience on set for me to understand what type of leadership I valued and what kind of director I wanted to be.
Kjerulff: The wonderful thing about being a part of the Biennale College Cinema program is the focus on having a creative producer from the very beginning. And this wasn't a focus, or even a concept, as far as I could tell, when we were students at NYU. The focus was always just on being a director. NYU didn't start a minor in producing until after I graduated, so this idea of viewing the filmmaking process as collaborative has been really refreshing and exciting.
Holmer: We also graduated right before the big economic crash, so I also think the model of how we were taught to make a movie wasn't viable anymore. We've had to learn a very different style of being resourceful. And what it means to bring a film to an audience is so different today. We're simultaneously managing Twitter, Facebook, Tumbler, and Instagram accounts.
Kjerulff: And none of this existed when we were in school.
Holmer: That entrepreneurial aspect of having to put together a quilt of venues and distributors for the film wasn't present in the conversation at school, or at least wasn't being sold to us as part of the conversation. There is so much work involved for independent filmmakers after the film is complete. It's just now the beginning for the life of our film.
Filmmaker: Can you talk about the choice to cast an all black real life drill team from Cincinnati?
Holmer: The first drafts of the script didn't dictate it. When we were looking for a dance team, I saw the Q-Kidz on YouTube doing a stand battle, and I immediately knew they were right for the film. Drill spoke to me because that tension between individuality and conformity is present in the dance form. Casting all of the girls from the same real life drill team meant that we could emphasize the authentic sisterhood that young women experience when they bond on a team. The coach, Marquicia Jones-Woods, was an early supporter of the project, and came on as an associate producer. We worked in an immersive environment, living on location and inviting the young cast to see themselves not just as performers, but as co-authors of the characters on screen. With each draft, we folded more of their reality into the script. It was important that they had agency, and even though they were working from a script we had written, they re-wrote all their own dialogue. So the film is a blend of many voices. It was about handing over authorship and being comfortable sharing that responsibility.
Filmmaker: Ten-year old Royalty Hightower plays the main character, Toni, in what I consider to be a breakout performance. Now that she's acted in a film, do you think she wants to be an actress?
Holmer: Royalty is incredible. She brought such a mature and nuanced focus to Toni and stepped outside of herself to do that. She is a gifted performer, for sure. What that means could be so many things for her. She's a dancer, she raps, she's an athlete, so she has a lot of options. But she has the skill set and self-discipline to continue doing this if she wants. Giving many of these girls the language of filmmaking and exposing them to the process was so cool. One girl has already expressed that she wants to be a gaffer. Another texted me about her script. Acting is one thing, but hopefully they see this as a means of communicating, which is how we see it.
Kjerulff: Ms. Quicy (Marquicia Jones-Woods) said that from the beginning, her reason for agreeing to the film was to expose the girls to something they don't get to see or be a part of everyday.
Filmmaker: Speaking of, it's not everyday for first time feature filmmakers to premiere at the oldest film festival in the world. What's Venice been like for you?
Holmer: I don't think I've realized what this week in Venice is going to mean for us. I don't even think I've taken in what this year has meant for us yet. It's been a total whirlwind. The last three or four months, we've been working eighteen or twenty hour days on this movie, and before that, we were shooting. I didn't even really see the movie until we were here. Yes, I watched it three or four times a day during post, but watching is not the same as seeing it. It's just hitting us now what we've accomplished. And now, my hope is that the film can be seen by as many people as possible.