Back to selection
NYFF '15: Right Now, Wrong Then and Maggie's Plan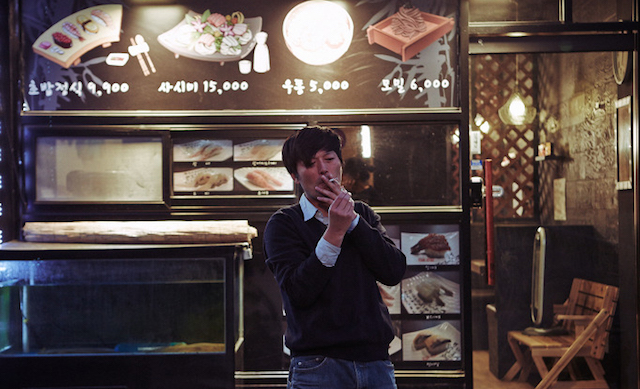 Right Now, Wrong Then
About three-quarters of the way into Hong Sang-soo's deja vu diptych Right Now, Wrong Then, the camera zooms in on a pair of women alternately shielding their eyes and ogling a drunken man as he strips before their dinner table. It's a classic instance of attraction/repulsion, a train wreck one can't quite turn away from despite knowing exactly where it's headed. The same could be said for Hong's latest outing, which is certainly no train wreck, but nevertheless employs a structure that redoubles the film's first hour from a slightly skewed angle, pushing the reinvention conceit of In Another Country into subtler, more challenging territory, which ultimately begets two variations on a melancholic outcome. Despite all of Hong's whimsical prowess when it comes to detailed narrative constructions, this time only the opposing title cards — Right Then, Wrong Now followed by Right Now, Wrong Then — serve as the framing device.
Ham Chumsu (Locarno Best Actor Jeong Jaeyoung) is, like many a Hong protagonist, a filmmaker, visiting the city of Suwon to present a screening of his work. Killing time on account of an early arrival, Chumsu leaves his sycophantic assistant to visit a temple where he encounters Yoon Heejun (Kim Minhee), a painter with a penchant for banana milk. He trails her up to her studio, and from there the two have dinner, first alone, and then with friends, before parting ways. When the tape plays again, it's clear enough that Hong has tinkered with perspectives and camera angles, but the pair's interaction slowly evolves into a more complicated affair, thanks to the rejiggered dissemination of their emotions and backstories.
In the film's first half, Right Then, Wrong Now, Heejun's friends butter Chumsu up before prodding him about his womanizing reputation and ailing marriage, instantaneously shrinking him in Heejun's blurry, soju-heavy eyes. In Right Now, Wrong Then, however, Chumsu comes clean about his indiscretions, openly professing his love for Heejun while swearing allegiance to his wife, in what she interprets as a rather charming gesture. It's what Barthes would term the division between the informer and the loved one himself: the same truth sounds different depending on whose mouth speaks it.
Even as the film presents itself as two versions of the same story, Hong scarcely spells everything out. Late in Right Then, Heejun swoons to her friends about Chumsu's critique of her painting — the act of which is notably absent from the film. In Right Now, the camera frames the easel from behind as Chumsu rips into Heejun for creating work as a near-therapy exercise. One might impulsively assume this to be the critique referenced in part one, but the logic doesn't follow. Despite the obvious correlations between the film's halves, Hong challenges the viewer to take them as separate entities, only enriched by the What Could Have Been nature of their supplements. Neither works out for the best, per se, though Right Now, Wrong Then is a hair more hopeful.
Rebecca Miller's Maggie's Plan has a premise that screams New Normal, and the tediously period DSLR camerawork to match. Lensed by Noah Baumbach's now regular d.p. Sam Levy, the film's extreme over-usage of closeups and flat compositions may make it a perfect outing for the small screen, a night in after the kids are in bed, but it's glaringly out of place amid the NYFF's Main Slate. The first half hour, with one-liners propped up on terms like "pickle entrepreneur" and "ficto-critical anthropology," had my toes inching toward the exit, but once Miller discarded tired New York clichés (Shakespeare panhandlers will never be funny) for her principal characters, I relaxed into the rare feminine explication of a middle-aged love triangle.
Maggie (a tragically costumed Greta Gerwig) and John (Ethan Hawke) meet cute in the accounting office at The New School, and quickly form a relationship predicated on servitude and self-absorption: she gives enthusiastic input on his novel-in-progress for nothing in return. Maggie is desperate to have a baby, but is incapable of maintaining a relationship for longer than six months; John is incapable of receiving any attention from his successful, domineering Danish wife, Georgette (Julianne Moore, who always needs to be in more comedies). And so, instead of allowing Maggie to artificially inseminate herself with the sperm of said pickle entrepreneur, John confesses his love and desire to impregnate her the old fashioned way.
Three years later, Maggie has the child she always wanted, but not much else — she may as well be a single mother given the degree to which John has checked out of her life, and the lives of the two children from his first marriage. Maggie, ever the well-meaning control freak, conspires to get him back with Georgette, thereby undoing the very mess she made. The whole plot is a classic exercise in women letting men think that they've figured everything out for themselves when they've only followed the carrot, a depressing suggestion that Miller shifts into girl power, near '80s studio-friendly fare as Maggie and Georgette come together in the film's most entertaining scenes. Gerwig rides this change in gears from selflessly giving martyr to puppeteer with a prevailing innocence that detracts from the obvious morality question at play. The preoccupation with the perennial refrain, "Can Women Have It All?" rings loud and clear throughout Maggie's Plan, but Miller occasionally modulates it into something more truthful: "How, and For How Long, Can We Be Happy?"