Back to selection
"THE NEW YEAR PARADE"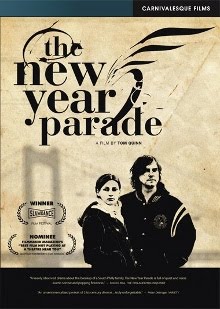 For his debut feature Tom Quinn took the hours of footage he shot of family and friends talking about dealing with divorce for a psych class as inspiration to create a touching story that meshes domestic issues with the culture of his native South Philadelphia.
After placing 13th in Philadelphia's Mummers Parade, which is held every New Year's Day where local clubs in elaborate costumes compete for prizes and bragging rights, the South Philadelphia String Band are stuck in a rut as their losing ways have gone on for decades now. For Mike (Andrew Conway) and his son Jack (Greg Lyons) the pain doesn't subside when they head home. Mike and his wife Lisa (MaryAnn McDonald) are separated and Jack and his younger sister Kat (Jennifer Welsh) are just starting to feel the tear in the family.
With a gritty handheld look, shot by Quinn, and great performances by Lyons and Welsh, the film follows a year in the life of the family as they struggle to stay together and Mike and Jack try to bring the string band back to its prominence. Quinn uses real Mummers and engrosses us in their community to create an authentic piece of regional filmmaking.
Along with directing and shooting, Quinn, a 25 New Faces alumni, also wrote the screenplay, edited, and produced the film (along with Steve Beal). Winner of the Grand Prize award at Slamdance in 2008, The New Year Parade was also nominated for our "Best Film Not Playing at a Theater Near You" award at the Gotham Independent Film Awards the same year.
Features include Quinn's interviews he conduced of people who have gone through their parents getting divorced, a making-of piece, and a history of the South Philadelphia String Band and the Mummers.
Carnivalesque Films releases the DVD this week.
[AMAZONPRODUCT=B002LFPAJ8]