Back to selection
"I Can't Try to Be an Activist If People Don't Know My Real Story": Tangerine's Mya Taylor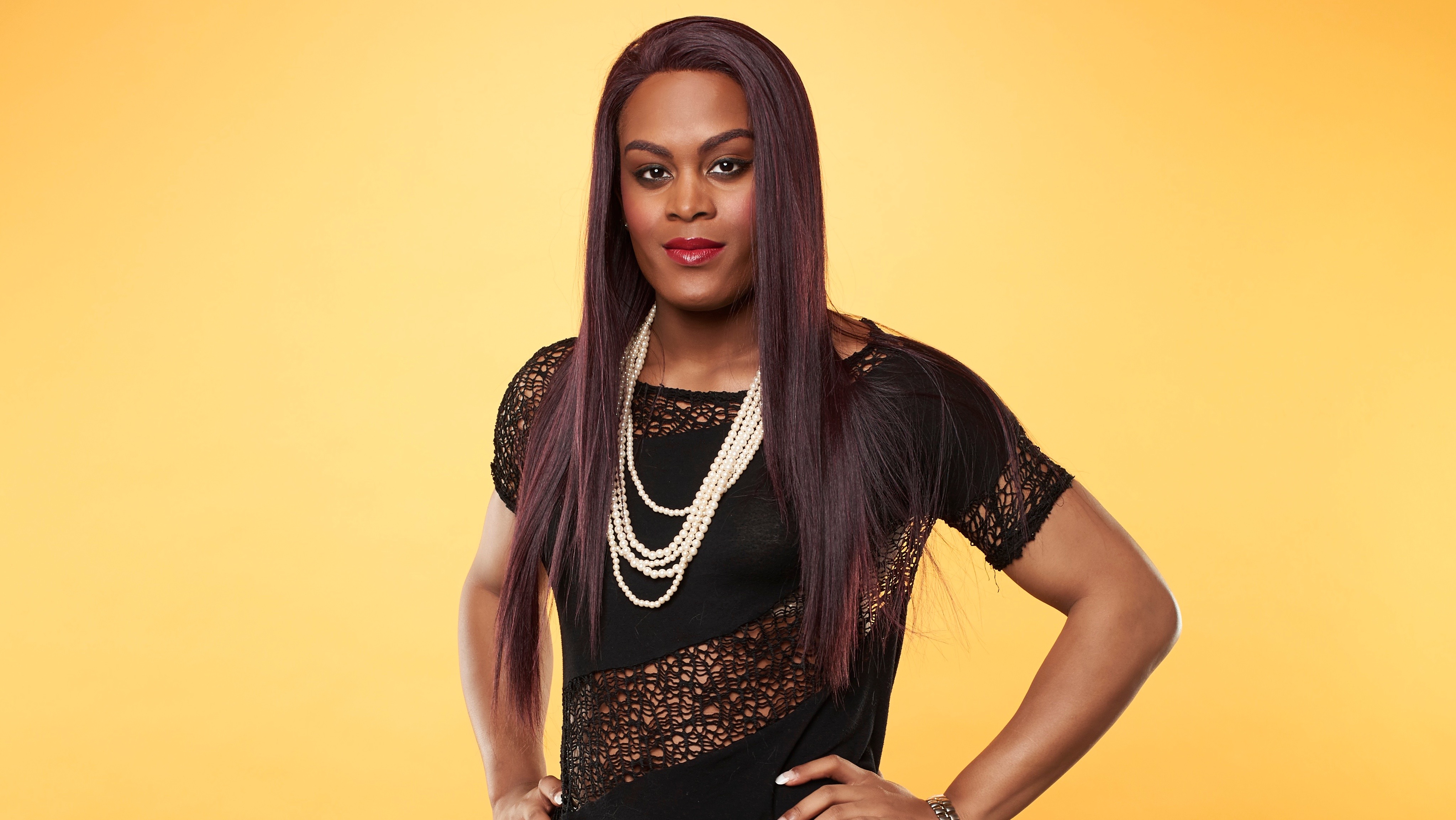 Mya Taylor
"I can't keep beating around the bush because I'll eventually run out of bushes to beat around," sighs Mya Taylor. We've just spent 90 minutes together in her hotel room at the 59th London Film Festival. In that time, I don't speak much, but when I do, I'm drawing parallels between Taylor and Marlon Brando. To be fair, I'd just seen Stevan Riley's Listen to Me Marlon, so referencing some uncovered Brando philosophy from the documentary during my conversation with Taylor felt pertinent at the time. Mya Taylor is a black trans-woman born in 1991, so in retrospect, the comparison is pretty ridiculous. But as I play back the tape of our recorded conversation, I'm too much in shock about what she says to be embarrassed by my ramblings.
"You know the most out of any journalist," Taylor says while reflecting on what she's just told me. "I was nervous at first, but I told you to ask me anything! And there are more stories. There are stories within the stories," she says. "Now that I think about it, it's been a lot for someone my age to have already gone through. I'd say I'm mature, if that's what you want to call it."
I don't think "mature" quite cuts it. Mature today is a 24 year-old who can refrain from Facebook-related breakup vengeance. At 24, Mya Taylor has escaped childhood domestic violence and abuse, endured prostitution, overcome homelessness, and experienced a lifetime of LGBT-related taunts, bullying, and attacks. "It's time for people to know," Taylor tells me before our goodbyes. "I guess I'm trying to get more into trans-activism, and I can't try to be an activist if people don't know my real story."
Taylor is not only on her way to becoming a prominent trans-activist. She has lately garnered Oscar-buzz for her breakout performance in Sean Baker's Sundance hit Tangerine. Perhaps Taylor is also on her way to becoming the first transgender actress nominated for an Academy Award. And somehow, this possibility is just another improbable and incredible development in the life of Mya Taylor.
"I've always said that I will not let this business change me," says Taylor. She recently moved to North Dakota because "it's better to live outside of LA or NY in a slower paced place (with fresh air)." The concept of change is a unique one for Taylor. She was still walking around wearing sunglasses at night less than one year ago to "help cover up anything that was masculine." In a very fundamental way, her identity has changed as a person in conjunction with how her life has changed as an actress in the last year. "People who are close to me say I'm still the same person," she maintains. "It's just now, I have more money. I'm not rich, but I'm not broke anymore."
It's the external changes that accompany an emerging film career — the money, glamour, and recognition — that Taylor hopes will not corrupt her morally or stifle her creatively. Brando struggled with this. Because he was unable to resist the temptations of Hollywood, he resented Hollywood but blamed himself, and felt indefinitely trapped by this self-inflicted condemnation. But in this early stage of her career, Taylor is mostly just satisfied "accomplishing something with my life."
Taylor grew up with her grandmother, who had temporary custody over her and her siblings. She explains the various custody battles her grandma instigated as a tool for social welfare exploitation. It's a long story that reveals some excruciating cracks in an institution intended to help those in need at its best but seems to perpetuate corruption at its worst. Taylor also tells me about the man her grandmother married during her early childhood: "He used to ask me if I knew how guys have sex or if I was gay. He knew I was, but I would never tell him." She details the origins of the bullying. Eventually it escalated to where "I was scared to go home because I knew he'd do something to me," she says. She describes how he'd grill her on math questions all night long; "He'd test me on answers and every time I got something wrong, I'd get my ass beat. Every time. Then, I'd have to stand in a corner with my arm out for two hours. I'd get maybe three or four hours of sleep every night. I was a good kid though. I'd do all my chores — cleaning, washing, taking care of my younger siblings — because there was a price if I didn't. There wasn't any way I could win."
Taylor ran away when she was eighteen to Los Angeles, where her transgender aunt took her in. "But my aunt was going through a lawsuit at the time," she says, "and told me that her work was too risky and would jeopardize her case if she were to be caught. So she dressed me up, she put a wig on me, and sent me out to the streets to sell my body so that I could make the $1,200 rent and pay for our car. That's how I got started with prostitution." Taylor addresses me coldly and matter-of-fact, and it feels almost like I'm watching a stylized performance piece in a far away and distant reality. But the reality is that she's less than five feet away from me and telling her true story.
In Tangerine, Taylor plays Alexandra, a prostitute in LA. The story unfolds over one day, Christmas Eve, when Alexandra and her best friend, Sin-Dee (played by another breakout actress, Kitana Kiki Rodriguez) scour the streets of LA to find Sin-Dee's cheating boyfriend. In real life, Taylor has avoided revealing her own experience as a prostitute to the media. Until now, she'd hidden much of her past that includes "staying in a bathhouse, which is a sex club in LA." She explains, "I'd sleep there because 18-25-year-olds get in for free, and to stay in a room overnight was only ten dollars. But there were nights that I couldn't pay. Only once I slept outside, behind a dumpster on Santa Monica and Orange. But usually, I'd just walk around all night. At 8:15AM when the youth center opened, I'd go inside to sleep on a chair all day. Maybe this is a reason I don't live in LA…all those memories."
In Listen to Me Marlon, Brando describes himself as "a troubled man alone beset with memories in a state of confusion, sadness, isolation, disorder." What I find most incredible about Taylor is the lack of self-pity she exudes when describing her past. Her story may be her reality, but it isn't what defines her. Though she's fragile about her insecurities, she isn't crippled by sharing them. She simply doesn't watch Tangerine because "I'm reminded how insecure I felt," she says. "I had just gone through my transition and I wasn't quite as pretty. I hated what I looked like. I still looked like a man, in the face and the body. Some people try to assure me that I didn't," she says laughing, "but bitch don't lie to me! I know it's true."
Taylor laughs a lot, high-pitched and wild. Her laughter comes in waves like some sort of tonal release that serves as a reminder not to take what she says too seriously because she doesn't take herself too seriously. It's an admirable quality, I note, and generally, a rare one for an actress.
Acting comes easily and naturally for Taylor. She says it's "obvious when I read the script. I know what I need to get, in terms of the story, and it takes me only ten or fifteen minutes to memorize a page." She likes to rehearse alone, or with her fiancée, James. She was trained in opera and has a five-octave range, but when it comes to acting training, she has little interest. I imagine her as a peer to Brando in a Stella Adler acting class. Taylor is the kind of person to "punch a bitch" for saying something derogatory, "and I'd punch the bitch again," she continues; "I'll bet she has nothing to say about a trans-person again." She may not need nor want acting training, but I suspect Taylor would have fit right in alongside Brando as a Stella Adler protégée. "The thing that makes you say, 'I want to do something' — that is the beginning of talent," Adler once said.
Maybe my Brando musings throughout the evening with Taylor aren't so absurd after all. The talented, young, and courageous Mya Taylor is just at the beginning of her career, but has exploded unto the scene with as much pizazz as a young Brando himself when he won the Academy Award in 1955 for On the Waterfront. She occasionally "has to toot my own horn" for a boost of self-confidence, because Oscar nomination or not, Taylor is determined to be proud of who she is, and to share that pride with the world. "Because," she throws me a cheeky grin, "bitch knows she's gorgeous, right?"