Back to selection
Kickstarting Paper Chase with the Top Five Black Characters in Mainstream Teen Movies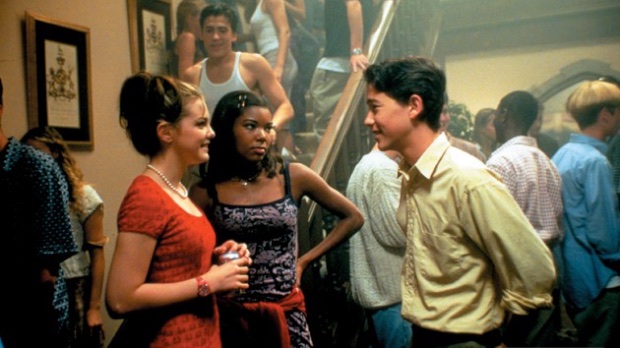 Gabrielle Union (center) in Ten Things I Hate About You
We love teen movies. We've seen everything from Say Anything to Whatever It Takes, Pretty In Pink to Drive Me Crazy. Name a teen movie that was in theaters and chances are we've seen it twice. But while we love these films we were always taken aback by the lack of diversity. Though Kid and Play and films like House Party and Class Act shook things up by adding some brown faces to the teen movie mix, it is still bleak out there.
This void inspired us to make our own teen movie Paper Chase. Paper Chase is a comedy set in New Orleans about a young girl raising money for college by any means necessary, starring black girls like us. We've launched a Kickstarter campaign to get us to production. You should take a moment and go donate.
Back from donating? Awesome! Now let's take a look at the most common characterizations of black people in teen movies from the '80s to the early 2000s. Films during this time frame mirrored our real life coming of age experiences and underscored our angst-ridden teen years full of ill-timed pimples and unrequited loves. Obviously there are many, many more films and some even feature more than two black cast members but we had to cut it off somewhere.
1/2. "Unfriendly Black Hottie"/ Sassy Black Friend

"Unfriendly Black Hottie", a line quoted by Janis Ian in the seminal Mean Girls, and Sassy Black Friend are roles that can be used interchangeably. A person can be one for the first half of the film and then magically change into another for the second half. Because these characters have no real storylines, they can really be whatever you want them to be.
Our MVP in this category is Gabrielle Union who was in just about every teen film in the late 90s/early 2000s. Her greatest hits are characters that all fall into this category. They are:
10 Things I Hate About You – Chastity
We honestly can not remember anything about this character but we both know she was in this. Her character's name was Chastity which one may think references the Shakespeare classic, Taming of the Shrew, that this film was based but it is doesn't! Remember that stage where teen films were all remakes of classics by Jane Austen or William Shakespeare. If you do, we might be soulmates.
She's All That – Katie
Again we don't really remember her in this movie but we know she was in it and recall that she was mean and popular. This movie does not age well by the way. Taking off your glasses does not turn you from "not hot" to "hot." It just doesn't. Rachael Leigh Cook was always hot. That said, it deserves a special mention for featuring not only a Latino lead but quite a few black people in small roles.
Bring It On – Isis
Finally a part that Union could sink her teeth into. She's more "unfriendly black hottie" in this one but with good reason. Kirsten Dunst's cheer squad had been stealing all of her cheers! This movie did actually try to deal with race and class. When Oprah featured the black cheer squad on her show, we just about died.
3. Boyfriend?
There is a question mark after boyfriend because these boys were always love interests for white female leads but their blackness made them a little risqué. Are they appropriate boyfriend material? Are they not? Well they probably aren't but love is blind.
Our second MVP on this list is Sean Patrick Thomas who was in many movies during this time period but here we are highlighting just these two.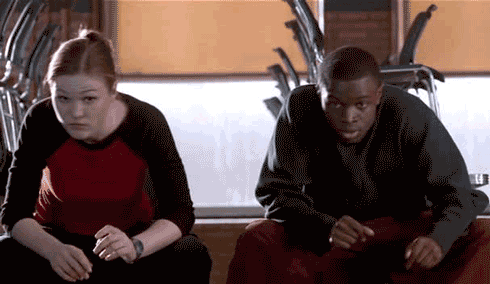 Save The Last Dance – Derek
He and Julia Stiles were star-crossed lovers from opposite side of the tracks, brought together by attraction and, more importantly, a love of dance. This film launched the career of Kerry Washington, whose character Chenille (see "unfriendly black hottie") has a lot of attitude but a big heart and a baby. There are a lot of black people in this movie which is nice but it's really all about Stiles' character.
Cruel Intentions – Ronald Clifford
This remake of Dangerous Liaisons starred Ryan Phillippe and Sarah Michelle Gellar as step brother and sister who make out sometimes. It also featured a kiss between Gellar and Selma Blair that won the MTV Movie Award for Best Kiss. We mention this because that should signal that it was a hot kiss. Phillipe and Reese Witherspoon met making this film, fell in love, had lots of blonde babies and broke up.
But back to Sean. Here he has more of a supporting role as the attraction of Blair's character. He is her cello teacher so he is supposed to be "cultured". They even gave him a first and a last name. He's still black though, so it's still taboo. Let's take a moment to remember the line, "Got me off the streets? I live on 59th and Park!?"
4. Background Dancer
One day someone in a focus group in Hollywood said, "We want black people to see our movies. There's money there but we don't want to give them big parts. What should we do?" The solution: cast hip-hop stars! That way we can buy into their fan base. It doesn't matter if they can't act. Their fans will see them any way.
This led to the brief acting career of Lil Kim and Usher in She's All That, Shamari Fears from the '90s R&B band Blaque in Bring It On, and Sisqó in Get Over It. Sisqó gets a special shoutout as he is both a background dancer and a sassy black friend in this film. With the invention of social media and an even more concrete way to assess people's fan bases, this trend continues with hip-hop stars moving up to leading roles with varying results.
Get Over It gets a special award for combining the most teen movie tropes; Shakespeare adaptation (A Midsummer's Night Dream), dancing, singing, boy bands, "sassy black friend/unfriendly black hottie" Zoe Saldana as Maggie, and ugly pretty girls — in what universe are Kirsten Dunst and Mila Kunis the girls no one tries to date?
5. Sage Black Friend
This character is a take on the Magical Negro character in books and movies. The Sage Black Friend is just younger and hipper.
Jock #2 – Can't Hardly Wait
Yes Sean Patrick Thomas is back this time in the iconic role of Jock #2. Can't Hardly Wait is a strange one because it is a movie filled with white people that play on black stereotypes (see Seth Green's wanna be rapper). Thomas' character gives a crucial bit of information to Peter Facinelli's character, the deep knowledge that they like their girlfriends and don't want to break up with them. This sets Facinelli into a tailspin as he tries to win back Jennifer Love Hewitt with little success (*spoiler alert).
Preston – She's All That
She's All That is back! Much like Baggar Vance, Dulé Hill's Preston appears at times to offer some quality advice and understanding to Freddie Prinze, Jr's Zach then disappears. He's also a bit of a feminist by initially trying to stop the most misogynistic bet of all time and reminding his friends that there is no need to have a dick measuring contest. ("Everybody here has a big jimmy.") He gives major side-eye to his dumb friends throughout the film for their stupid sexist comments. He's also the only popular kid genuinely nice to Cook's Laney. We love you Preston, sage and stand-up dude! Come over anytime and sing "Kiss Me" by Sixpence None The Richer.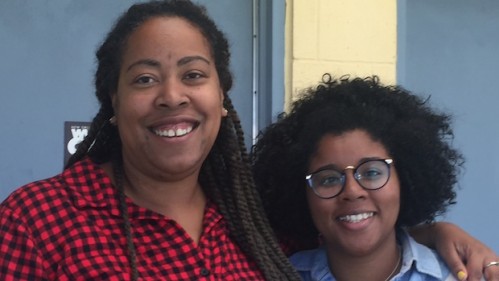 You'll notice that there were no films here from the '80s. As much as we loved Some Kind Of Wonderful or Valley Girl, the '80s was a black hole in terms of diversity. At that time, the most famous person of color in a mainstream teen movie was Long Duk Dong from Sixteen Candles, and that character is so cringe-worthy that people just try not to mention he was in the film. They just focus on Jake Ryan.
It's about time we shake this teen movie scene up and feature some three dimensional characters of color. Newer films like Dope are a great start, but there's so much more work to be done. So if you want more complex characters in teen movies, head over to our Kickstarter and throw some coins our way so we can get Paper Chase made. Three cheers for getting rid of the tropes.
Bio:
Angela Tucker directed the web series, Black Folk Don't and the feature-length documentary, (A)sexual, was born and raised in NYC and now lives in New Orleans. Lauren Domino is a writer and producer and native New Orleanian. Together they wrote Paper Chase which is currently raising funds on Kickstarter until December 4th.