Back to selection
5 Questions for Dark Night Director Tim Sutton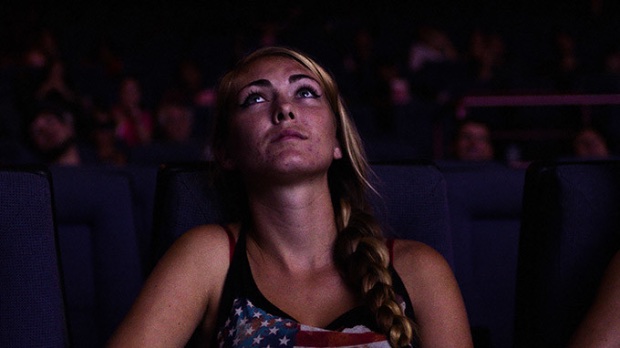 Dark Night
After essaying lost teenagers in his poetic debut picture, Pavilion, and a creatively-blocked soul singer in his compelling follow-up, Memphis, New York-based independent filmmaker Tim Sutton ventures into considerably darker terrain with Dark Night, which premiered yesterday at Sundance in its NEXT section. Loosely based on the Aurora theater shootings of 2012, in which a gunman killed 12 and wounded 70 moviegoers attending a screening of Christopher Nolan's The Dark Knight Rises, Dark Night depicts the moments around such an event, using suspense and foreshadowing to meditate on American violence and spectatorship. Below, Sutton answers five questions about his intention for the film, working with cinematographer Helene Louvart and directing non-actors.
Filmmaker: Your film seems to be inspired, in part, by the Aurora movie theater shooting. What drew you to this material, and what fears did it touch in you?
Sutton: Yes, a definite starting point for the film was the Aurora, Colorado Cineplex massacre. After the event, as time passed, it began to grow in my mind as a truly horrifying piece of very American performance art. What [the shooter] did in that movie theater, how people reacted, how they were clapping when he started throwing smoke bombs because they thought it was part of the show — it scared me a great deal. But there was something more. Something truly dark and horrible happened to the victims and their loved ones, and to the country at large, but also to the state of film and filmmaking and movies.
Another source of inspiration was revisiting both Gus Van Sant's Elephant and the film from which he took inspiration, Alan Clarke's film of the same name, which focused on the senseless killings in Northern Ireland. I made Dark Night as a way to continue a dialogue of direct artistic, cinematic response to. violence.
Filmmaker: What effect do you hope your film has on your audience?
Sutton: I have tried to make something thought provoking, something meaningful, that could be seen as a document of the time we live in and an alternative voice on an important issue.
Filmmaker: After making two previous features, how did your filmmaking practice change on this film with regards to your production and the way you worked?
Sutton: While the filmmaking still had to be very fluid and engaged in its environment, with this film I wrote a detailed script and we executed the story scene by scene rather than allowing the story to transform in production. There was a sense of discipline in the collaboration aimed toward making the course of the story — which all happens in one day — feel subtly structured dramatically, and much tighter. We knew what we had to do, rather than search for discovery.
Filmmaker: How did you collaborate with your D.P. on this film? Since you were working with someone new, how did that affect you way you shape your production?
Sutton: The process of collaborating with D.P. Helene Louvart was constantly positive and exciting. She is a tremendous D.P. who has worked with Wim Wenders and Agnes Varda, and I love both her visual sensibility but also her love of story — her love of cinema. I wanted to challenge myself in collaborating with a cinematographer I could learn from, and who could take this story further, and deeper. As far as working together, it was an inspiring creative collaboration for both of us, and she was able to technically execute and communicate her ideas on a high level.
Filmmaker: With subject matter significantly darker than your previous two films, how did that material affect your work with your performers? What did you look for when casting the film, and what challenges did the material pose with regards to your direction?
Sutton: Our casting approach is to look for certain types of people. I wanted to include a veteran, a troubled teen, etc. but not be tied down — basically to keep an open mind. We sent [casting director] Eleonore Hendricks and [producer] Alexandra Byer down to Sarasota, where we shot, and they hit the town for a couple of weeks and kept their eyes open. For example, the guy who plays Jumper, they just saw his car and dug it so they followed him thinking, "Oh, he's kind of interesting." Then they pulled up next to him and saw his eyes, and they knew. I went down to Florida and I hung out with him throughout an evening. It's the Nicholas Ray school of casting: you are only able to get into a deep, deep environment if you're not in an audition room with a camera.
As far as working on set, this was my third feature with non actors so I felt very confident helping the characters blend their real life with a fictional persona in a seamless way — it doesn't always work, but the times you're able to boil a scene down to its essence and advance the story, the character becomes more instinctual as you work together. The darkness of the subject had to build over the course of the production, so there was always a common sense of purpose and respect for the subject matter between cast and crew alike. We knew where it was heading, and it had to feel real.