Back to selection
Cinematographer Fraser Rice on Finding Poetry in the Shipyards for Sundance Short Mining Poems or Odes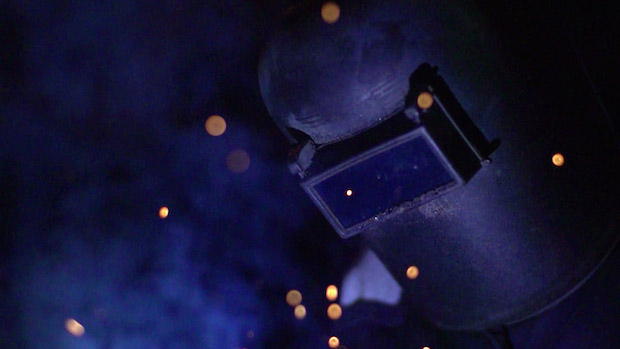 Minings Poems or Odes
Appearing in the Shorts Program #5 at the 2016 Sundance Film Festival, Mining Poems or Odes tells the Scotland-set story of an ex-shipyard welder turned writer. The short was shot by Fraser Rice, a cinematographer on a number of UK TV series. Rice is also the brother of the film's director, Callum. Below, Rice discusses the origins and creative goals of Mining Poems or Odes.
Filmmaker: How and why did you wind up being the cinematographer of your film? What were the factors and attributes that led to your being hired for this job?
Rice: I am a director of photography based in Edinburgh, Scotland, having worked on a diverse range of documentaries and programs. My brother, the director, Callum Rice, asked me to be the cinematographer for his first commissioned film Mining Poems or Odes, and I was delighted to sign up to the project.
Filmmaker: What were your artistic goals on this film, and how did you realize them? How did you want your cinematography to enhance the film's storytelling and treatment of its characters?
Rice: It was commissioned through The Scottish Documentary Institute's Bridging The Gap initiative, funded by Creative Scotland. The film celebrates the poetry and process of Robert Fullerton, a former shipyard worker, who credits his time welding as crucially influential on his writing practice today. Robert no longer works in the shipyards but has vivid memories of them and credits his love of language and books to this part of his life.
I wanted to show the shipyards of Glasgow in a proud light. These were wonderful places of creativity and talent. It was important to show Robert's vivid memories as viscerally as possible.
Filmmaker: What camera did you shoot on? Why did you choose the camera that you did? What lenses did you use?
Rice: We shot in one of the oldest shipyards in Scotland Using the Canon C300. I use my C300 for all of my documentary work. Combined with Carl Zeiss CP2 lenses the look is beautiful.
We wanted the welders sparks to representative of the poets ideas. For this we used the Sony FS700 at a high frame rate.
The end result was slow motion sparks flying past a welder's helmet. The myriad of sparks cascade, while others linger on the screen. Some will be stored and selected in his future career in writing.
Me and the rest of the team are absolutely delighted to hear that Mining Poems or Odes has been nominated for best British short at the 2016 BAFTAs. It has also been selected to play later this month in Shorts Program 5 at the Sundance Film Festival 2016.
Camera: Canon C300, Sony FS700 for off speed shots
Lenses: Zeiss CP2 Supper Speed
Lighting: dedo felloni
Processing: Serious Facilities LTD
Color Grading: Ben Mullen