Back to selection
"That Feeling of Director's Guilt": Director Diego Luna | Mr. Pig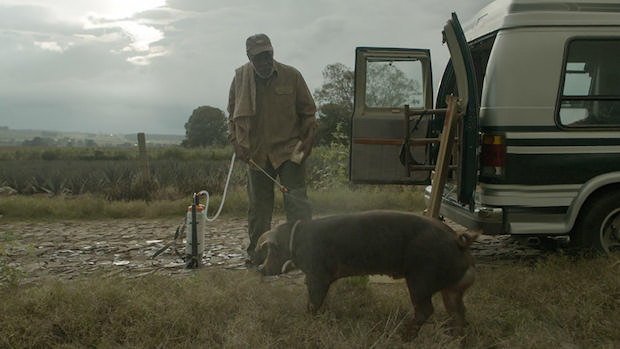 Mr. Pig
In every film, there is the story that you knew you were telling, the story the audience perceives. But there is always some other story, a secret story. It might be the result of your hidden motivations for making the film, or, instead, the result of themes that only became clear to you after you made the movie. It might be something very personal, or it might be a story you didn't even know you were telling. What is your film's secret story?
There are many secrets around this script and how the story was formed… I will take those secrets to the grave!! But if there is something to share, it's that in the process of script writing, we created two additional storylines, which had to be cut from the film. One in particular still haunts me, and to this day I wake up wanting to put it back in, without telling anyone.
The film has few references to the violence and uncertainty that exists today in various parts of Mexico. Ambrose has an encounter with a pair of newlyweds stranded on the road. It's a lovely image; the Bride is in her white gown and the Groom in his tuxedo, completely helpless in the middle of the road. They climb into his car with fear and uncertainty. After sometime, the Bride opens up and uses her broken English to bond with Ambrose. The Groom eventually reveals to Ambrose that on the way to their honeymoon destination, their van was stolen and they were left there without anything. The couple ends up spending the first night of their honeymoon with Ambrose in a motel in the middle of nowhere. Ambrose rents them the "honeymoon suite". The next morning when they wake up, the Groom (a conservative chap) reveals to Ambrose that he found out his bride is not a virgin and is devastated. Ambrose tells him that this is in fact a great advantage. She can teach him everything he needs to know and they'll have a fantastic sex life. It was a great scene that I really miss having in the film. Danny was able to capture the essence of an older man who understands the world like very few people do in a truly special way. Unfortunately, this storyline took too much time to unfold and in the end had to be cut.
As an actor I've had the experience of being in the cinema only to see that my character has been cut entirely from a film. Although I understand why this happens, as an actor it still frustrates you. I'm still thinking of a project that I can do with these two great actors, both of whom gave a lot to Mr. Pig, but didn't make the final cut of the film. That feeling of director's guilt… I have to learn to live with it!
[PREMIERE SCREENING: Tuesday, January 26 at 9:15pm — Eccles Theatre]