Back to selection
Shane Bruce Johnston and Charles J. Gibson on the Everyday Naturalism of The 4th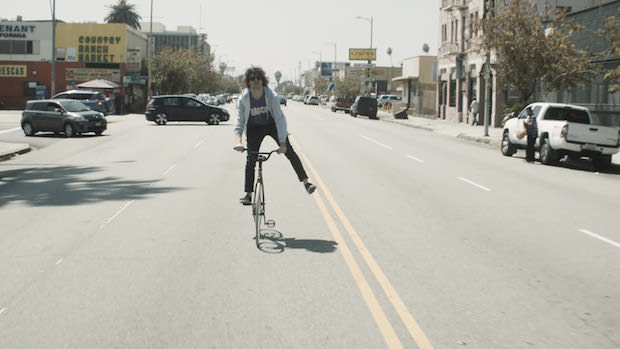 The 4th
Shane Bruce Johnston and Charles J. Gibson are two first time feature film cinematographers on The 4th, the debut feature from director/actor Andre Hyland. Both DPs have worked with Hyland before. Johnston shot Hyland's 2014 Sundance short Funnel, while Gibson has worked with Hyland in addition to his work such bigger-budget films as Her and Cake. In this interview with Filmmaker, the two DPs discuss shooting without full script, using only natural light, and the "16mm film grittiness" of the Blackmagic Film Camera. The 4th debuted as part of the NEXT program at the 2016 Sundance Film Festival.
Filmmaker: How and why did you wind up being the cinematographer of your film? What were the factors and attributes that led to your being hired for this job?
Johnston: Andre Hyland and I had collaborated in the past on various short films, including Funnel, which was programmed at the 2014 Sundance Film Festival. I think we have a similar appreciation for the bleak, mundane urban landscapes and the characters that inhabit them.
Gibson: I've worked with Andre Hyland in the past on some shorts and sketches. We work well together and have a good time making films.
Filmmaker: What were your artistic goals on this film, and how did you realize them? How did you want your cinematography to enhance the film's storytelling and treatment of its characters?
Johnston: Our goals were really just to capture the action as it unfolded. The script was more of an outline and we moved very quickly through the improvisational performances. I approached it more from a documentary perspective. Every shot in the film was hand-held and simply followed the action.
Gibson: We took a very documentary style to shooting. There was no script, it was more of an outline, so we didn't really have rehearsals and we just captured the events as they unfolded. I've been in film production and shooting for a couple years and I just pulled from those experiences to help create the best images on the fly.
Filmmaker: Were there any specific influences on your cinematography, whether they be other films, or visual art, of photography, or something else?
Johnston: I come from a still photography background, so a lot of what I pull from visually is my own experience shooting gritty street photos.
Gibson: I studied Cinematography at Chapman University under Johnny Jensen, ASC where I was exposed to every style of film. Personally I enjoy a more gritty style of filmmaking, nothing too polished. I like shooting subjects that have a real-life feel to them. Films like Fish Tank and Wasp, not necessary the same subject matter, but the naturalist look of those films.
Filmmaker: What camera did you shoot on? Why did you choose the camera that you did? What lenses did you use?
Johnston: We shot on a combination of Blackmagic Cinema Cameras, Nikkor AI lenses and Canon L lenses. The short answer, cost and accessibility. The Blackmagic cameras give a great image, are pretty easy to hand hold for extended amounts of time, and have a nice 16mm film grittiness to the image.
Gibson: We shot on the Blackmagic Cinema Cameras, Nikkor AI lenses and Canon L lenses. The main reason we shot with this package was cost and convenience. But, I really enjoyed the look of the Blackmagic Cinema Camera. It has a good dynamic range, which helps with all natural lighting where you don't have much control. It also has a nice grain look, which gave it more of a 16mm film style. Since the whole film was hand held it was easy having the Blackmagic on my shoulder all day, it was light and easy to use.
Filmmaker: Describe your approach to lighting.
Johnston: Everything, with the exception of some night scenes, was natural light. We really didn't have the time to do any set-ups.
Gibson: We had a pretty tight schedule and shot a lot so we didn't have much time to set up lights so we just used the sun and schedule to our advantage. For the party scene at the end we didn't have many lights to work with but we wanted to play it as natural as possible anyway so if things were a little more contrasty or people were in shadows it was ok.
Camera: Blackmagic Cinema Camera
Lenses: Nikkor AI/Canon L
Lighting: Available Light
Processing: Digital
Color Grading: Davinci Resolve