Back to selection
Director Dawn Porter and DP Chris Hilleke on "Abortion Clinic Fluorescent Lighting" and Trapped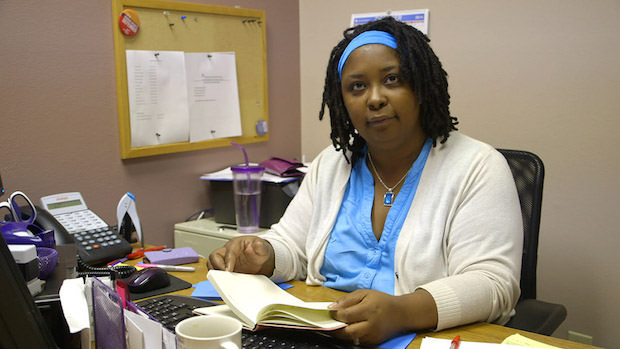 Dawn Porter's Trapped
Documentary filmmaker Dawn Porter first entered the Sundance arena in 2013 with Gideon's Army, a paean to the work of public defenders. She returns to the festival in 2016 with Trapped, her film about abortion in America. Porter and co-cinematographer Chris Hilleke speak with Filmmaker below about the many hurdles – both aesthetic and ethical – of filming a documentary in an abortion clinic.
Filmmaker: How and why did you wind up being the cinematographer of your film? What were the factors and attributes that led to your being hired for this job?
Porter: It was really crucial that everyone who shot on this film was not only technically excellent but also nice. When you make intimate verite documentaries a bad attitude can kill a shot and destroy the intimacy. Chris Hilleke and Nadia Halgren are both calm and warm people and they help inspire trust. I also shot with Derek Weisenhahn and Keith Walker, and Kirsten Johnson came and did a crucial shoot for us. Each brings something unique, and really understands how to create intimacy during interviews.
Hilleke: The fact that Dawn and I had worked together so closely for four years to capture the stories portrayed in her debut documentary Gideon's Army put me in a favorable position to DP Trapped. That project developed our approach to these types of stories so thoroughly that we could hit the ground running with Trapped. Immediately, it was less about nuts and bolts and more about storytelling. I do think that with a story like this, where you have multiple story arcs that take place in a legal space where years pass before the next beat in the story lands it is important to have proximity to your subjects so that you can have a camera present when those unpredictable developments arise. This was certainly a factor as I was within four hours of most of the clinics in the film. But it's even more ideal if the person holding the camera has a sense of the big picture of the narrative, can work alone with direction via phone and email so that you are not missing the story or ambushing your subject's space, in this case an abortion clinic, with a cumbersome film crew but instead with one person who, over time, has developed personal relationships with the owner's and staff of that clinic and understands the etiquette in that world. Trapped contains such intimate subject matter that, I believe, demands a quite presence and a lot of trust from the subjects if it is to be catalog with veracity.
Filmmaker: What were your artistic goals on this film, and how did you realize them? How did you want your cinematography to enhance the film's storytelling and treatment of its characters?
Porter: Abortion can be such a noisy topic. I wanted to slow things down, allow viewers to appreciate the day in and day out challenges of just going to work everyday. The doctors, clinic owners patients, everyone has to handle a lot of stress. I wanted to show how the clinic owners and physician Dr. Parker work to create a sea of calm in what can be a very aggressive and chaotic environment.
Hilleke: A lot of this documentary falls into the "run and gun" scenario where we are just trying to keep up with what's happening (protesters yelling at the doctor, clinic owners entering courthouses, staff working together to provide care, pro-choice marches and rallies and day in the life photography of the characters in the film) so I'm really looking for opportunities when I can get them to make cinematic moments. The visual artist in me is hard at work to pull something compelling out of bland, fluorescent medical settings. This usually is about camera placement, maybe shooting thru a glass doorway or playing against the light in the space for dramatic effect. But the truth is that this story doesn't need much enhancement because it is written on the face of each person in the film. These are beautiful people desperately navigating the pit falls of a broken social system and you can see it in their eyes, their expressions and the timbre of their voice. So above all else I want to be sure I have a solid relationship with those people so that when those powerful moments happen they are comfortable with my presence to let it show and to let it be heard, I'm just hoping that my mics are well placed, that it's in focus and that I've come up with a cinematic composition. To me it's like improvisational jazz.
Filmmaker: Were there any specific influences on your cinematography, whether they be other films, or visual art, of photography, or something else?
Porter: I really like how Steve James shoots his films, and that's one of the reasons I looked up Keith Walker who is just a beautiful shooter. I tend to find people's faces, hands, expressions really interesting. My dad was a photographer and I grew up appreciating good light and always framing images in my mind. If I could always have my own camera with me I would. I get frustrated with the limitations of my phone as good as they are for quick snaps.
Filmmaker: What were the biggest challenges posed by production to those goals?
Dawn Porter: Abortion clinic fluorescent lighting. Everyone who has read this far is shuddering along with me, plus our characters move a lot from room to room so lighting changes are always a challenge.
Filmmaker: What camera did you shoot on? Why did you choose the camera that you did? What lenses did you use?
Porter: The main folks shot on the canon C300 and C100 if we couldn't get our hands on a C300. I use a canon 5D.
Hilleke: We shot with the Canon C series cameras, C300 and C100. With the C100 I would add a pro-res recorder. Dawn would also steal inserts at times with her Canon 7D and 5D. I have found that the C-series cameras are superb for verite documentary shooting. They are low profile which is important, especially when shooting in a clinic with patients who are making tough, deeply personal decisions. But even out in public I find people may not realize that you are filming motion picture instead of stills. Also, they are ready to go right out of the box. I am not a fan of the monstrous shoulder rig contraptions and prefer the capability to get the camera quickly overhead or below or cradled onto a dashboard. Life is happening and with these sorts of cameras we can keep up. Being nimble gives us a fighting chance of finding a cinematic frame that much faster. Also, when working alone I have a professional sound solution built into the camera – which is absolutely critical. And their low-light performance cannot go unmentioned. Frequently I found myself needing to live around 2000 ISO and I always felt good about it when looking at dailies. With lenses I tried to use Rokinon Cine Primes (35mm T1.5, 85mm T1.5) as much as possible but found that the kit lens (24-105 F4) was my go-to so that I knew I was delivering a complete scene with coverage to our editors. The ability to punch in for close up inserts is critical when doing single-camera coverage of a brief moment that is only going to happen once. I also used my Tamron 17-50mm 2.8 a lot inside darker, tighter areas and in cars.
Filmmaker: Describe your approach to lighting.
Porter: Prayer
Filmmaker: What was the most difficult scene to realize and why? And how did you do it?
Porter: Interviewing a young woman in recovery – I was by myself and of course this opportunity to hear from this beautiful and brave young woman presented itself. I'd never done my own audio – but she was patient with me,
Filmmaker: Finally, describe the finishing of the film. How much of your look was "baked in" versus realized in the DI?
Porter: There was a lot of color correcting on this film because of the interior lighting and the ins and outs. I love what Zap did – they flew in the amazing Leo from London and he patiently listened to us describe how important it was to create an atmosphere of warmth inside that actually reflects what the clinics look like. Many people will never actually go inside a clinic and their impressions are created often by negative sources. So it was super important to show how caring these folks are and how actually safe it feels to be inside.