Back to selection
Two From Rendez-Vous with French Cinema: Valley of Love and Story of Judas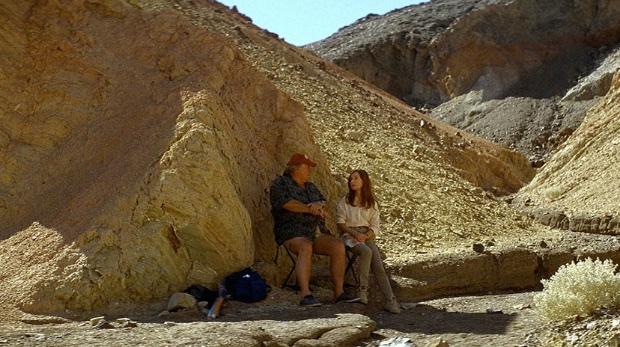 Greeted with predominantly mixed-to-negative reviews at Cannes, Guillaume Nicloux's Valley of Love — tonight's Opening Night selection of this year's Rendez-Vous with French Cinema — hit me so strongly I had to read up afterwards. Whatever the obvious problems with this movie may be didn't register with me, so reading the notices helped. This isn't a case of non-arthouse-friendly viewers finding a movie too slow and boring, but there are, I suppose, some obvious hurdles with this film. It starts as naturalism and unexpectedly keeps left-turning into mysticism, turns too jarring and ill-fitting for some (but, by definition, can't movies turn into anything at any moment?). There is the bluntly symbolic nature of the movie, beginning with its title: yes, Valley of Love takes place in Death Valley. Intertwined life and death, etc.
For reasons none of us may ever be capable of comprehending, it was Nicloux's original intent to cast Ryan O'Neal in the lead. This, thankfully, did not pan out, and instead we get Gérard Depardieu and Isabelle Huppert, a duo ripe with fully-exploited meta-casting meanings. In the plot, they're ex-partners, brought to Death Valley at the behest of their dead son, who told them to come for seven specific days in two separate letters written before their suicide — he will appear, even if it doesn't seem possible. Visiting each of the seven national sites he's scheduled for them means spending a lot of time in the car together, which is where the pair first met on-screen. (Bertrand Blier's unbelievably offensive 1974 film Going Places also marked Huppert's screen debut; setting the tone for many of her parts, she screams her disdain for her entire family, then takes off with Depardieu and buddy Patrick Dewaere, immediately having sex with both of them alternately in the back seat of a car.) Depardieu and Huppert were reunited for Maurice Pialat's typically tumultuous relationship drama Loulou in 1980, and haven't appeared together on-screen since. (Valley of Love is produced by Pialat's widow Sylvie.)
Their careers have obviously gone in different directions: while Huppert abides as one of the world's most respected and disciplined actresses, Depardieu is a tax-evading Russian citizen, a regularly rowdy public drunk, and a man-mountain to rival Rex Ryan. Sweating with his shirt off, he's presented in all his overwhelming bulk, large but ineffectual. When he starts talking about the nature of how human beings don't change, Huppert cuts to the relevant question: "How many drinks have you had?" Both characters (named, of course, Gérard and Isabelle) are also actors, and during their time in Death Valley they have dinner with an American fan, who wants to know all about the famous people they've worked with ("Hollywood is so shrouded in mystery").
That Nicloux is willing to swerve from a finely-shaped reunion drama into a scene antagonizing the kind of films it stands against suggests its constantly amorphous nature, which I found invigorating. Nicloux grounds us in the weird space of Death Valley, with its super-limited food options, constant heat and undauntedly pervasive tourists. (A detail that made me smile: loyal to a long-forgotten movie that shot there, a cafe displays a poster for The Sum of All Fears.) The film is half in English, and even the Americans sound stilted, as if Nicloux had directed them to sound unreal to the foreign couple more at home in the United States's bigger cities. The movie builds to a surprisingly straightforward jab at the emotional solar plexus, which worked for me.
Conceptually, Rabah Ameur-Zaïmeche's Story of Judas is fascinating; experientially, it's often pretty tedious. Himself playing Judas, Ameur-Zaïmeche picks up with Jesus' (Nabil Djedouani) return on the disciple's back from 40 days in the desert ("40 days of fasting and you're still as heavy as ever," Judas lovingly grumbles). The big narrative hook is that Judas got a raw deal from history, with the movie showing him only ever wanting the best for his master. He understands Jesus' words in their mildest sense: when friends ask him straight-up if the messiah has "words to fight the Romans," he demurs. Religion and political agitation against a repressive power are explicitly linked, most notably in the sequence expelling the merchants from the temple. Merely through use of period-accurate casting, Ameur-Zaïmeche presents the story of Jesus as the story of a white occupying power made very nervous by a group of brown people preaching a religion that challenges the empire; the contemporary resonances are unmistakable.
The movie takes place in fascinating ruins, and sometimes it's very beautiful. But there's a lot of it, it's unremittingly heavy, and Ameur-Zaïmeche's decision to film seemingly every scene, whether indoors or outside, with a long lens creates increasing visual monotony. On the plus side, there's the strong sense of place, repoliticizing of Jesus' words, and one Mohamed Aroussi as Carabas (a mad prophet — the character is plucked from Philo's histories of Egypt in the 30s AD). He's tall, raving, and unpredictably charismatic — this is only his fifth screen credit, and it'd be nice to think we'll e seeing a lot more of him going forward.