Back to selection
SXSW: Five Questions for The Arbalest Writer-Director Adam Pinney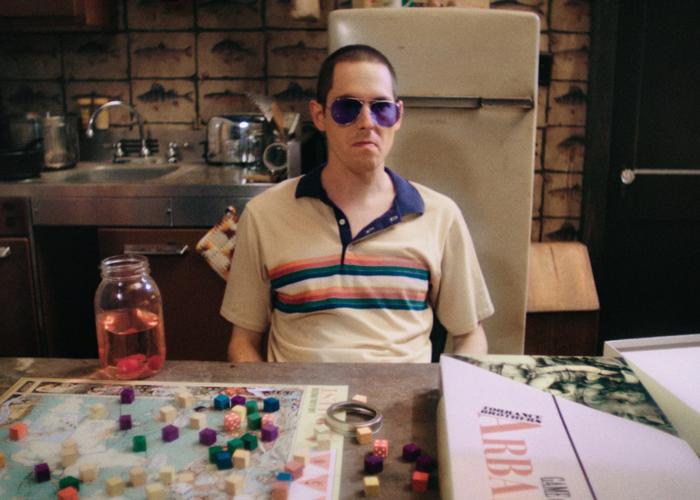 The Arbalest
As part of the Atlanta-based film collective Fake Wood Wallpaper, Adam Pinney has accumulated credits as an actor, editor, cinematographer, camera operator, grip, producer and director on projects such as Joe Swanberg's 24 Exposures and Alex Orr's A Is for Alex. With his latest project, The Arbalest, which has its world premiere tonight in the narrative feature competition at SXSW, Pinney makes his feature debut as a writer-director with a distinct visual aesthetic.
The Arbalest, which was selected for the 2015 IFP Narrative Lab, tells the story of Foster Kalt (Mike Brune), a famous and reclusive toy inventor, who reflects on his lifelong obsession with Sylvia Frank (Tallie Medel), a woman who hates him. The film begins with Foster's first memorable meeting with Sylvia in a New York hotel room in 1968 and jumps forward to years later, when he is about to introduce his latest invention.
With a highly stylized evocation of the late '60s and '70s aesthetic, The Arbalest creates an original visual language which is both highly formalized and whimsical. In advance of the film's SXSW premiere, Pinney discussed his inspiration for the project and how it was a collaborative effort.
Filmmaker: The Arbalest isn't the easiest film to describe. What's your "elevator pitch" for the film and what inspired it?
Pinney: It's about the inventor of the world's greatest toy and his obsession with a woman who hates him. It takes place in the '60s and '70s and it's weird and fun and it will surprise the shit out of you!
This is for sure one of those ideas that grew out of about five different ideas I have had over the last decade. I wrote and directed a one-act play in college about a Rubik's Cube competition and always wanted to make something based off of that. I also became obsessed with cult celebrities who gave abrasive interviews.
There are some amazing videos of Lou Reed and Henry Rollins just making the reporter's lives complete hell. The film also has some alternate history and magical realism elements that were inspired by Gabriel García Márquez. While all this might lead to me making a mess of a film, I grounded it all around something simple and relatable: a love story, or rather an anti-love story, focusing on obsession and a character whose drives are very adolescent.

Filmmaker: The film has such a specific period look. Why did you set the film during the late '60s and '70s and what films inspired that look?
Pinney: It seemed like a natural fit to have it take place in the '60s and '70s because the majority of influences on this project came from that era. Foster Kalt's character is inspired by cult personalities like Lou Reed, Klaus Kinski, and Hunter S. Thompson. The filmic influences, though they might not be apparent when watching the film, were early Mike Nichols films like The Graduate and Who's Afraid Of Virginia Woolf?, as well as some of the color Godard films like Weekend and A Woman is a Woman.
Filmmaker: You've been working as part of a film collaborative. How does that process work exactly and how did it influence this project?
Pinney: I am part of a collective called Fake Wood Wallpaper. We became a group about 14 years ago at Georgia State University, and includes Alex Orr, Mike Brune, and Hugh Braselton, who all had a part in making in The Arbalest. When we started, we all helped out on each other's thesis projects and felt like we shared similar ideas about cinema and humor and style, so we all put our shorts out there under the same name.
We have made four features now, all individual projects, and all ones that each person had some technical hand in. The main benefit of being in a collective, though, is having a small handful of people who will be very honest with you about your film. We trust each other completely and value each other's input above everyone else's. It's what makes it a Fake Wood Wallpaper film, as opposed to just an Adam Pinney film. And that collective mindset extends to all the crew and actors and people that made the film, because it's everybody's film. It's everybody's art, not just mine.
Filmmaker: How does your background as a DP influence your directing style?
Pinney: I think my DP credits often overrate my skill in that area. My strength lies in framing and composition over lighting, so it's a mixed bag. I try to be as meticulous as possible with the framing, but I also try not to let that inhibit the actors. As this is my first feature as a director, it meant I was still sort of learning on the job how to balance both of those aspects.
I learned a lot from all the actors in this film about how to direct and how to to give them the space they needed to portray these characters. I don't think I fully figured out how to direct until the day after we wrapped, so I have to give a lot of credit to the actors.
Filmmaker: How did you get the funding for this? Was it challenging filming a period piece on a low budget?
Pinney: The film was independently financed by our producer, Alex Orr. Oddly, one of the reasons I wanted to shoot a period piece was because we had a low budget. The film only takes place in about three locations, so if we made the most out of those locations and they were as interesting to look at as possible, then it would make the film stand out in some way. Having all these locations be contained rooms meant we didn't have to dress large wide areas to get that period look.
We have several exteriors, but they exist in the woods. For one shot we rented a car from the '70s and that, coupled with the great period costumes and makeup, is enough to sell it. The challenge of filming a period piece is greatly reduced when you are working with extremely creative people like Aimee Holmberg, our production designer, Karen Freed, our costume designer, and Katie Ballard, our hair and makeup head. They created a universe that feels like the '60s and '70s but still seems otherworldly.