Back to selection
Five Questions for SXSW Feature Documentary Winner Tower Director Keith Maitland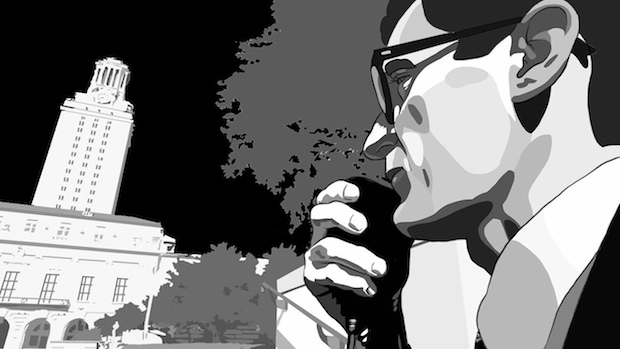 TOWER
One of the busiest filmmakers at this year's SXSW, documentary filmmaker Keith Maitland has two films premiering at the festival, both with roots firmly in Texas. A Song For You: The Austin City Limits Story is a loving look back at the PBS program that featured some of the music industry's most iconic talent like Ray Charles, Willie Nelson, and Stevie Ray Vaughn. Tower, a partially animated documentary that incorporates archival footage and first-person testimonials, reconstructs the University of Texas campus shooting that took the lives of sixteen people in the summer of 1966. The Grand Jury winner for Documentary Feature, Tower has been praised for its innovative style, thrilling execution, and — given the unfortunate number of shootings occurring on a daily basis throughout the country — timely subject matter. An alum of UT, Maitland has been wanting to shed light on this particular story, deemed the first mass campus murder in America, for a number of years, and current technology has allowed him to carry out that vision.
Tower continues its Texas film festival tour next month, as it hits the 10th annual Dallas International Film Festival April 14-April 24.
Filmmaker: You have two documentaries, Tower and A Song For You: The Austin City Limits Story, making their world premiere at SXSW this year, and both are about cultural events that took place in Austin. What compelled you to magnify the stories of this city?
Maitland: I live in Austin and went to college at the University of Texas. As an unlikely Texan (I moved to Dallas from New Jersey at the age of 12), I didn't necessarily connect with a lot of Texas culture, BUT I found a lot of things that I could relate to here in this town.
The Tower shooting is something I first learned about in the 7th grade, and I'd been curious about it for a long time, even before going to UT. As a college student, I walked past the Tower everyday for four years and my curiosity only grew because there was a vacuum there, both on campus and beyond. There had been very little to glean from this tragedy because it had been kept at arm's length for so long. And regarding Austin City Limits, well, I've been a fan of the show for many years, and I love live music and I love talking to artists about their inspiration and influences, so when the opportunity arose to pitch to the producers about an approach to the film, I was excited. It's been a unique experience to dig into these two historic stories, both of which are seemingly more relevant now than ever before.
Filmmaker: Were you very familiar with Pamela Colloff's oral history about the campus shooting, "96 Minutes," before starting production on Tower?
Maitland: I read the article when it was first published and my wheels immediately starting turning toward making a film, and making it an animated re-telling. My wife is a freelance photographer who often works with Texas Monthly, and Pamela Colloff is a collaborator and friend of hers. When the oral history came out, I couldn't wait to talk to Pam about her experiences and pitch my idea about undertaking what would ultimately become Tower. That was the 40th anniversary and I was already deep into production on another film, so I realized that I'd have to wait to get started. That's when I decided to aim for a release in conjunction with the 50th anniversary.
Filmmaker: How did you come to the decision to employ rotoscoping animation in Tower? Were there certain moments in the film that you found specifically called for the technology?
Maitland: It really was almost an immediate decision. I was working with this animation style on my first doc, The Eyes of Me, about a year in the life of four blind teens, so I knew how powerful, and even intimate, the animated image could be. I also realized that the university would never allow live action re-creations on their campus, so animation allowed us to show the geography of the campus without having to actually film on site. The animated image, and the black & white palette that we used, reflects the fuzzy nature of fifty year old memories and it leaves plenty of room for audiences to fill in the blanks and complete the picture on their own in ways that standard re-creation could not. Because my concept involved transitioning each character from an animated youthful version to the live "actual" person today, I realized that the animation could help sew that transition together and create a suspension of disbelief that I've rarely seen executed well in standard re-creations. Although it's expensive and time-consuming, it's a powerful toolset that demands greater creativity.
Filmmaker: The archival footage is also used creatively in the film. How much material were you working from and how did you find the right blend of archival material, animation, and traditional interviews?
Maitland: Well, we knew that there was at least fourteen minutes of newsreel style archival taken on the day of the event, and much of what exists is either wide shots or long lensed material with some remove from the direct action. I started to focus on the footage in the way a narrative director uses establishing shots and wides, and I realized we could fill in the blanks with mediums and close-ups created to match in animation. By cutting between archival and animation, ideally seamlessly, we could give the archival footage new life. It was an idea that I could see clearly in my mind's eye and it really wasn't too complicated to show others once we began. I hope that when viewers reflect on what they've seen in Tower, they forget which parts were animated and which were archival.
Filmmaker: With the fiftieth anniversary of the tragic shooting arriving this summer, is it imperative that Tower be released now? Do you feel that there's a new context, a new lens, modern day Americans may view this event through given the onslaught of shootings that occur daily today?
Maitland: Yes, the time for this is now. I wanted to aim the film at young audiences that live under the threat of this kind of violence everytime they head out the door to go to school. I wanted them to see these characters in 1966 like they were living here today. When I began, I was worried that we'd be relegated into a history-only paradigm, but quickly realized that there's more than enough current relevance to this subject to make it transcend the fifty years [since it took place]. It speaks to people today. That's the hope, that we can honor the past and spark a dialogue in the present.