Back to selection
"Try On Who We Could Be": Filmmaker and Dancer Lily Baldwin on She Does Podcast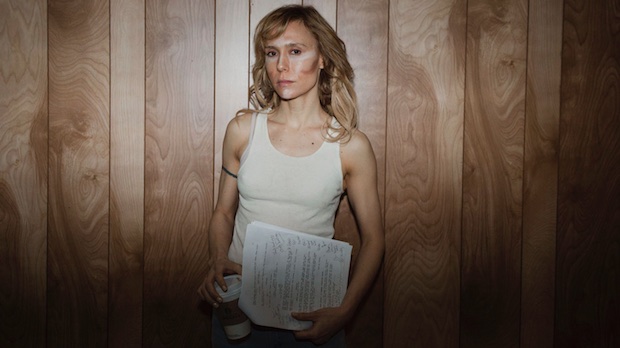 Lily Baldwin. (Photo credit: Lauren Lancaster.)
Lily Baldwin is a New York-based filmmaker and dancer who uses movement of the body and unconventional narrative structures to tell human stories. Her short films (Sea Meadow, A Juicebox Afternoon, Sleepover LA, and Swallowed) have played at festivals like SXSW, Berlinale EFM, and the Lincoln Center and been featured on NOWNESS, Short of the Week, Fandor, Filmmaker and Vimeo Staff Picks. Baldwin fell into filmmaking when she was performing as a professional dancer in David Byrne's two-year world tour, Everything That Happens Will Happen Today. Baldwin often writes, choreographs, directs, edits and plays the leading role in her films, seeking to "rip things up" with both graceful and rigid moments and scenes made up of bold, jarring edits. In other scenes, she's simply another human on the street, walking with the rest of us. Baldwin is a Sundance Fellow with her upcoming VR project in collaboration with Saschka Unseld, Through You. She's about to start shooting her first feature, Glass, a stalking thriller based on a real experience about a dancer and an insidious fan in our privacy-gone world. Baldwin talks about the rigor and commitment of dancers, coming into film as a "second career," the responsibility she feels as an artist to pull from her own experiences and educate, and "working your buns off" to be the ultimate version of yourself.
5 TAKEAWAYS
What it means to be a dancer.
There's this attention to detail and daily commitment to yourself as an instrument that is so hardcore, to commit to my body as a tool of expression. And what that means is insane rigor. You don't stop when it hurts, and you believe in it even if you don't have acclaim. I feel like we are such a breed…. I don't always love modern dance to be honest. I'm like, "What the hell is this, what does it mean?" But I like that it asks me that question. And I think you have a capacity to wake people up in unexpected ways. I do feel like discipline is important, whatever that is. [It's about] being rigorous with whatever you do.
On repurposing dance and dreamscape for film.
I realized I wanted to communicate to more people, and that was about working inside this box of film. And I feel like film and music are the ultimate artistic communicators for audience numbers, not that I don't love other art forms, but it's the easiest to get out there. So I just thought, "How can I make this (Sleeping With Frank) into a narrative? And with actions. Can you undress clothes and dance? Can you have breakfast and dance?" And I don't want to over simplify it, but usually with dance, it's one beat explored. It's like a fleshed out, really big feeling moment. I thought, "What if we treated dreamscape, like what if we actually removed a chunk of dialogue or action, which is like narrative propelling narrative and we say seven things in seven beats with a dance?" And first of all, what is dance? That's another question. But the idea of using body, and not words or traditional actions, that just became my geeky inquiry.
Use the minds and talent of who you know and collaborate.
I just have a knack for reading people. I like to see their previous work. A simple interview will be like, "Hey, this is what I'm doing, what would you do with this? Where would you take my idea? Where do you want it to take you that you haven't been?" I'm specific about what I want but I'm not afraid to be wrong or told otherwise. So, I had the privilege of working with people that I could learn from and that I trusted. And I always feel like I want to support people to do something they haven't done. And give them a platform to explore and take risk. That is literally the premise of every production, when I have the freedom to do that.
On the act of putting yourself out there and sharing your own experiences.
It's risky. I mean, I feel scared sometimes. But, I think we have a responsibility to mine what we know. I think that it's great to make up stories and live in imagination but I feel like I can do a better job with something I've been through and I just would rather work in that territory. I also feel like, who am I as an artist in the world when there's barely going to be enough water soon for everyone. It definitely feels indulgent at times to be an artist, so I feel a responsibility to wake people up, even if my language is a little stylized art stuff.
The underlying theme of "there's more that meets the eye" in Lily's work.
What can I corrupt? There's this front of, "Well if you look like this, then you're this." Even me, you have no idea who I am. You can make assumptions, and I can think I know who you guys are, and I think we have a pretty good rapport, but I just love that there's so much more. I just feel like people are a little stuck. So, that's my little mission. I like to rip up things a little bit. And I think we should play more. I feel like you don't need the internet to do that but we should do it everyday. This idea of being one step removed from physical presence lets us try on who we could be. I think we should do that more in our life.
A Juicebox Afternoon

Sleepover LA