Back to selection
Tribeca 2016: Five Questions for The Ticket Director Ido Fluk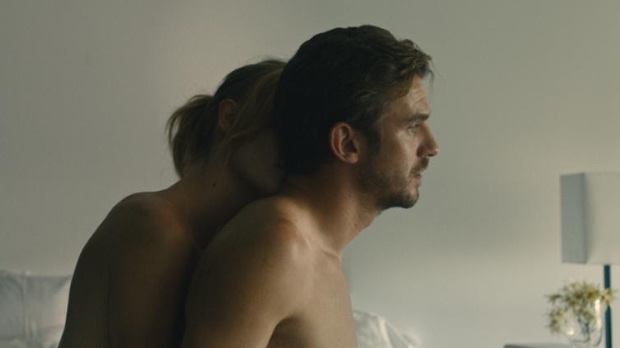 The Ticket
The Ticket, premiering today at the Tribeca Film Festival, is Israeli filmmaker Ido Fluk's first American film, dubbed a "morality fable" exploring all the various behaviors that manifest in a blind man who mysteriously, one day, gains his vision. Dan Stevens plays the suddenly social-climbing, newly-sighted man, and Malin Akerman is the old-model wife who may no longer be enough for him. Writer/director Oren Moverman is one of the film's producers, and, below, Fluk talks about how that collaboration came to be and how he visualized a movie about a man new to vision.
Filmmaker: What inspired this story of a blind man regaining his sight?
Fluk: I was sitting in a dark sound room while mixing my first film, Never Too Late, and for some reason the picture wasn't working, and all we heard was the sound of a scene. There was something moving about it. An energy that the scene gained from having no sight in it, just sound. I started thinking about a movie that starts in the dark, inside the head of a blind man. I called Sharon Mashihi, who co-wrote this with me, and pitched this simple idea, about a movie starting inside the head of a blind man, and then something happens, and he can see.
From there the story evolved. What are the implications of such a miracle? How would it change a person's life? It became clear, quite early on, that this wasn't so much a film about blindness, but rather an exploration of what happens when we're given a chance to do better in life. Blindness to sight, poverty to wealth, or anonymity to fame — the story was really about what happens to this character who gets a chance to do things he could never do before, and how that changes everything for him.
Filmmaker: How does your cinematographic approach in this film reflect the film's concept? How did you use cinematography as well as production design and editing to reflect the world of your main character?
Fluk: DP Zachary Galler and I spent a lot of time talking about the arc of the cinematography of the film. We divided the film into three parts. The first, as our main character adjusted to this new world, is softer, warmer, overexposed at times, with hand-held camera work. Then, as the character changes, we slowly ramp into a cooler, more controlled style. We start using tracking shots and locked-down camera angles to mirror the character's journey from innocence and curiosity into what he has become. Then the final act employs the same cool palette but the camera work regresses: less control, less glossy shots. Phillip Kimsey, our editor, then employed the same thought process [for] his cutting style: the way the picture is cut mirroring the character's journey from messy beginnings into this tighter, energetic, middle, and back to the muteness of the final act. With production design, Gino Fortebuono had a lot of fun exploring the tension between what James imagines all of these places to look like before he can see them, and what they actually look like. The pink floral design on the walls of his bedroom, the dreary community center, his work place, and into this new life, with the stainless steel and the sharp corners.
Filmmaker: How did you connect with Oren Moverman, and how did he become a producer on the film?
Fluk: Oren has been a friend, a supporter, an advisor and a mentor. We go back years. We first met when I interviewed him for a long forgotten magazine piece. He knew I had this script I was trying to get made and offered to read it. He sent it to Lawrence Inglee, his producing partner, and they connected to the script and offered to produce the film. Then the ball really started rolling. These two are the reason this film was made.
Filmmaker: In interviews, your lead, Dan Stevens, has talked about "performing alone in a room with a tripod." Tell me more about this, and about your production style in general. One might think that because this is your first American film that your production model had to become bigger than your previous work in Israel. But maybe that's not the case?
Fluk: It was certainly much bigger, but I'm a strong believer in a quiet, intimate work environment, and I had no intention of changing that because of the bigger budget, or the fact that there were more people running around. The way I see it, one of the tenets of my job as a director is to create an environment that will allow the best work to take place. Creative work, performance, etc. So whenever possible, I like to shoot each and every scene as if it were a sex scene. No one around. Video village miles away. No film lights inside the room. Naturally, sometimes you have to compromise, but I find this method of working really helps focus the energy in a scene and helps the actors deliver.
Filmmaker: Paradoxically, the visual medium of film has produced a number of great works in both fiction and documentary about blindness. What other artistic treatments of blindness — whether they be in film or literature or another art form — have influenced you in The Ticket?
Fluk: For me, this isn't so much a film about Blindness as a film about a miracle, or a man tested by an inconceivable, divine type of intervention. In writing, Sharon and I we were really influenced by the traditional structure of the Greek tragedy, hubris, and the fallen Icarus. The Book of Job, and the idea of life as a test we can fail or succeed at. The spirituality in Bergman, Kieślowski, but also those 1980s Michael Douglas race-to-the-top hyper-capitalist type of films. The single most probing exploration of blindness on film, for me, was Derek Jarman's Blue. And in writing, Oliver Sacks of course.