Back to selection
Dean, Junction and Do Not Resist Top 15th Annual Tribeca Film Festival Awards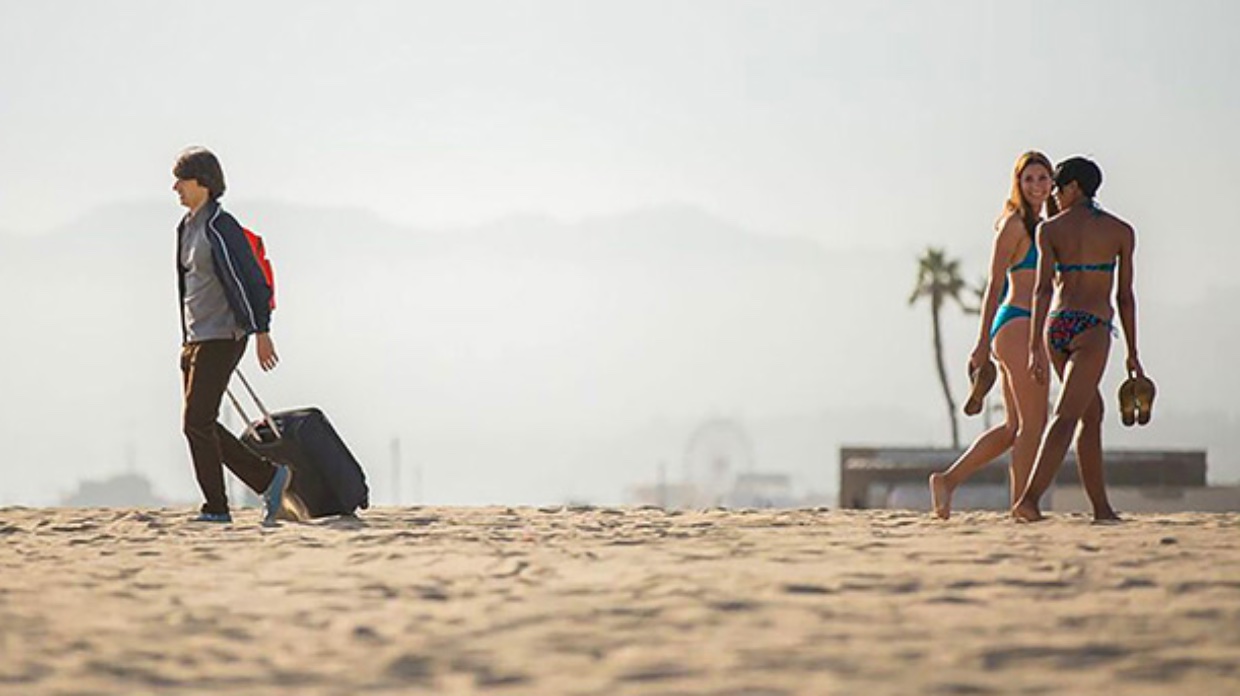 Dean
Dean, Demetri Martin's gently comic picture about a Brooklyn illustrator unable to move on with his life following the death of his mother, won the Founders Award for Best Narrative Feature today at the 15th Annual Tribeca Film Festival. Udi Aloni's Junction 48 — a drama about a Palestinian rapper in the mixed-city of Lyd that won the Audience Prize at this year's Berlin Festival — took home the Best International Narrative Feature Award, while Craig Atkinson's Do Not Resist, about the increasing militarization of United States' police forces, won the Best Feature in the World Documentary Competition.
About Martin's film, the jury wrote, "It manages the near impossible task of breathing new life into a well-worn genre, balancing humor and pathos with an incredibly deft touch, and offering a unique perspective on the way we process loss."
"This award goes to a phenomenal, stand-out, powerful, thoughtful movie," wrote the jury about Junction 48. "It offers a new perspective and insightful approach to a story about how to be different and live together."
And about Do Not Resist, the jury wrote, "This film that uses documentary to go deep into a world with a cinematic experience. We were excited by the directorial debut of a cinematographer who already has created a great body of work. Do Not Resist shines a light on the frightening story of the militarization of the police. In an impactful way the director uses his amazing access to look at power and force from the inside."
Other notable awards given were to two actors in American independent films. Dominic Rains won the Best Actor award for his portrayal of a former Afghanistan fixer adjusting to new life in America by investigating a small-town crime in Ian Olds' The Fixer. And, as a jealous actress unhinged by the rapid rise in the industry of her best friend, Mackenzie Davis scored Best Actress in Sophia Takal's Always Shine. Ingrid Jungermann, who wrote, directed and starred in her relationship drama set in the world of amateur crime investigators, won Best Screenplay for Women Who Kill.
Notes on Blindness: Into the Darkness, the astonishing VR work that paradoxically uses beautiful imagery to take you into the world of the blind, won the Storyscapes Award.
Screenings of the award–winning films will take place throughout the final day of the Festival: Sunday, April 24, at various venues. Specific times and ticketing information are available here.
A complete list of awards, taken from the press release, follows:
U.S. NARRATIVE FEATURE COMPETITION CATEGORIES:

The jurors for the 2016 U.S. Narrative Competition, sponsored by AKA Hotel Residences, were Anne Carey, James Le Gros, Chris Nashawaty, Mya Taylor and Jennifer Westfeldt.

The Founders Award for Best Narrative Feature – Dean, written and directed by Demteri Martin. Winner receives $20,000, sponsored by AT&T, and the art award "Waking Up in the Painted World" by Stephen Hannock. The award was given by Robert De Niro and Jane Rosenthal joined by Fiona Carter, SVP of Brand Marketing, Advertising, and Sponsorships, AT&T, and Jennifer Westfeldt.

Jury Comment: "We have had the great privilege of seeing ten accomplished and ambitious films over the last seven days here at Tribeca. But we all fell in love with this next film. It manages the near impossible task of breathing new life into a well-worn genre, balancing humor and pathos with an incredibly deft touch, and offering a unique perspective on the way we process loss."

Best Actor in a U.S. Narrative Feature Film –Dominic Rains in The Fixer. The award was given by Chris Nashawaty.

Jury Comment: "For his deeply emotional and empathic portrayal of a man who's a stranger in a strange land."

Best Actress in a U.S. Narrative Feature Film – Mackenzie Davis in Always Shine. The award was given by Mya Taylor.

Jury Comment: "For the unapologetic, fierce, brave, compelling, and vulnerable portrayal."

Best Cinematography in a U.S. Narrative Feature Film – Cinematography by Michael Ragen for Kicks. Winner receives $50,000 in post-production services donated by Company 3. The award was given by Anne Carey along with David Feldman, Company 3 Director of Feature Services.

Jury Comment: "At times lyrical and other times visceral, the seductive cinematography of this film lured us into the violent world of busted childhood."

Best Screenplay in a U.S. Narrative Feature Film – Women Who Kill, written by Ingrid Jungermann. Winner receives $2,500 sponsored by Freixenet Cava. The award was given by James Le Gros along with Tom Burnet, President, Freixenet America.

Jury Comment: "As Miles Davis said, 'The hardest thing is to be original.' This unique and deftly hilarious tale told in Brooklyn is from a fresh voice and a true original."

INTERNATIONAL NARRATIVE FEATURE COMPETITION CATEGORIES:

The jurors for the 2016 International Narrative Competition were Hany Abu-Assad, Jean Reno, Lydia Dean Pilcher, Sam Taylor-Johnson and Danny Glover.

The Best International Narrative Feature – Junction 48, written and directed by Udi Aloni. Winner receives $20,000, sponsored by Netflix, and the art award "Temple of the Moon" by Sara VanDerBeek. The award was given by Danny Glover.

Jury Comment: "This award goes to a phenomenal, stand-out, powerful, thoughtful movie. It offers a new perspective and insightful approach to a story about how to be different and live together."

Best Actor in an International Narrative Feature Film – Alan Sabbagh in The Tenth Man. The award was given by Jean Reno.

Jury Comment: "A performance of natural subtlety that reflected a community that is unknown to most of us. An intriguing journey for connection in search for identity."

Best Actress in an International Narrative Feature Film – Radhika Apte in "Clean Shaven," a part of Madly. The award was given by Jean Reno.

Jury Comment: "This award goes to an actress who has conveyed bravery and emotional depth in different relationships around her. A contemporary story that breaks through established culture."

Best Cinematography in an International Narrative Feature Film – Cinematography by Kjell Vassdal for El Clasico. Winner receives $50,000 in post-production services donated by Company 3. The award was given by Sam Taylor-Johnson along with David Feldman, Company 3 Director of Feature Services.

Jury Comment: "This award goes to an expansive, naturalistic photography in serving the narrative and the emotional journey of the characters."

Best Screenplay in an International Narrative Feature Film – Perfect Strangers written by Filippo Bologna, Paolo Costella, Paolo Genovese, Paola Mammini, and Rolando Ravello. Winners receive $2,500 sponsored by Freixenet Cava. The award was given by Hany Abu-Assad along with Tom Burnet, President, Freixenet America.

Jury Comment: "This award goes to a well-crafted, entertaining scenario, with deep character development. It's an original story about private lives and hidden secrets."

WORLD DOCUMENTARY COMPETITION CATEGORIES:

The jurors for the 2016 World Documentary Competition, sponsored by Bira 91, were Laura Poitras, Douglas Tirola and Roger Ross Williams.

Best Documentary Feature – Do Not Resist, directed by Craig Atkinson (USA). Winner receives $20,000, sponsored by Netflix, and the art award "Untitled" by Virginia Overton. The award was given by Roger Ross Williams.

Jury Comments: "This film that uses documentary to go deep into a world with a cinematic experience. We were excited by the directorial debut of a cinematographer who already has created a great body of work. Do Not Resist shines a light on the frightening story of the militarization of the police. In an impactful way the director uses his amazing access to look at power and force from the inside."

Best Documentary Cinematography – Cinematography by Jarred Alderman for Contemporary Color (USA). Winner receives $2,500, sponsored by Bira 91. The award was given by Doug Tirola and Ankur Jain, CEO, Bira 91.

Best Documentary Editing – Editing by Bill Ross for Contemporary Color (USA). Winner receives $2,500, sponsored by Bira 91. The award was given by Doug Tirola and Ankur Jain, CEO, Bira 91.

Jury Comments: "One film above all others demonstrated filmmakers completely in control of their craft. Through both the editing and cinematography this film takes the audience deep into a unique world and its characters with nuance, emotion and beauty while also showcasing performances in a spectacular and grand cinematic way.

BEST NEW NARRATIVE DIRECTOR COMPETITION:

The jurors for the 2016 Best New Narrative Director Competition were Hill Harper, Col Needham and Ry Russo-Young.

Best New Narrative Director – Priscilla Anany, director of Children of the Mountain (USA, Ghana). Winner receives $10,000 sponsored by HBO, and the art award "The Transit of Venus (Melanie)" by Keith Edmier. The award was given by the jury.

Jury Comments: "So many of the films we had the pleasure of viewing were expertly directed and worthy of recognition. The winning director presents a fearless and heart wrenching tale of an embattled mother's high stakes journey to heal her sick child and ultimately herself. The film delicately and powerfully directs us through an emotionally resonant story that is dark for truthful reasons and simultaneously hopeful. The best new narrative director award goes to Priscilla Anany for Children of the Mountain."

BEST NEW DOCUMENTARY DIRECTOR COMPETITION:

The jurors for the 2016 Albert Maysles New Documentary Director Award were Jason Biggs, Karen Cooper and Sebastian Silva.

Albert Maysles New Documentary Director Award – David Feige for Untouchable (USA). Winner receives $10,000 sponsored by Netflix, and the art award "Lenox Hill" by Josh Tonsfeldt. The award was given by Sebastian Silva.

Jury Comment: "The film opens our eyes to the suffering of people on both sides of a controversial fence. Made with compassion for all of its subjects, the film is a fascinating look into how laws are created with the best of intentions, but enforced in problematic and sometimes destructive ways."

SHORT FILM COMPETITION CATEGORIES:

The 2016 Best Narrative Short Competition jurors were Mike Birbiglia, Chloe Grace Moretz and
Sheila Nevins.

Best Narrative Short – Hold On (Houvast), directed by Charlotte Scott-Wilson (Netherlands). Winner receives $5,000 sponsored by Netflix, and the art award "It's You and Me Kid" by Marc Hundley. The award was given by Mike Birbiglia.

Jury Comments: "The jury was moved by one particular film because it is simultaneously about the price of performance, and the entirely unique idea that the protagonist's musical performance itself succeeds on the back of her own self-doubt, torture, and anxiety. We were also blown away by the remarkable performance of the lead actress in both her emotional depth combined with her musical proficiency."

The 2016 Best Documentary Short and Student Visionary Award jurors were Maria Cuomo Cole, Mark Conseulos, Jessica Yu, Parker Posey and Alan Yang.

Best Documentary Short – Extremis directed by Dan Krauss (USA). Winner receives $5,000 sponsored by AKA Hotel Residences, and the art award "Untitled (11/30/96)" by John Miller. The award was given by Maria Cuomo Cole along with Larry Korman, President, AKA Hotel Residences.

Jury Comments: "This film's cinematography is intimate yet unobtrusive; its point of view is empathetic and non-judgemental. And ultimately, it respects the conflicting perspectives at a morally wrenching crossroads."

Student Visionary Award – Ping Pong Coach (乒乓), directed by Yi Liu. (Taiwan R.O.C., USA). Winner receives $5,000 sponsored by HBO. The award was given by Sharon Badal, Tribeca's Vice President Shorts Programming and Filmmaker Relations along with Larry Korman, President, AKA Hotel Residences.

Jury Comments: "For its naturalistic tone and compelling performances, this film impacted us in a real way."

STORYSCAPES AWARD

The 2016 Storyscapes Award, presented by AT&T, which recognizes groundbreaking approaches in storytelling and technology, jurors were Jessica Brillhart, Jigar Mehta and Saschka Unseld.

Storyscapes Award: Notes on Blindness: Into Darkness created by Arnaud Colinart, Amaury La Burthe, Peter Middleton, and James Spinney. Winner receives $10,000, presented by AT&T. The award was given by Jessica Brillhart, Saschka Unseld, and Olga Serna, Senior Marketing Manager, AT&T.

Jury Comments: "The most powerful stories allow us to see the world and its vast array of experiences through someone else's eyes. One project took us on that journey in a most unexpected way. Through its creative use of a medium and its meticulous and elegantly crafted audio landscape. Through its dedication to nuance and aesthetic. Through its care and compassion not only for the protagonist, but for those who take the journey with him. Because as the piece so eloquently ends: 'After all, being human is not seeing, it's loving."

THE NORA EPHRON PRIZE

The 2016 Nora Ephron Prize, sponsored by Coach, jurors were Rachael Leigh Cook, Judy Greer and Mary Stuart Masterson.

The Nora Ephron Prize: Rachel Tunnard, director, writer and editor of Adult Life Skills (UK). Winner receives $25,000, sponsored by Coach, and the art award "Untitled" by Laura Owens. The award was given by the jury along with Margaret Coady, Executive Director of Corporate Social Responsibility and Coach Foundation at Coach, Inc.

Jury Comments: "We selected someone whose originality of voice, deft handling of tone, assured visual and editorial style, and moving poetic screenplay combined to make us feel from the opening sequence that we were in good hands. She made a tiny—even miniaturized—world, seem vast. She handled grief in a wholly unique way. Using wit and emotional restraint to pull the audience in. And make us root for our protagonist to blow up the shed!"

TRIBECA X AWARD

The Tribeca X award, sponsored by GE, jurors were Laurie Anderson, Scott Carlson, Judy McGrath, Liev Schreiber and Hank Willis Thomas.

Tribeca X award: Hearing Colors created by Greg Brunkalla for Samsung. The award was given by Scott Carlson and Hank Willis Thomas along with Andy Goldberg, Chief Creative Officer, GE.

Jury Comments: "We were drawn in by the story and the inventive way it was told, we loved what it taught us about ways to see the world. The piece communicated Samsung's brand values effortlessly without ever overtly talking about the brand itself. So we appreciated the approach and we appreciated that Samsung supported this film and all the creativity that made it possible. When the world is given entertaining stories and novel ways of telling these stories, there is no doubt they will be shared."