Back to selection
"Whether It Takes One Camera or 12": TV Director Anthony Hemingway on Underground and The People v. O.J. Simpson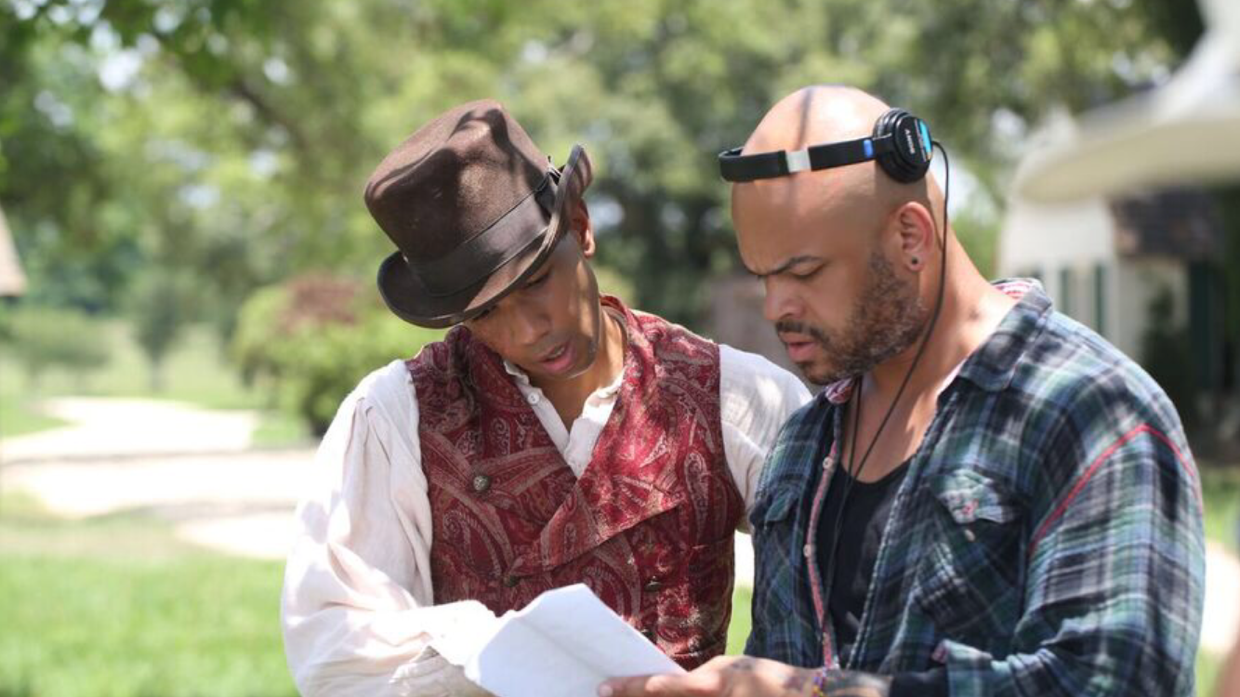 Alano Miller and Anthony Hemingway on the set of Underground
Two of the best television series ever to tackle America's endlessly complicated relationship with race premiered almost simultaneously in the first half of this year. First up was the FX series American Crime Story: The People v. O.J. Simpson, in which two of the greatest living American screenwriters, Larry Karaszewski and Scott Alexander, found their greatest subject in the tragicomic bouillabaisse of race, class, sex, and violence that was the O.J. Simpson trial. A darker and more unsettling – though no less entertaining and riveting – examination of the same issues could be found just a matter of weeks later on WGN's Underground. That show, which tells the story of the men and women involved in the Underground Railroad, is set over a hundred years before Simpson but feels every bit as urgent and alive – both series are period pieces that resonate with the way we live now in provocative, challenging, and insightful ways.
Though the two series are quite different in approach and sensibility, they share a key creative figure, Anthony Hemingway. A director and executive producer on both shows, Hemingway has long been one of the most proficient visual stylists and social anthropologists in television; before taking on Underground and O.J., he helmed essential episodes of The Wire, The Newsroom, Empire, Treme, and Battlestar Galactica, among many others. His dynamic and original episodes of Underground and American Crime Story rank with his finest work, and represent some of the most audacious visual storytelling I've seen this year. I spoke with Hemingway as the first season of Underground was about to be released on DVD.
Filmmaker: I want to start by talking about Underground, which I think is one of the most visually dynamic and dramatically intense series on television right now. The two go hand in hand – the material is inherently riveting, which motivates some really powerful framing choices on your part, which in turn further intensify the drama. I'm thinking, for example, of the way you open the series with the runaway slave fleeing through the woods; you employ a number of visual devices to ratchet up the tension very, very quickly. Could you talk about what kinds of choices you're making in a scene like that?
Anthony Hemingway: It was a mutual feeling and decision among the creative team to be bold at every turn. The story's narrative runs the course of extremes, so it was important for me to play in the dichotomy of extremes visually. My inspiration always starts from the page, and writers Misha Green and Joe Pokaski very dynamically set a high bar that challenged me to step up to the plate and swing for a home run. We wanted a visual experience that was relevant, cutting edge, energetic and urgent, which would give viewers a different entry point into a period and narrative that was entertaining and compelling. I'm not a fan of possessiveness, but my DP (laughs) Kevin McKnight and I have so much synchronicity when it comes to the cinematography and how it supports story themes and character arcs. Ultimately, I wanted the visceral "edge of your seat" viewing experience that would prevent anyone from changing the channel until the last credit rolled. 
Filmmaker: That opening to the series introduces another aspect that I think Underground handles more creatively than just about any other show on television, which is sound design. You've got a number of interesting things going here, not the least of which is the bold but very effective choice of music – you've got an anachronistic Kanye song playing under the chase, which bleeds into breathing that we hear in the same rhythm as the song and a number of other aural elements.
Hemingway:  Kanye's song "Black Skinhead" was scripted. It was actually one of the first clues to inform me that Misha and Joe's approach to this was defying every preconceived notion I had. 
Filmmaker: There's a nice balance on the show between frenetic handheld camerawork and elegant, classical camera moves as well as more formal compositions. What factors come into play when you're making your decisions about how to cover a scene?
Hemingway: The visual approach to any scene for me is based on the psychology of it and how best to let the camera become the heartbeat or reactor rather than a dictator. The camera choices should add to the storytelling, not distract from it.
Filmmaker: Speaking of coverage, do you generally shoot with more than one camera?
Hemingway: I'm a fan of efficiency. Whether it takes one camera or 12 (which I've used) to get the work done efficiently, that's what we'll use. Depending on your shot, you can achieve better compositions with fewer cameras, but there are also times when certain performances (based on the emotion, comedy, matching, long speeches, action, a lot of coverage) benefit from multiple cameras. I'm very attentive to the needs of the set and what can help serve everyone's needs best.
Filmmaker: When you're directing the pilot and first several episodes of a series, you're making an enormous number of important, to a certain degree irrevocable choices in terms of casting, tone, and visual style – these are things the show will be stuck with forever. How much outside pressure do you receive, and where does it come from?
Hemingway: TV is a collaborative medium. Establishing a new show is fun, at times rewarding and fulfilling, but always stressful. There's so much riding on the success of it. Mind you, it's a rigorous process of proving that you are the best person to be at the helm. It takes a lot of patience and grace to do it because there are so many hands involved. I think of it like parents raising children. You conceive the child, birth them, and as they grow up, the parents try to make the best decisions for that child that will afford them the best life possible. As the director, I'm that teacher or influencer that the parent chooses to provide the best education or whatever factor of elevation for your child. The challenge is gaining the trust needed to collaborate, which then allows me to create the show's foundation and language. The best experiences are when there is collaboration with trust and support.
Filmmaker: Let's shift gears and talk about working with actors. You're dealing with a lot of unsettling material on Underground. What kind of environment do you try to create for the performers to bring the utmost level of reality to their performances, and how do you create it? What are the challenges of executing such emotionally complex effects on a television budget and schedule?
Hemingway: Most scripts these days are more and more ambitious than what the budget, studio, network or airtime will allow for. It's definitely a challenge because normally the scripts are amazing and you want it all, but the reality is you can't always have it all. Hard decisions have to be made when finding solutions. In creating the space, I believe in fostering a fun, creative set. I frequently play music during lighting setups to break the monotony and lower stress levels. In my experience, I've found that being mindful and aware of everyone's needs helps to create a safe atmosphere for the actors and crew and allows them to do their jobs. On Underground we filmed in real elements, which added extreme amounts of production value as well as raised everyone's sense of connection and responsibility. 
Filmmaker: There's obviously a huge tradition of movies and television series that focus on this subject matter. Did any of them influence you?
Hemingway: Underground was different from page one. First off, it's a story that's rarely known and has never been depicted fully on screen. That alone was a first, so I didn't want too many influences. I was already familiar with what's been done in this period and narrative, so I didn't need to do much research. All I needed to know is that we wanted Underground to defy the traditional approaches. That allowed me to fly free.
Filmmaker: You directed a period piece of a very different sort – though another one dealing with race and class in America – when you came on board The People v. O.J. Simpson to direct five episodes. How did you become involved with that project?
Hemingway: Ryan Murphy's partner at the time, Dante DiLoreto, approached me while I was working on an episode of Glee. He simply told me that Ryan wanted me to come on board as the producing director. There wasn't ever really a question. (laughs)
Filmmaker: What were your feelings about the trial at the time it occurred, and how did they change or deepen, if at all, while working on the series?
Hemingway: I was as affected by this trial as everyone else. Having heard and read many stories of inequality, privilege, and racism, this was the first time I got to see it for myself and with my own eyes. Working on the show deepened my charge to help find mechanisms of change and to help us heal and grow.
Filmmaker: What are the differences between your role on a show like Underground, where you're responsible for the pilot, and a show like O.J., where to a certain degree the style and tone are pre-established?
Hemingway: The difference in doing pilots and coming onto a show that has its voice and visual style established is in how you find a way to be helpful and still contribute something. It's a challenge because not everyone truly wants what you can bring to the table. It's tricky and certainly not every experience is enjoyable. The pleasure with American Crime Story was that they respected me and allowed me to contribute my talent, voice, and perspective.
Filmmaker: Whereas to a certain degree your visual references for something like Underground are a bit limited, the events you're depicting in The People v. O.J. Simpson were covered extensively – to an almost insane level – by the media at the time they occurred. How did that influence your approach?
Hemingway: The challenge was more so in the writers' room, in figuring out what story to tell, because it was certainly a lot more than 10 hours' worth. The visual style needed to feel grounded and able to integrate some of the old news footage. Thankfully a lot of that stress was decided on prior to me starting since Ryan Murphy directed the pilot. Ryan encouraged everyone to be mindful of how much contemporary or present influence we encountered because we were telling a specific story during a specific time.
Filmmaker: And how differently did you work with the actors on O.J.? The styles are, in a way, very different. In Underground you have people performing in dialects and surroundings very removed from our own. O.J. takes place in a more recognizable, familiar environment, yet one which is still slightly stylized and satirical thanks to Karaszweski and Alexander's take on the subject. Also, while the actors on Underground are great, in O.J. you're dealing with several huge stars – do they require a different sort of handling from less powerful or experienced actors?
Hemingway: Most actors, regardless of their experience or success, love to be directed. I love working with actors and had the greatest year between working on Underground and American Crime Story. Both shows have actors that are beasts!
Filmmaker: Obviously, with these two shows airing at the same time you're building a body of work that examines race in America through a historical prism to comment on the present. What was your primary goal taking on these two subjects, and did that goal change or evolve by the time the shows aired?  
Hemingway: My involvement with both Underground and American Crime Story, in the same year, was divine order. I couldn't have planned it. I'm blessed to have these opportunities and experiences. These stories are important. We need more of them. They work toward the healing mechanisms we need to educate us for change. The reality we create today determines the outcome or success of tomorrow. Everyone can't be a hero, but everyone can be excellent. That is my goal, to be excellent!
Jim Hemphill is the writer and director of the award-winning film The Trouble with the Truth, which is currently available on DVD and iTunes. His website is www.jimhemphillfilms.com.